In addition to many modern-day Saints and stories of God's divine mercy, Poland is filled with rich history and Catholic tradition.
---
---
---
Our Lady of Czestochowa, the image of the weeping Madonna, Pope John Paul II's life, the appearance of our Lady in Gietrzwald, and a Eucharistic miracle have guided both Polish natives and pilgrims into deeper intimacy with God.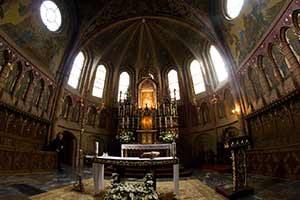 Although not as well-known as Lourdes, in 1877 Our Lady appeared to little Justyna for over 70 days, bringing a message of prayer and an invitation to recite the rosary daily. Just like at Lourdes there is also a spring here now, that pilgrims and the afflicted seek out for its healing powers.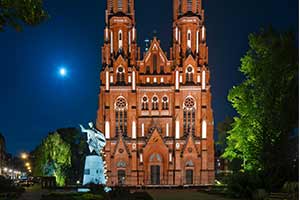 In addition to St. John Cathedral and many other beautiful churches in Warsaw is the tomb of Bl. Fr. Jerzy Popieluszko. A great man of faith who stood in solidarity with the Polish people during the Cold War resisting government control, he quickly became an enemy of the state and a target for assassination. After being martyred in 1984, St. Pope John Paul II visited Fr. Popieluszko's grave just 3 years later in 1987 an act of defiance toward the communist government.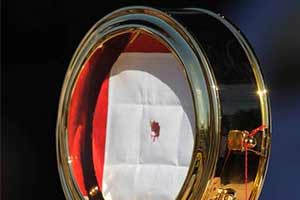 A consecrated host that fell to the floor was placed in water and later began to bleed. Scientific testing revealed that the tissue present was muscle from the human heart. Eucharistic miracles are a great sign of God's love for us.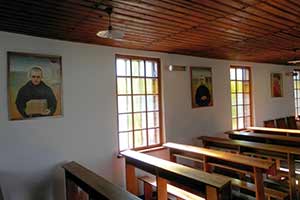 Here, not far from Warsaw is the Franciscan Monastery founded by St. Maximilian Kolbe where he and six other priests formed "The Knights of the Immaculata" as a mechnisim to resist the communist revolution taking place in Russia. Come pray in the little chapel here where he and the other friars would gather for the liturgy of the hours.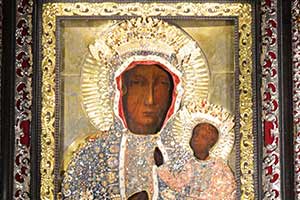 The story of the Icon of Our Lady of Czestochowa is somewhat of a mystery, and according to tradition it was painted by St. Luke, brought back to Constantinople from Jerusalem by St. Helena, and eventually at Jasna Gora monastery in Poland in 1386. In 1979 and again in 1983 as he knelt before the image, St. Pope John Paul II would pray for an end to communism in his home country that would eventually come in 1989.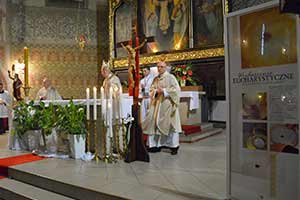 Miracles still happen every day! On Christmas Day, 2013 at St. Hyacinth Church in Legnica a host was dropped to the floor during distribution of communion. After Mass it was put in water to dissolve it, but rather than dissolve it turned into a red substance.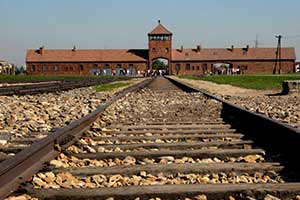 St. Maximilian Kolbe and St. Edith Stein both were killed here at Auschwitz along with hundreds of thousands of other innocent Jews, Christians, and Poles.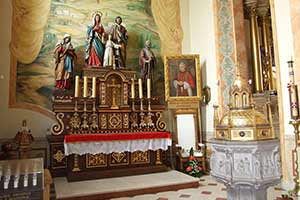 St. Pope John Paul II was born, baptized, raised, and confirmed in before heading off to Seminary and eventually the Vatican. You can understand a person better by experiencing their hometown.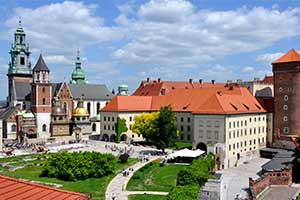 Thankfully this beautiful city was largely untouched by World War II. The Wawel Cathedral, Basilica of St. Florian, and the Basilica of St. Mary are some of the ancient churches of this city, but do not overlook the Divine Mercy Shrine and the tomb of St. Faustina Kowalska.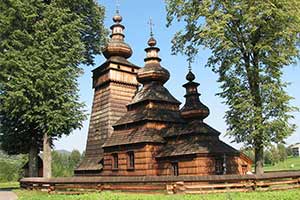 The Lemko people, a Carpathian ethnic group from the Polish highlands, built this beautiful wooden church, St. James, which is now entrusted to the care of the Catholic Church as World War II nearly eliminated these people and their culture. Built around the year 1600 it is the oldest remaining Lemko shrine.
Upcoming Poland Pilgrimages
Pilgrimage Location:
Departure Date:
Return Date:
Price:
Departure City*
Register Now
Download Brochure
Holy Land
November 28, 2017
December 8, 2017
$3,095
New York JFK
Register for this
Pilgrimage Today!
Download
Brochure
2
Italy
December 27, 2017
January 5, 2018
$3,105
Indianapolis
Register for this
Pilgrimage Today!
Download
Brochure
3
Holy Land
January 22, 2018
February 1, 2018
$3,340
Indianapolis
Register for this
Pilgrimage Today!
Download
Brochure
4
Holy Land
January 29, 2018
February 9, 2018
$3,125
Dallas
Waiting List Only
Download
Brochure
5
Holy Land
February 2, 2018
February 12, 2018
$3,995
Indianapolis
Register for this
Pilgrimage Today!
Download
Brochure
6
Holy Land (FOCUS)
March 3, 2018
March 11, 2018
$1,815
New York JFK
Register for this
Pilgrimage Today!

Visit the FOCUS Website
for more information.

7
Italy (FOCUS)
March 3, 2018
March 10, 2018
$970
Land Only
Register for this
Pilgrimage Today!

Visit the FOCUS Website
for more information.

8
Italy
March 8, 2018
March 19, 2018
$3,540
Seattle
Register for this
Pilgrimage Today!
Download
Brochure
9
Italy
March 8, 2018
March 16, 2018
$2,695
Denver
Register for this
Pilgrimage Today!
Download
Brochure
10
France
March 9, 2018
March 18, 2018
$3,355
Cincinnati
Register for this
Pilgrimage Today!
Download
Brochure
11
Holy Land (FOCUS)
March 10, 2018
March 18, 2018
$1,815
New York JFK
Register for this
Pilgrimage Today!

Visit the FOCUS Website
for more information.

12
Italy (FOCUS)
March 10, 2018
March 17, 2018
$970
Land Only
Register for this
Pilgrimage Today!

Visit the FOCUS Website
for more information.

13
Italy
March 16, 2018
March 25, 2017
$2,650
Omaha
Register for this
Pilgrimage Today!
Download
Brochure
14
Italy (FOCUS)
March 17, 2018
March 24, 2018
$970
Land Only
Register for this
Pilgrimage Today!

Visit the FOCUS Website
for more information.

15
Italy (FOCUS)
March 24, 2018
March 31, 2018
$970
Land Only
Register for this
Pilgrimage Today!

Visit the FOCUS Website
for more information.

16
Medjugorje / Fr. Sudac
April 4, 2018
April 14, 2018
$2,495
Chicago
Register for this
Pilgrimage Today!
Download
Brochure
17
Greece and Turkey
April 16, 2018
April 27, 2018
$3,310
Seattle
Register for this
Pilgrimage Today!
Download
Brochure
18
Germany
April 16, 2018
April 27, 2018
$3,675
Indianapolis
Register for this
Pilgrimage Today!
Download
Brochure
19
Holy Land
April 17, 2018
April 28, 2018
$3,135
Boston
Register for this
Pilgrimage Today!
Download
Brochure
20
Medjugorje / Fr. Sudac
April 27, 2018
May 7, 2018
$2,555
Chicago
Register for this
Pilgrimage Today!
Download
Brochure
21
Medjugorje / Fr. Sudac
May 2, 2018
May 12, 2018
$2,515
Chicago
Register for this
Pilgrimage Today!
Download
Brochure
22
Holy Land
May 4, 2018
May 14, 2018
$2,775
JFK
Register for this
Pilgrimage Today!
Download
Brochure
23
Medjugorje
May 11, 2018
May 20, 2018
$1,895
Chicago
Register for this
Pilgrimage Today!
Download
Brochure
24
Holy Land
May 29, 2018
June 8, 2018
$2,530
Tampa
Register for this
Pilgrimage Today!
Download
Brochure
25
Italy
June 4, 2018
June 14, 2018
$3,275
Indianapolis
Register for this
Pilgrimage Today!
Download
Brochure
26
Italy
June 4, 2018
June 15, 2018
$3,795
Lincoln
Register for this
Pilgrimage Today!
Download
Brochure
27
Holy Land
June 19, 2018
June 29, 2018
$3,570
Omaha
Register for this
Pilgrimage Today!
Download
Brochure
28
Holy Land
June 25, 2018
July 5, 2018
$3,395
Cincinnati
Register for this
Pilgrimage Today!
Download
Brochure
29
Holy Land (FOCUS)
July 8, 2018
July 19, 2018
$2,760
New York JFK
Register for this
Pilgrimage Today!

Visit the FOCUS Website
for more information.

30
Italy (FOCUS)
July 11, 2018
July 22, 2018
$2,145
New York JFK
Register for this
Pilgrimage Today!

Visit the FOCUS Website
for more information.

31
Ireland
August 1, 2018
August 8, 2018
$3,895
Denver
Register for this
Pilgrimage Today!
Download
Brochure
32
Ireland
August 21, 2018
August 31, 2018
$TBD
Cincinnati
Register for this
Pilgrimage Today!
Brochure not yet available.
33
Marian Shrines
September 12, 2018
September 23, 2018
$TBD
Omaha / Lincoln
Register for this
Pilgrimage Today!
Brochure not yet available.
34
Holy Land
October 15, 2018
October 26, 2018
$TBD
Indianapolis or Chicago
Register for this
Pilgrimage Today!
Brochure not yet available.
35
Holy Land
October 15, 2018
October 26, 2018
$TBD
Dayton or Cincinnati
Register for this
Pilgrimage Today!
Brochure not yet available.
36
Holy Land
November 27, 2018
December 7, 2018
$TBD
New York JFK
Register for this
Pilgrimage Today!
Brochure not yet available.
37