10 Things You'll Wish You Brought on Pilgrimage
Bri Campbell | Last Updated: August 11, 2020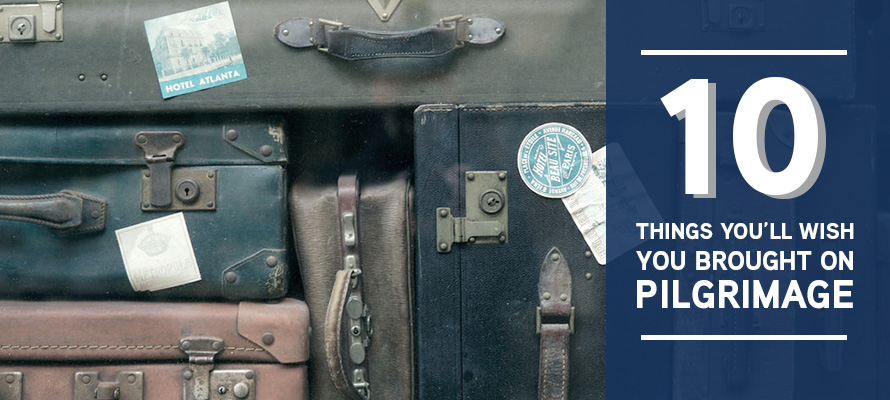 Preparing to go on a pilgrimage is a very exciting experience. We know it can be difficult when you're preparing to go into the unknown, so we've compiled suggestions from a former pilgrim of a few things you might overlook that will help you make the most of your journey:
Stationary
When you start to pack your bags for your upcoming pilgrimage, be sure to include a few pieces stationary or notecards in your bag. When you have time to pray at the holy sites, write to a loved one about your experience in that place and let them know that you are praying for them there. Receiving such a personalized gift goes way farther than receiving a generic postcard!
Rosary
When on pilgrimage, there will be a lot of travelling, by foot and by bus. Make the most of the transit by praying the rosary in between stops, or make a point of praying a decade at every holy site you visit each day.
Comfortable Shoes
It's tempting to want to look your best when you're travelling, but packing a great pair of comfortable walking shoes and actually wearing them is essential. Your feet are key to navigating each site. Don't exhaust them the first day by not wearing appropriate footwear!
Water Bottle
Pack a water bottle that you can easily carry by hand or fit in a backpack so you can stay hydrated as you travel around each day. You will get thirsty (especially when it's hot) and you don't want to keep finding vendors who sell overpriced water.
Fun Fact: In Rome, you can refill your water bottles (at your own risk) at the various fountains throughout the city!
Journal
You will get a lot done in a few days while you are abroad. To keep you from getting overwhelmed, bring a journal and jot down a few things each day like where you went, how you felt, what you prayed for, etc. After you return home, you can look back at your notes and more easily recall and process your spiritual journey. I also like to keep things like prayer cards, maps, notes, flowers, and keepsakes between the pages of my journals.
Small Backpack
Bringing a small backpack with you to the various locations can be very helpful, especially when you're on the move all day. You can pack prayer materials, a light jacket when needed, a water bottle, and any other essential thing that you might need through the day. If you're worried about pick-pockets, you can purchase slash-proof backpacks online, or carry your backpack on your front when you're in a more heavily populated area.
Socks, socks, socks
Normally, I would suggest packing as light as you can and washing things for a second wear when you return to your hotel. But if there's one thing that you'll only want to wear once while on pilgrimage, it's your socks. Don't try resuscitating those bad boys with a simple sink bath. After the amount of walking you'll be doing, you'll want to treat yourself to a fresh pair each day (maybe even twice on some days).
Washcloth
While you're more likely to find this amenity in European hotels, it was not a thing that I found when I pilgrimaged to India, and it was the item that I longed for most. After spending days outside walking, working, and sweating, I felt I was never truly clean. The first scrub that I experienced when I returned to the U.S. was like a tall glass of cold water. For an item that's so small, I would definitely recommend packing one, just in case.
Sunscreen
As a religious applier of sunscreen, I bring a bottle with me whenever I travel. When on pilgrimage, you'll be spending a good amount of time outside site-seeing, waiting in line, or travelling from one place to another. Especially be wary of protecting your neck and face, which will be more exposed and more painful if burned. If you're attending a Papal Audience in Rome, take special care in making sure that your neck is well sunscreened or covered. That early morning sun will get you if you're not careful.
Sunglasses
As mentioned previously, you will spend a lot of time outside while on pilgrimage. Sunglasses can definitely enhance your pilgrimage experience, especially when you're site-seeing on sunny days!
---