Traveling to Italy is like walking into layers of history, art, human drama, and deep faith. Here your feet touch soil left from Roman times 3,000 years ago as you begin to venture into this land of martyrs, saints, popes, and ancient civilizations. Visit the place that solidified the Catholic faith in the eyes of the world and still proclaims the Gospel of Christ in all its glory. Italy is where people work, pray, and live in the midst of ancient ruins next to masterpieces of art, fountains, and churches. A journey to Italy is about experiencing the sacred bonds of the Catholic faith that enlightens the soul.
"Sed dignissim, leo nec porttitor vulputate, enim enim accumsan urna, vitae porttitor ipsum nisl nec neque. Proin mauris lorem, laoreet eget tristique ut, facilisis."
- Someone Important
Rome beckons with its layers of history, courage of the saints, witness of the martyrs, and prayers of the faithful to form the heart of Catholicism.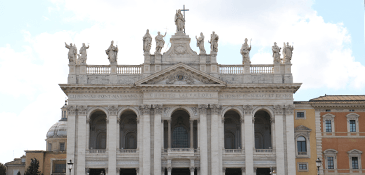 Basilica of St. John Lateran
The oldest church in Europe founded in honor of St. John the Baptist and St. John the Evangelist. It is the mother church of Rome's Catholic faithful as it is where the pope has his official seat as the Bishop of Rome.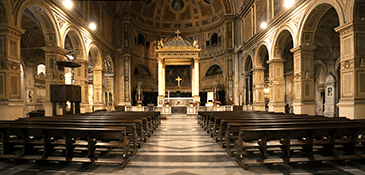 Basilica of San Lorenzo
The holy relics of St. Lawrence, martyred in 258, are housed here along with the relics of St. Justin and St. Stephen.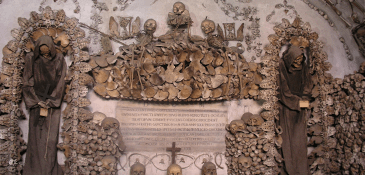 Capuchin Crypt
Under the church of Santa Maria della Concezione it holds the remains of 4,000 friars. Rather than bury all the bones, the friars decorated a chapel with them as a place to pray and reflect on Eternal Life. A plaque in the chapel reads "What you are now, we once were; what we are now, you shall be."
Vestibulum vitae convallis enim, id pellentesque turpis. Morbi lectus leo, rhoncus consequat ex nec, tempor facilisis est. Nulla eget finibus tellus. Nullam tincidunt sem vel orci vehicula, nec aliquam arcu auctor. Donec dapibus lacus et varius porta.
Morbi ex nulla, porttitor vitae ante et, vulputate fringilla magna. Aenean gravida est nec felis rutrum laoreet. Aenean fringilla sit amet magna eget finibus. Integer efficitur convallis nulla quis auctor.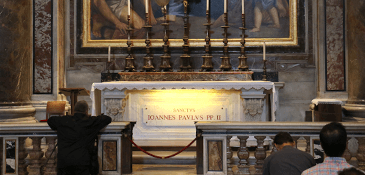 Cappella di San Sebastian
(Chapel of St. Sebastian)
The chapel next to the Pieta houses the tomb of St. John Paul II underneath the altar.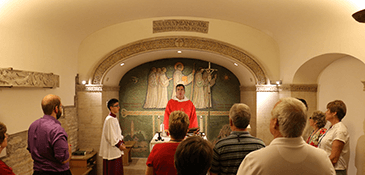 Papal Crypt or
Vatican Grottoes
See the tombs of some 91 popes and famous exiled royalty including Queen Christina of Sweden who gave up her throne to become Catholic.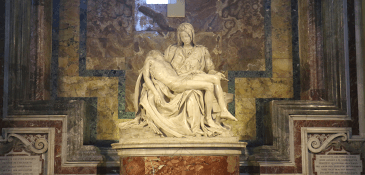 The Pieta
One of the first masterpieces you see when you walk inside St. Peter's Basilica. It was carved out of marble by Michelangelo when he was only 25 years old.
Tekton Ministries has been leading Catholic pilgrimages for more than 20 years. We work and listen closely to our priests and pilgrimage leaders to create thoughtfully planned itineraries. We help make the Catholic faith more tangible to your daily life by taking you where the seeds of Catholicism were first planted to be spread across the world. Daily Mass and time for prayerful reflection are important parts of each day's experience.
| | |
| --- | --- |
| | 20+ Years in Ministry |
| | True pilgrimage – not religious tours |
| | Custom-crafted itineraries |
| | Authentic Catholic experiences |
| | Inclusive, competitive pricing |
| | Properly paced itineraries include daily Mass and time for reflection |
| | |
| --- | --- |
| | Only Catholic/Christian guides |
| | Prayerful pre-pilgrimage preparation |
| | Custom guidebooks, name and luggage tags |
| | Local offices and support worldwide |
| | Free pilgrimage promotion materials |
| | Easy online registration means no extra effort for your busy staff |

PILGRIMAGE
DATE
DURATION
PRICE

(per person)

Pilgrimage to Italy – March 4, 2020
3/4/2020
12 Days
$3,195
View Details
Pilgrimage to Italy – March 13, 2020
3/13/2020
9 Days
$2,695
View Details
Pilgrimage to Italy – March 16, 2020
3/16/2020
12 Days
$3,990
View Details
Pilgrimage to Italy – March 20, 2019
3/20/2020
9 Days
$2,995
View Details
Pilgrimage to Italy – May 25, 2020
5/25/2020
12 Days
$4,135
View Details
Pilgrimage to Italy – June 15, 2020
6/15/2020
11 Days
$3,970
View Details
Pilgrimage to Italy & Switzerland – September 18, 2020
9/18/2020
12 Days
$4,995 (est.)
View Details
Pilgrimage to Italy – October 12, 2020
10/12/2020
11 Days
$4,410
View Details
Looking to create your own pilgrimage group? Create a Pilgrimage
For Your Parish or Group