Holy Land Pilgrimage
Walk in the Footsteps of Jesus
Catholic Pilgrimage to the Holy Land
A Holy Land pilgrimage is a life-changing experience that makes the Gospel come alive. Imagine standing in the room where Mary said "yes" to the angel Gabriel. Visiting the place where Jesus was born. Renewing your baptismal vows in the waters where Jesus was baptized. Standing in the Upper Room where Jesus celebrated the Last Supper. Walking the Way of the Cross. And entering Jesus' empty tomb. Holy Land pilgrimages allow us to prayerfully walk in the footsteps of Jesus and connect the stories we have heard about Our Lord in the actual places they transpired.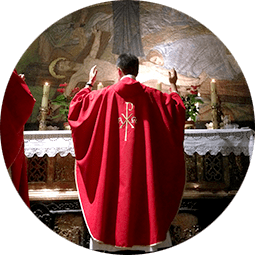 TRULY CATHOLIC EXPERIENCES
All pilgrimages are led by Catholic priests and include daily Mass at a sacred site or church in the Holy Land. In addition, Tekton only partners with guides who are Christian/Catholic and share the sanctity of our holy Scripture.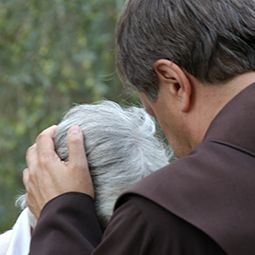 WE PLAN.
YOU PRAY.
We plan it all – travel, accommodations, and two meals a day – so you can forget about the details and enjoy a transformative experience! We even help you prepare spiritually, beginning six months prior to your departure!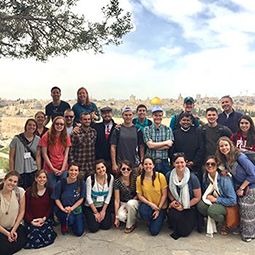 SAFE AND
SECURE
Rest assured that from the moment you arrive to the moment you depart, your safety is paramount. Our guides, drivers, and hotels are carefully vetted for safety and security. We never travel to areas on the U.S. State Department "alert" list.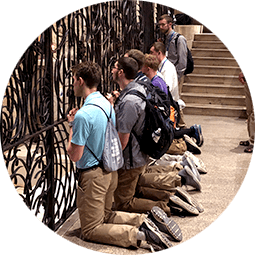 SLOW AND
SERENE
Jerusalem is the "City of God" and "City of Peace." With Tekton, you won't zoom through the holy sites or be thrust on a tourist treadmill. A peaceful pace provides ample time to reflect on God's Word and each day's experiences.
"When I was at Calvary with my right hand touching the hole in which Jesus' cross once stood, I felt like the woman in the Bible who wanted to touch Jesus' hem to be healed. I was that woman in tears."
- Thelma T., 2017 Holy Land Pilgrim
A pilgrimage to the Holy Land is more than a religious tour. It is an experience of faith, a voyage to deepen one's desire to know Christ better. It is turning to the places "in which God has chosen to 'pitch his tent,' among us," as St. John Paul II said about his own pilgrimage to the Holy Land. Enter into the sacred spaces of the Annunciation of Mary. See the place of Christ's birth. Follow the steps Simon of Cyrene took to help Christ carry his cross and of his Apostles who witnessed his first miracles. Journey with us to the land where Christ prayed, suffered, and rose from the dead.
DATE
DURATION
PRICE

(per person)

Departure City
5/8/2023
11 Days
$2,620
Chicago
Details
5/22/2023
11 Days
$3,705
Chicago
Details
6/5/2023
11 Days
$4,195
Omaha
Details
6/19/2023
11 Days
$3,395
Chicago
Details
7/14/2023
11 Days
$4,095
Newark
Details
10/9/2023
11 Days
$5,045
Atlanta
Details
10/9/2023
11 Days
$4,325
Chicago
Details
10/9/2023
11 Days
$4,575
Omaha
Details
10/14/2023
11 Days
$4,655
Chicago
Details
11/6/2023
12 Days
$4,295
Omaha
Details
11/6/2023
11 Days
$4,935
Louisville
Details
11/8/2023
11 Days
$4,555
Newark
Details
11/27/2023
11 Days
$3,495
Omaha
Details
11/27/2023
11 Days
$3,995
Indianapolis
Details
4/2/2024
12 Days
$4,950
Missoula
Details
6/17/2024
11 Days
$4,500
Chicago
Details
9/9/2024
12 Days
$5,100
Salt Lake City
Details
9/18/2024
12 Days
$4,995
Washington DC
Details
Looking to create your own pilgrimage group? Create a Pilgrimage
For Your Parish or Group
Tekton Ministries is obviously extremely well-connected with all associated personnel at the pilgrimage locations! I was completely pleased with any and every aspect of this trip. Tekton's planning and administration of our pilgrimage couldn't have been better!
- Fr. Joseph Klee, Pilgrim from Columbus, Ohio
"Being in the Holy Land has strengthened my faith and given me a different perspective on the gospel stories. Now I can say, 'I was there and felt the presence of Jesus in every step along the way.' Everything was absolutely inspiring, and such wonderful friendships were made as we walked together!"
-Patsy M., Holy Land Pilgrim 2018
Tekton Ministries has been leading Catholic pilgrimages for more than 20 years. We work and listen closely to our priests and pilgrimage leaders to create thoughtfully planned itineraries. We help make the Catholic faith more tangible to your daily life by taking you where the seeds of Catholicism were first planted to be spread across the world. Daily Mass and time for prayerful reflection are important parts of each day's experience.
| | |
| --- | --- |
| | 25+ Years in Ministry |
| | True pilgrimage – not religious tours |
| | Custom-crafted itineraries |
| | Authentic Catholic experiences |
| | Inclusive, competitive pricing |
| | Properly paced itineraries include daily Mass and time for reflection |
| | |
| --- | --- |
| | Only Catholic/Christian guides |
| | Prayerful pre-pilgrimage preparation |
| | Custom guidebooks, name and luggage tags |
| | Local offices and support worldwide |
| | Free pilgrimage promotion materials |
| | Easy online registration means no extra effort for your busy staff |

Frequently Asked Questions