The Pilgrimage Planning Process
At Tekton Ministries, we do everything possible to make every pilgrimage safe, easy, and fulfilling. We take care of the practical details so that you can have a memorable experience. From transportation and accommodations to meals and daily Mass, we help you plan a pilgrimage experience that's rich and rewarding while leaving room for rest and prayer.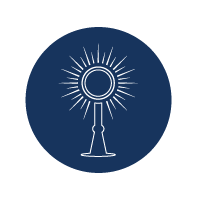 1. PRAY
After you've prayerfully considered
what destination
and season are best suited to the spiritual goals of your parish, we begin discussing the length and dates of travel.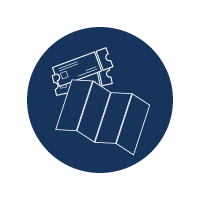 2. PLAN
We custom-design your itinerary around the needs of your pilgrims. We secure hotels, transportation, meals, Christian guides, and permissions and entry to the holy sites.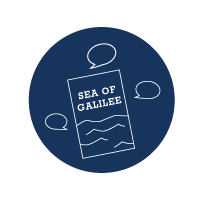 3. PROMOTE
Your custom-made toolkit helps you promote your pilgrimage from the pulpit, website, and bulletin. Online registration requires no extra effort from your busy staff.
Let Us Create a Custom Itinerary for You
Discover The Power of Pilgrimage
Hear one priest's story of how pilgrimage converts hearts and makes Scripture come to life as parishioners walk in the footsteps of Christ, the Apostles, and our Blessed Mother.
Life-changing Destinations and Experiences
The holy sites and shrines of the Catholic Church are gifts of our Faith waiting to be received. They are gifts from God to help us find more of Heaven's great graces through understanding and prayer. Your itinerary — the schedule of sites you visit and the activities you will do there — is custom tailored to the spiritual goals and needs of your individual group.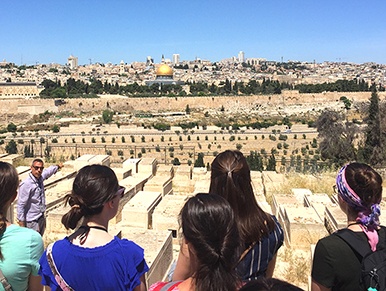 The Holy Land
Here pilgrims walk in the footsteps of Jesus and pray in the places where events in scripture actually occurred. Sacred sites include the birthplace of Jesus in Bethlehem; His childhood home in Nazareth; His baptismal site at the Jordan River; the locations of His early ministry around the Sea of Galilee; and places He spent His final days in and around Jerusalem.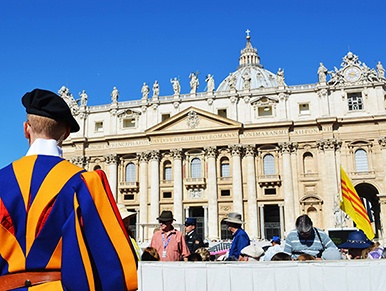 Rome & the Vatican
Many pilgrims choose to visit the foundations of the Catholic church in Rome and Italy. There are four major pilgrimage churches in the Eternal City: St. Peter's Basilica, St. Mary Major, St. John Lateran, and St. Paul's Outside the Walls. A papal audience and a visit to the Vatican Museums, especially the Sistine Chapel, offer memorable experiences.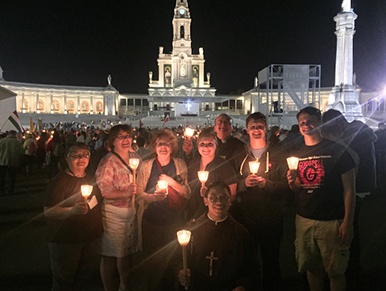 Marian Shrines
Devotion to Mary is an important reason for pilgrimage. Visiting her shrines offers a chance to honor, reflect and rejoice on the inspiration and intercession we receive from Our Blessed Mother. The foremost Marian shrines are at Lourdes, France; Fatima, Portugal; Guadalupe, Mexico; Medjugorje, Bosnia-Herzegovina; Czestochowa, Poland, and Knock, Ireland.
"Tekton is unique in their pilgrimage ministry in that they get it. They really understand what a Catholic pilgrimage is all about."
-Msgr. Bill Stumpf
Tekton Ministries has been leading Catholic pilgrimages for more than 20 years. We work and listen closely to our priests and pilgrimage leaders to create thoughtfully planned itineraries. We help make the Catholic faith more tangible to your daily life by taking you where the seeds of Catholicism were first planted to be spread across the world. Daily Mass and time for prayerful reflection are important parts of each day's experience.
| | |
| --- | --- |
| | 20+ Years in Ministry |
| | True pilgrimage – not religious tours |
| | Custom-crafted itineraries |
| | Authentic Catholic experiences |
| | Inclusive, competitive pricing |
| | Properly paced itineraries include daily Mass and time for reflection |
| | |
| --- | --- |
| | Only Catholic/Christian guides |
| | Prayerful pre-pilgrimage preparation |
| | Custom guidebooks, name and luggage tags |
| | Local offices and support worldwide |
| | Free pilgrimage promotion materials |
| | Easy online registration means no extra effort for your busy staff |
"A pilgrimage is experiencing our faith in a very tangible way with other people on the same journey. I think that's what Christ meant for us…to grow our faith not in a solitary way, but in a communal way. Our pilgrims were all strangers to each other, and now they are bonded. They have connected in a way they wouldn't have experienced just going to church together."
-Fr. Pat Baikauskas, Diocese of Lafayette
Tekton offers Authentic Catholic Pilgrimages. Each pilgrimage includes daily Mass in sacred sites, prayer, reflection, Christian guides, and adherence to USCCB pilgrimage guidelines.
What Our Pilgrim Priests Say