Pilgrimage to Mexico
Our Lady of Guadalupe Beckons You
Catholic Pilgrimage to Mexico
Traveling to Guadalupe is like walking into layers of history, art, human drama, and deep faith. The remains of ancient civilizations mingle with modern towns and cities. Visit the shrine of Our Lady of Guadalupe, patroness of the Americas, the most visited Marian Shrine in the World. Become lost in the miracle of the image sealed on Juan Diego's cloak and marvel at the conversions brought to this "new world" by the Blessed Mother herself. A journey to Mexico is about experiencing the cultural richness of the Catholic faith that enlightens the soul.
"My love for Mother Mary grew stronger during this pilgrimage."
- Jean H., Pilgrim from Nebraska
MEXICO CITY PILGRIMAGE SITES
Mexico City showcases the cultural diversity of the region. With soaring cathedrals, ancient Aztec monuments, and the Basilica of Our Lady of Guadalupe, it invites pilgrims to be immersed in the universality of the Catholic Church.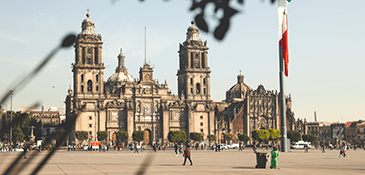 The Metropolitan Cathedral
Built over the remains of the Aztec temples, this architectural masterpiece has dominated the landscape of Mexico City's Central Square for the past five centuries and is the seat of the Catholic Archdiocese of Mexico. One of Latin America's largest and oldest cathedrals, inside one will find stunningly beautiful interiors, numerous paintings, religious art, relics, crypts, and sixteen chapels – each dedicated to a saint.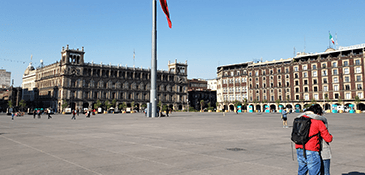 The Zocalo
Once the main ceremonial centers in the Aztec city of Tenochtitlan used for rituals, parades and marketplace, this square is now one of the world's largest and busiest plazas. Mexican culture comes alive through the many religious festivals and concerts performed here throughout the year.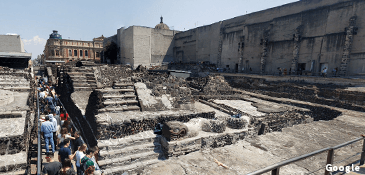 Templo Mayor
An active archeological site just off the Zocalo in Mexico City's center, this temple is thought to be on the exact spot where the Aztecs saw their symbolic eagle perching on a cactus eating a snake. Many different levels of historical artifacts unearthed over the past seven centuries showcase Mexico's long and interesting history.
"Our guide was so interesting and so knowledgeable that each day was a treat. Of course, seeing the image on the cape was a highlight and having Mass at the different churches was special."
- Patricia C., Pilgrim from Indiana
Other Sites Around Mexico
Experience inspirational Catholic culture and history as you walk in the footsteps of saints, venerate miracles, and celebrate Mass in sacred sites throughout Mexico.
"We live in a community that is approximately 1/3-1/2 Hispanic (Mexico and Guatemala). This pilgrimage has given me a much, much better understanding of their history and their belief-frame. It was wonderful. I also believe that I have a closer relationship with the Blessed Mother."
- Kathleen S., Pilgrim from Nebraska
Tekton Ministries has been leading Catholic pilgrimages for more than 20 years. We work and listen closely to our priests and pilgrimage leaders to create thoughtfully planned itineraries. We help make the Catholic faith more tangible to your daily life by taking you where the seeds of Catholicism were first planted to be spread across the world. Daily Mass and time for prayerful reflection are important parts of each day's experience.
| | |
| --- | --- |
| | 25+ Years in Ministry |
| | True pilgrimage – not religious tours |
| | Custom-crafted itineraries |
| | Authentic Catholic experiences |
| | Inclusive, competitive pricing |
| | Properly paced itineraries include daily Mass and time for reflection |
| | |
| --- | --- |
| | Only Catholic/Christian guides |
| | Prayerful pre-pilgrimage preparation |
| | Custom guidebooks, name and luggage tags |
| | Local offices and support worldwide |
| | Free pilgrimage promotion materials |
| | Easy online registration means no extra effort for your busy staff |

You can also create your own or fill out the form to be notified when the next pilgrimage is scheduled.