Santiago de Compostela Pilgrimage
Walk the Camino
Catholic Pilgrimage Along the Camino
Embark on a wondrous journey of faith as you visit places of holiness in connection with our Catholic history and tradition. Follow in the footsteps of millions of other pilgrims as you trod the well-worn pilgrim road known as the Camino de Santiago. Contemplate the Communion of Saints as you meander the peaceful paths of Galicia, Spain. Lay the intentions you carry across the miles at the tomb of St. James the Greater inside the magnificent Cathedral de Santiago. A journey along the Camino is about learning to walk with our Lord in each of our everyday encounters.
"We wish to thank the staff for such careful planning and organization of our trip. Every detail was taken care of beforehand, and our Spanish guide and bus drivers were the best!"
- Barbara D., Pilgrim from Indianapolis, IN
The Camino de Santiago – Way of St. James – is an ancient path through the cities and countryside of portions of northern Spain. As a pilgrim you'll journey on foot through the hills and valleys of Galicia with others from all over the world to the final resting place of St. James. Your walking days will be filled with woodland paths, ancient trails, and small cities and villages that have welcomed pilgrims for over 1,000 years.

Journey along the Camino, following the footsteps of millions of pilgrims, to the magnificent Cathedral of Santiago. Experience the peacefulness of Fatima, the Eucharistic miracle of Santarem, and the beauty of Avila.
Other Pilgrimage Sites that can be Combined with a Pilgrimage along the Camino
There are many options to add to a pilgrimage along the Camino. Learn about the life and times of St. Teresa of Avila, experience the peacefulness of Fatima, venerate the Eucharistic miracle of Santarem, and more.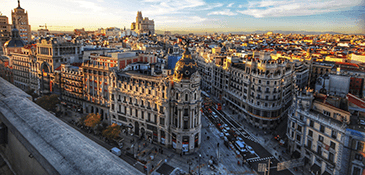 Madrid
A full tour of Madrid showcases some of the history and tradition of Spain, including the Prado Museum with its masterpieces of El Greco, Goya, and Velasquez, the Royal Palace, the University with Cervantes' monument, Puerta del Sol and Retiro Park.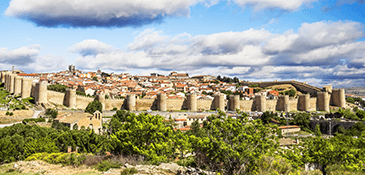 Avila
Just outside the Romanesque walled city of Avila, the birthplace of St. Theresa, lies the Monastery of the Incarnation where St. Teresa spent many years of her life and began the great reform of the Carmelite Order in 1561, as well as the Monastery of St. Joseph, her first foundation.
view more
"I am beyond grateful to the staff at Tekton Ministries and my fellow pilgrims for this life-changing experience! Thank you!"
- Lynn B., Pilgrim from Champaign, IL
Tekton Ministries has been leading Catholic pilgrimages for more than 20 years. We work and listen closely to our priests and pilgrimage leaders to create thoughtfully planned itineraries. We help make the Catholic faith more tangible to your daily life by taking you where the seeds of Catholicism were first planted to be spread across the world. Daily Mass and time for prayerful reflection are important parts of each day's experience.
| | |
| --- | --- |
| | 25+ Years in Ministry |
| | True pilgrimage – not religious tours |
| | Custom-crafted itineraries |
| | Authentic Catholic experiences |
| | Inclusive, competitive pricing |
| | Properly paced itineraries include daily Mass and time for reflection |
| | |
| --- | --- |
| | Only Catholic/Christian guides |
| | Prayerful pre-pilgrimage preparation |
| | Custom guidebooks, name and luggage tags |
| | Local offices and support worldwide |
| | Free pilgrimage promotion materials |
| | Easy online registration means no extra effort for your busy staff |

Camino De Santiago Pilgrimages
Frequently Asked Questions
about Camino Pilgrimages