This Powerhouse of a Saint Finds more than Lost Items
Bri Campbell | Last Updated: August 12, 2020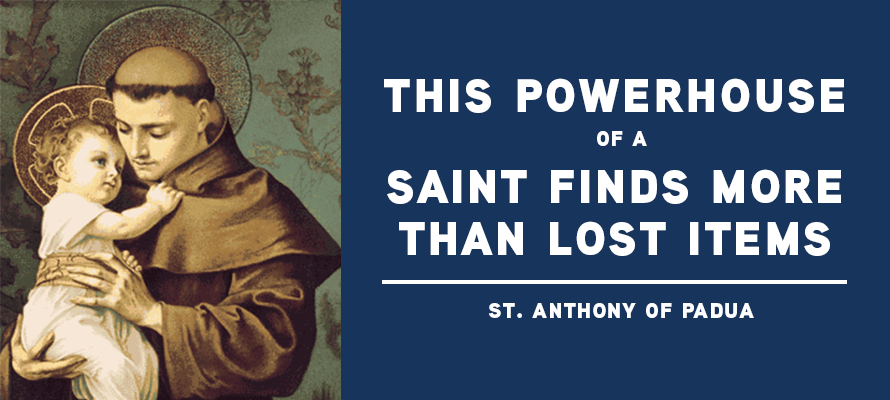 The back of the envelope had the initials S.A.G. with a cross on each side. Inside, was some money and the sender --a wise mother-- had invoked St. Anthony of Padua to make sure it got to her daughter who was overseas. This was before cellphones, computers, and automatic transfers. It was just the 1980s, but this mother knew St. Anthony did more than find lost keys.
The initials meant St. Anthony Guard.  While I use St. Anthony almost every day to find some item I've lost, I never thought of using him for much deeper issues. I realized I didn't even know a lot of about this saint who is always depicted holding baby Jesus. I certainly found out I didn't know that in his humility of finding our everyday lost objects he is a powerhouse of deeper help in Heaven.
Coming from a wealthy family in Lisbon, Portugal, St. Anthony was born in 1195 and became an Augustinian priest well versed in theology and Latin. Ordained at the age of 25, he heard about the great Franciscan martyrs in Morocco who died evangelizing the Muslims. Their relics were brought to Portugal, prompting a missionary vocation in St. Anthony. Longing to join them, St. Anthony received permission to switch orders and become a Franciscan. He even met St. Francis and corresponded with him.
St. Francis appeared to St. Anthony after his death. Jesus also appeared as a baby to St. Anthony, and that is why most St. Anthony statues depict him holding the Baby Jesus. St. Anthony never got to evangelize about Christ in the same way as the Franciscan martyrs. When his great preaching ability was discovered, St. Francis asked him to stay in Italy and southern France to preach the truth of the Gospel there.
St. Anthony started out to find lost souls. While the origin of him finding lost objects stems from the theft of one of his books, St. Anthony was known to draw 30,000 people who wanted to hear him preach. Accounts say the people tried to snip off parts of his friar habit to keep due to his many miracles. He was known to covert the hardest hearts and inspire those who had lost their way, bringing them back to the Catholic faith.
Today, millions have traveled to his shrine, the Basilica of St. Anthony, in Padua, Italy, where his remains are kept and the faithful can venerate the relics of his tongue and vocal cords that are incorrupt—not decomposed. People pilgrimage there to find more than lost objects. They go to find peace, joy, or healing both physically and spiritually. They go because St. Anthony has helped them so many times before. They go to find themselves and seek a way to hear God tell them they are found, that God has found a way to deal with their problems. Those who are hurt or disenchanted with the world lay their petitions at the tomb of St. Anthony, who died June 13, 1231. They place their hands on his tomb and pray this prayer inscribed there:
Oh, dear Saint Anthony, I am close to your blessed tomb.
I came to pray driven by my need and my confidence in your compassionate goodness which consoles everyone. Please become my intercessor before God; speak in my name to the merciful Father, and obtain for me the grace I particularly need.
I know that my faith is weak; but you, who had this admirable virtue and inflamed it by preaching to the crowds, enliven it inside my heart and make me stronger and pure. You who led an evangelical life, help me to render mine a more Christian one, so that I may become a worthy son of our Heavenly Father.
O Saint Anthony, come to the rescue of my weakness, taking away the diseases and dangers of soul and body; help me to always put my trust in God, especially in times of trial and suffering. Bless my work, my family, your devotees around the world or spiritually present here: obtain for all benevolence of heart towards the poor and the suffering.
Oh, my protector, respond to the confidence I always put in your intercession to the Lord.
Amen.
---