Pray Like St. John Paul II Today
Bri Campbell | Last Updated: March 24, 2022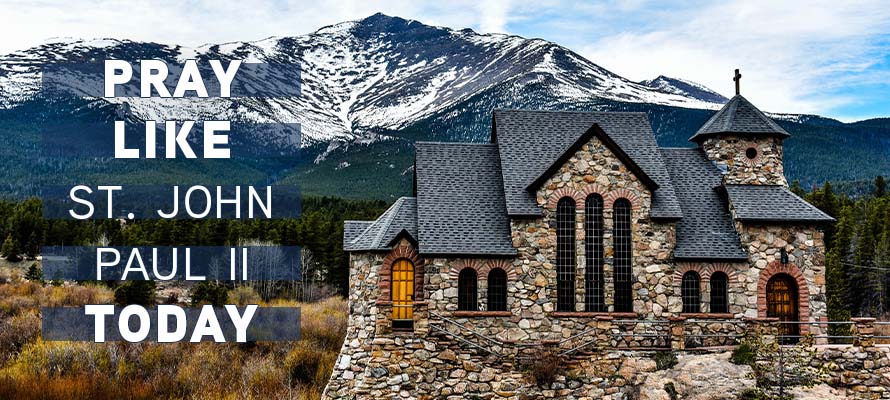 "We can pray perfectly when we are out in the mountains 
or on a lake and we feel at one with nature.
Nature speaks for us or rather speaks to us.
We pray perfectly"
One of the more commonly known things about St. John Paul II is that he flourished in the outdoors.
From the early days of his priesthood when he would take young adults from his parish on hikes, to well into his pontificate when he would sneak away from the Vatican to enjoy a few runs down the ski slopes, Pope John Paul was drawn to the beauty and sport of the nature around him. His love of creation and his frequent rejoicing in it are parts of why I felt drawn to this great saint shortly after his canonization. A pope who loves the outdoors and adventures through it…with his friends…and does it well? That's a saint for me!
For the past four years, I've been able to travel to the mountains of Colorado for an annual parish retreat, where we spend ample time outdoors, hiking and taking in the great beauty of the mountains around us. During this trip, we always make a point to stop at St. Catherine's Chapel on the campus of Camp St. Malo, right outside of Rocky Mountain National Park.
It's this chapel that Pope John Paul II visited in 1993 during Denver's World Youth Day. The mountains that rise from its base were hiked by the 73-year-old and praised for being as beautiful as the ranges in his native Poland. The glory of this perfect creation was a sure sign that pointed to God and His presence among His people.
As fall sets in, and the itch to travel to the far-off places of our favorite saints grows…itchier, St. John Paul II's attitude serves as a great reminder to all of us. Our Lord created beauty to be seen and enjoyed by all in all places, to grace us with His most beautiful presence, and to lead us to His love and perfection, to be filled with the joy that is simply Himself. Though it's become tougher to ski the Alps or traipse through the Polish countryside, we have definitely not been abandoned by the One who most loves us.
As we celebrate the feast day of St. John Paul II on October 22, be sure to bask in the beauty that lays outside, the beauty that is set right before you, and see the most loving presence of God in your midst.
Check out our latest FREE eBook –
a perpetual calendar for the Church's immovable feast days!
Follow along all year round and find something to celebrate every week.
---