3 Things You Must Do Before You Make a Pilgrimage:
A Spiritual Preparation Guide

Melvin Ullrich | Last Updated: August 27, 2021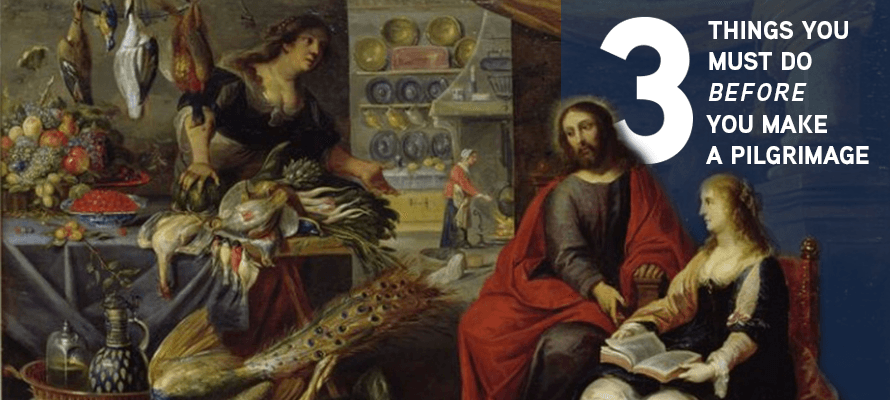 So, you've decided to make a pilgrimage. You've registered, purchased insurance, and obtained the right travel documents … but there's so much more to a pilgrimage than the practicalities of travel! You're not just going on a vacation. You're putting yourself in God's hands in a very special way, asking Him to show you what it means to be in this world but not of it. You need make sure you "pack" spiritually as well, so that your hand is well prepared to hold onto God's as you travel.
Ora (Pray)
It's easy to get so caught up in planning that we forget to pray. Unless we make room in our hearts and minds for God to do His work in us, we won't get all the spiritual fruit available from a pilgrimage experience. When we build pilgrimage-minded prayer habits well in advance of such a journey, however, it is so much more natural to stay tuned in to the "God channel," where God waits to speak to our hearts, especially when we find ourselves in places that bear special marks of His contact.
God always seeks to lighten our burdens rather than make them unmanageable. When our family decided to make a pilgrimage to Europe this fall, we were already praying a daily Rosary together—which, for a busy family, is not always easy. The idea of adding more prayer to our routine was daunting. Thus, starting nine months from our departure date, we added quick, simple prayers to Our Lady, asking for her intercession under the titles of the three apparition sites we had in our itinerary.
Are you already in the habit of daily prayer? Add something simple to that habit, perhaps using a title Mary associated with your destination or requesting the intercession of a particular saint. If you're still struggling to make prayer fit into your everyday, now is a great time to reframe your day. A daily Rosary is a non-complicated way to start and provides a great framework for adding brief, pilgrimage-specific prayers. Remember to pray for not just your own journey but that of your fellow pilgrims and for all the people you'll meet along the way.
Finally, it's a good idea to intensify your prayers in the last days leading up to your pilgrimage. For example, by happy accident, our family's departure date was scheduled nine days after the feast of St. James the Apostle, patron saint of pilgrims. We added special prayers to him at the end of our Rosary starting on his feast and ending on our car ride to the airport.
Et Labora (Work)
Saving money might not seem like a spiritual activity at first blush, but it does involve growth in virtue! St. John Paul II wisely said, "Don't waste your suffering." Are you facing many little irritations involved in saving money for a pilgrimage? Put them to work! Offer up them up for the intention of a good pilgrimage.
We spent nearly three years saving up for ours. So many Friday nights, at the end of another long and stressful week, I really wanted to get takeout, but that would've dipped into our pilgrimage fund. During such times, I often told my grumbling kids—and, quite frankly, myself—that "Pilgrimages don't pay for themselves." Thankfully, the preparatory self-denial strengthened us all for the grace needed to survive in foreign places, experiencing anything but the comforts of home. And we certainly got our fill of restaurant meals during our travels!
You're also likely be doing a lot of walking or other physical activity on your pilgrimage. If the thought of "getting in shape" is less than comfortable to you… well, there's one more thing to offer up for your trip and the intentions of your fellow pilgrims. Physical discomfort deliberately chosen for the sake of unity with Christ is another way to show Jesus that our love for Him is not forced but a gift freely given.
Pack Wisely (Gather Others' Prayer Intentions)
One way to make your pilgrimage more meaningful is to offer space in your heart and your prayer times for the intentions of the folks at home. Start a blog and ask your readers to comment with their prayer intentions. Choose a small, easy-to-pack notebook collecting the prayer intentions of people you know in real life and carry this with you as you travel. Ask your pastor if you may find a way to gather intentions from members of your parish. Then, remember that for all these people on the receiving end of your prayers, probably at least half of them are also praying for you.
Setting Forth
A pilgrimage is a privilege and a gift worth all the preparation required. Through prayer, work, and intentional connections with all kinds of fellow earthly pilgrims, you can make your trip a far richer experience than any vacation ever could be. After all, St. Therese of Lisieux says, "The world's thy ship and not thy home." You're always on a pilgrimage. Always. We don't really get home until we get to Him.
Erin McCole Cupp is a homeschooling Catholic mom and lay Dominican. While she lives in the Philadelphia countryside with her husband and three children, she is a Pilgrim at heart, always journeying closer to Christ and the Catholic faith.
---