Working Alongside St. Joseph
Bri Campbell | Last Updated: May 12, 2020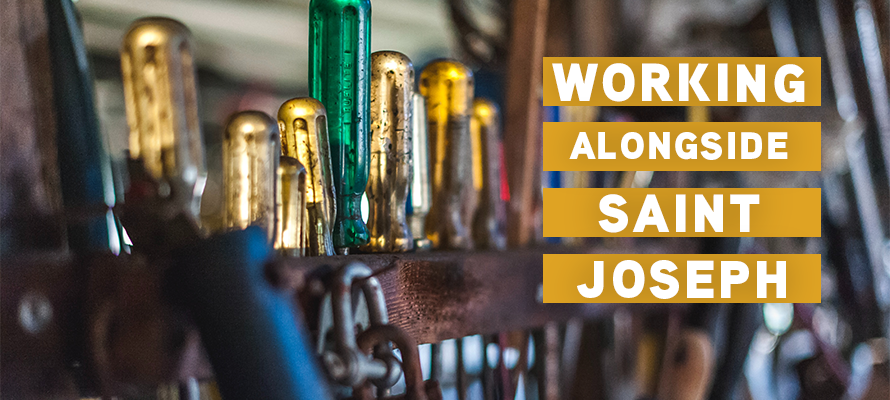 This article is an excerpt from our new eBook Homes, Hobbies, & Holiness: Living with the Saints in your Domestic Church.
As a small child, helping my dad work on projects in the garage was always a treat.  My brother and I would spend weekends with him out there learning the difference between a flathead and Phillips screwdriver, holding things steady, and handing him tools as he repaired and built things for our house.  We learned many valuable skills that have proved useful in my own home as an adult.  I can fix small things and do some household repairs on my own – using the tools he gave me when I first moved in. 
Of course, some of the things he created and built weren't merely functional or practical, but also works of art.  I have two tables in my living room that my dad built out of scrap pieces of redwood trees and stumps that had been discarded from other projects.  They are useful, but also beautiful. 
Many homes have a space set apart for creating things – crafting or building.  In my house growing up it was our garage for my dad, sometimes spilling out into our driveway if more space was needed. For some people it may be a shed, a whole room, or perhaps just a corner tucked away somewhere.  In any case, it is important to have an area for an outlet for our creativity and our human desire to make things – either out of necessity or with a longing to create something beautiful - and St. Joseph is the perfect patron for such a space.  He was known for being a carpenter, often translated as craftsman, due to what scripture records was asked about Jesus – "Is he not the carpenter's son?" (Matthew 13:55) 
Though the Bible never quotes St. Joseph directly, Scripture tells us he was a just man and God chose him to be the husband of Mary and earthly father to Jesus. St. John Paul II  said about him, "St. Joseph was a just man, a tireless worker, the upright guardian of those entrusted to his care."  Jesus and Mary might have been directly entrusted to his care, but we can all take him as our role model and saintly father. 
The workshop is often where we teach our children the value of hard work and a job well done.  Where we learn not to cut corners and to do our best. In today's world, it could also extend to the home office – especially as many of us are working from home.  And all work is worthy of respect and doing our best to provide for ourselves and our family. 
According to Scripture, St. Joseph was of the line of David.  He was a righteous man and therefore a good Jewish man.  He would have been familiar with the Torah and the Law and the rest of Jewish scripture, so he would have learned to emulate the words of the psalmist:

Happy are all who fear the Lord, who walk in the ways of God. 
What your hands provide you will enjoy; you will be happy and prosper. (Psalm 128:1-2) 
In addition to working hard to provide for his family, St. Joseph played a pivotal role in raising Jesus. As I learned from working alongside my father, Jesus, too, learned from working alongside St. Joseph. As St. John Paul II said in his apostolic exhortation Redemptoris Custos (Guardian of the Redeemer), "the growth of Jesus 'in wisdom and in stature, and in favor with God and man' (Lk 2:52) took place within the Holy Family under the eyes of Joseph, who had the important task of 'raising' Jesus, that is, feeding, clothing and educating him in the Law and in a trade, in keeping with the duties of a father." 
When Pope Pius XII established the feast of St. Joseph the Worker on May 1, 1955, he spoke to the Italian workers a message for us all: 
St. Joseph is the best protector to help you in your life, to penetrate the spirit of the Gospel. Indeed, from the Heart of the God-Man, Savior of the world, this spirit is infused in you and in all men, but it is certain that there was no worker's spirit so perfectly and deeply penetrated as the putative father of Jesus, who lived with him in the closest intimacy and community of family and work. So, if you want to be close to Christ, I repeat to you "Ite ad Ioseph": Go to Joseph! 
May we all go to St. Joseph this year on his feast day and every day and ask him to be with us in our daily work – whether at home or in the workplace – and ask him to help draw us closer to our Lord, Jesus Christ, whom he knew as only a father knows his child. 
Like the article? Read more in our FREE eBook
 Homes, Hobbies, & Holiness: Living with the Saints in your Domestic Church, available for pre-order now!
---