Walking into your Domestic Church
Bri Campbell | Last Updated: April 23, 2020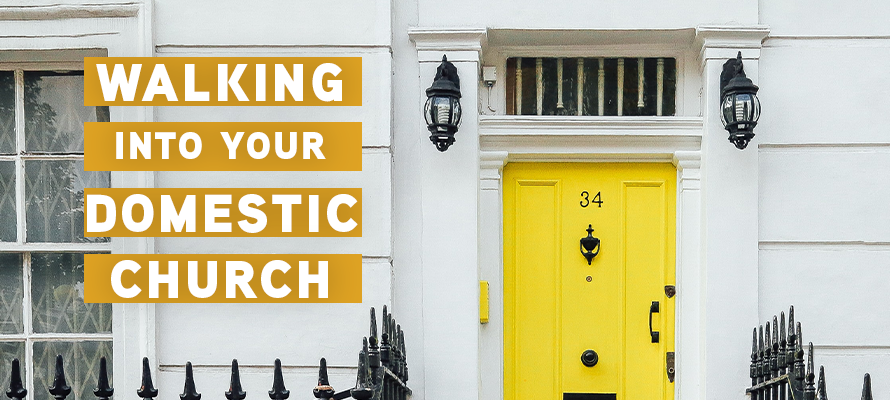 This article is an excerpt from our new eBook Homes, Hobbies, & Holiness: Living with the Saints in your Domestic Church.
Whether we realize it or not, the home is an exciting place.
It's the place where all activity flows, the place where you welcome the stranger, the place where you feed the hungry. It's within those four walls where little ones take their first steps, birthdays are celebrated, happy hours are had.
It's the place that occupies a special piece of our heart. When away from it, we grow homesick. When traveling, we yearn for our familiar spaces. When moved from it, it remains in us as a sentimental memory.
It's a place where we are safe, a place where we are known, a place where we are welcomed.
Beautiful, right?
I thought so, too. For me, my home was a place of rest. When I retreated home after a day at work or a day running errands, my home was my refuge. At home I can kick off my shoes and trade my jeans for my sweatpants. I can play my music as loud as I want, and I can cook whatever I want in a kitchen that is organized just how I like it. My home is my castle, a special treat at the end of a long day. I love my home.
Then, we were all ordered to stay at home.
Within the span of a couple days, my place of rest became like a special Swiss Army Knife. My office, gym, salon, restaurants, trivia night bar, conference room, movie theater, local bakery, and even my church, all morphed into one compact 100-year-old two-story duplex. Within a week, my home had become my prison – a nicely decorated and cozy prison – but a prison, nonetheless. Instead of looking forward to walking in, I was looking forward to getting out.
Of course, I'm not the only one who was affected like this. People around the world are facing the same day-to-day as I am. Some are taking it harder; I'm sure many are excited for the extra time it grants them. One pain I have been particularly keen to is the cry of the faithful who aren't permitted to enter the doors of their parish or experience the sacraments they once daily had access to. It is hard, to be in the middle of a worldwide crisis and to not be able to walk into a place of perfect refuge, in the presence of the perfect Savior. It's hard to not be amongst my closest friends at the Mass, to not attend parish activities and gatherings, and to not celebrate this year's Holy Week and Easter services with our usual parish traditions. It's really hard. But as we're told so many times from the earliest saints, we should aim for peace, "not driven to despair." (2 Corinthians 4:8)
Of course, this new normal for us proposes a lot of challenges and discomfort, but it also presents a wonderful opportunity. An opportunity to fully "become what [we] are." (Familiaris Consortio 17)
In his 1981 encyclical, Familiaris Consortio, Pope John Paul II encouraged the faithful to make their homes burst with the love of Christ. After all, the home and family are "the first and vital cells of society." (Familiaris Consortio 42) He recognized that the Catholic Church isn't merely a building, but wherever God's people are, calling our homes and those that occupy them "a Church in miniature," or the "Domestic Church." (Familiaris Consortio 49)
So, before we let anger, frustration, or sadness fill our hearts because of our losses, let's look at what we've gained. Now, more than ever before, we all find ourselves in a perfect opportunity to make our home lives reflect that of our faith, of our church, and of our ultimate goal – heaven.
We aren't by far the first who are trying to do this. For centuries, the very saints we emulate and call to were out doing the exact same thing. Cloistered, away from her large and loving family, St. Therese of Lisieux saw the mission of her new life as a religious when she said "The value of life does not depend upon the place we occupy. It depends upon the way we occupy that place." The church is not something that has been taken away from us, it's something we've moved somewhere else. The more we try to emulate the attitudes of love, compassion, mercy, service, and forgiveness in our homes, the more we can see the Domestic Church come alive.
Throughout the rest of this book, we will be giving you ways to transform your own homes into a Domestic Church through the eyes of our favorite saints. We hope that reading, reflecting, and praying through the following pages will put much peace in your heart, a new sense of purpose in your mind, and Christ at the center of your home.
Now, as we walk through the front entryway of our little Domestic Church, you'll find St. John Paul II, welcoming you inside: "Do not be afraid. Open wide the doors for Christ."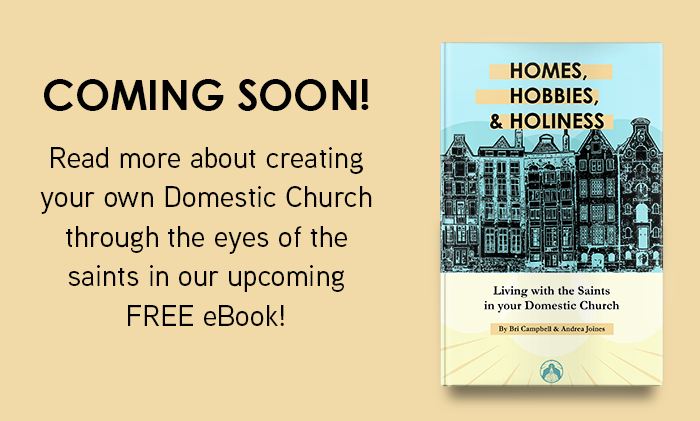 Like the article? Read more in our FREE eBook Homes, Hobbies, & Holiness: Living with the Saints in your Domestic Church, available in May!
---