Is Vatican Paving the Way Toward Approval of Medjugorje?
Stephanie Engelman | Last Updated: July 13, 2020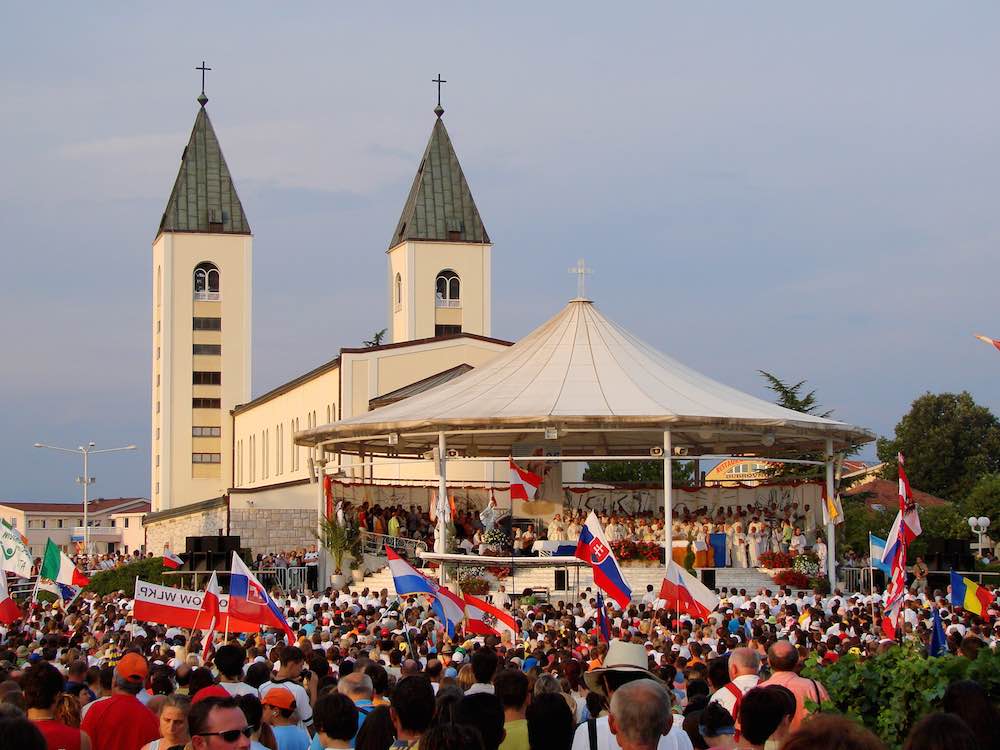 Recent events have lead many to speculate that the Vatican may be paving the way toward approval of Medjugorje as a site of Marian apparitions.
On Thursday, May 31, 2018, the Feast of the Visitation of the Virgin Mary, the Vatican announced that it was appointing recently-retired Archbishop Henryk Hoser as Special Apostolic Visitor to the Parish of Medjugorje. As such, the Vatican announced, Hoser will take up residence in Medjugorje "for an indefinite period and ad nutum Sanctae Sedis," or "at the disposal of the Holy See."
His mission, the Vatican press release stated, is to "guarantee a stable and continuous accompaniment of the parish community of Medjugorje and the faithful who arrive in pilgrimage, whose demands require special attention."
As such, this appointment of Archbishop Hoser is a continuation of the work he began when he was appointed as Papal Envoy to Medjugorje in February 2017, a role in which he was asked to determine the needs for pastoral care in Medjugorje. His appointment in that role ended in December 2017, at which time the Archbishop shared overwhelmingly positive sentiments.
"The devotion to Medjugorje is allowed," the Archbishop said in a statement to Aleteia on Dec. 7, 2017. "It's not prohibited, and need not be done in secret." Archbishop Hoser remarked on the fruitfulness of Medjugorje, commenting, "This is a phenomenon. And what confirms the authenticity of the place is the large amount of charitable institutions that exist around the sanctuary. And another aspect as well: the great effort that is being made at the level of Christian formation. Each year, they organize conferences at different levels, for various audiences (priests, doctors, parents, young people, couples …)"
Notably, Hoser stated: "Today, dioceses and other institutions can organize official pilgrimages. It's no longer a problem."
In an interview with the Polish Press Agency on June 3, 2018 regarding his new appointment, Archbishop Hoser said, "Pilgrims from all over the world come to Medjugorje every year – about 2.5 million people each year – and now my task will be to help the local priests in all improvements and changes that will help pilgrims live spiritually in Medjugorje, and in better conditions."
Calling Medjugorje a "prophetic and charismatic place of prayer for world peace," Hoser stated, "Our Lady is venerated there, dedicated to Our Lady Queen of Peace, and we know how much peace is threatened in the world today."
Hoser noted numerous pastoral needs which he plans to address, stating that increasing the number of confessors was the greatest priority. "Medjugorje is a phenomenon of mass confession," he stated. "There are 50 confessionals, and still not enough, and above all, there are too few confessors." He also mentioned the need to create a larger space for liturgical worship, and expressed a need for an increase in hotel space, stating that the small hotels run by locals were inadequate.
Interestingly, there are currently 40,000 hotel beds available in Medjugorje, and hotels are rarely at capacity, accept for a few times each year during special events. This has led many to speculate that the Archbishop's role is meant to pave the way for the declaration of Medjugorje as a Marian shrine, and possible approval of the early apparitions, as recommended by the Ruini commission in the spring of 2017 – a move which would certainly result in an influx of pilgrims to Medjugorje.
The attitude of those devoted to Medjugorje is one of jubilation. "Personally, this news brought me to tears," stated Ann Vucic, a Medjugorje pilgrim leader who partners with Tekton Ministries. "In her messages, Our Lady has frequently stated that the Lord has plans for the world, which He wishes to accomplish through Medjugorje. This event is a huge step in the direction of the fulfillment of those plans, because the Church has effectively opened the doors to Medjugorje!"
Only time will tell what lays ahead for Medjugorje, but we here at Tekton continue to believe: "you shall know them by their fruit." As we continue to witness the great fruit borne through Medjugorje, we give thanks to God for these latest developments and pray that His will be done as Holy Mother Church continues to investigate and consider her approval of Medjugorje.
Are you ready to make a pilgrimage to Medjugorje? They are among the most spiritual – and affordable – pilgrimages that you can possibly make. Learn more here!
Related Articles:
Official Pilgrimages to Medjugorje Authorized, States Vatican Envoy
Stranger's Words Lead Medjugorje Pilgrim Home to Catholic Church
Why Has the Blessed Mother Appeared in Medjugorje? by guest blogger, Ann Vucic
---