Every day in Medjugorje, seven to ten thousand people kneel together in Eucharistic Adoration. So, Fr. Leon Pereira, the chaplain to English-speaking pilgrims in Medjugorje, knows a thing or two about Adoration. Here are what he calls the three essential elements of Adoration:
SILENCE. Our world today offers little opportunity for silence. Media and mobile devices bombard us with noise and news throughout the day. But often after many years in a loving relationship, a happy, intimate silence develops. This intimate silence is imperative for Adoration. As St. John of the Cross said, "What we need most is to be silent before this great God with our appetite and with our tongue, for the language He hears best is silent love."
ATTENTIVENESS. There's nothing sadder that seeing a couple sitting opposite each other in a restaurant, both gazing fervently at their smartphones instead of at each other. There is no gift so lavish as unfettered attention. In Adoration, we attend to the Lord. St. Alphonsus de Liguori said, "Good friends find pleasure in one another's company. Let us know pleasure in the company of our best Friend, a Friend who can do everything for us, a Friend who loves us beyond measure. Here in the Blessed Sacrament we can talk to Him straight from the heart."
RECEPTIVITY. In our silence and attentiveness, we receive from God.  He will guide us and teach us, but only if we let Him. Fr. Leon reminds us that when we are open to the Lord, it is very powerful. God has so many graces He wants to give us and guides us in prayer through Adoration. St. Teresa of Calcutta said, "When you look at the crucifix, you understand how much Jesus loved you then. When you look at the Sacred Host, you understand how much Jesus loves you now."
Fr. Leon believes that Adoration is one of greatest fruits of Medjugorje. "Here many laity and priests learn to love Adoration. They taste and see the goodness of the Lord. Adoration is the heart of Medjugorje, because Jesus is the heart of this parish, as He must be in every parish."
A special invitation from Fr. Leon: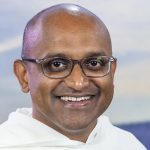 Fr Leon Pereira, OP, is chaplain to the English-speaking pilgrims in Medjugorje. Fr. Leon is traveling to the United States this spring to personally invite the faithful to Medjugorje, offer insights on the latest developments and Vatican presence in Medjugorje, and share the Five Stones or Messages of our Blessed Mother. These events are free of charge. Tekton staff members attest his words will move you and deepen your faith. CLICK HERE to find where Fr. Leon will be speaking near you. If he is not close by, he is worth the drive!