This couple coined the term "Vocation Awareness"
Bri Campbell | Last Updated: February 16, 2023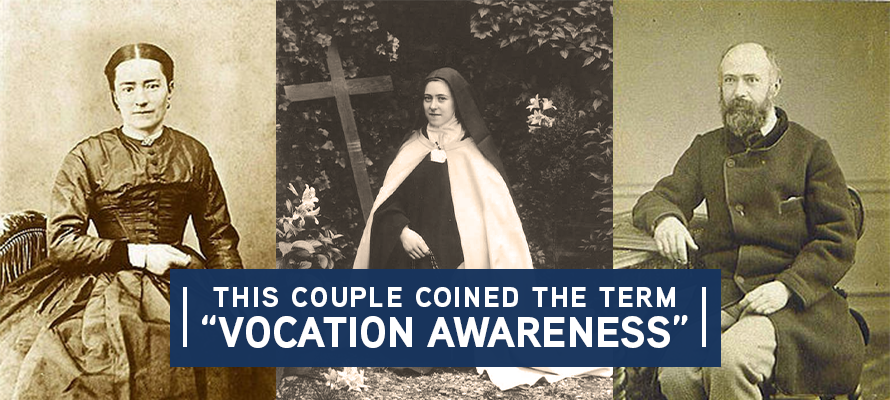 It takes a family, and what a family this was! The marriage of Saints Louis and Zelie Martin led them to parent one saint, St. Therese of Lisieux; Leonie Martin, a Visitation nun on the path towards beatification; and three other daughters who became Carmelite nuns like St. Therese.
"The holy spouses Louis Martin and Marie-Azelie Guerin practiced Christian service in the family, creating day by day an environment of faith and love which nurtured the vocation of their druthers," said Pope Francis when he canonized the first-ever married couple with children on October 18, 2015.
Saints Louis and Zelie (as she was known) were an ordinary couple living a strong sacramental life in the Catholic Church. While they had nine children, only five girls made it to adulthood. Through their trials and sufferings, they always relied on God, repeating Zelie's steady motto of "Carry on, bravely."
Louis was a watchmaker and Zelie a lace-maker who employed 15 women or more at a time, allowing them to work from their homes. Zelie's lace-making business became so successful that Louis sold his watchmaking business, helping Zelie manage her business.  The revenue from their business allowed Louis to retire and raise their daughters after Zelie died of breast cancer when St. Therese was only four years old.
This powerhouse of a couple is a strong example of marital love, fidelity, and trust in God.  A prayer to anyone in this family can't go wrong. Together they show us that sanctity is within reach for all of us. The Martins are a blueprint for today's family, reminding each of us to have faith and a strong awareness of the need for vocations.  Their motto for their marriage came from a quote by St. Joan of Arc: "God is served first."
---