The Top 10 Tips for a Pilgrimage
Bri Campbell | Last Updated: October 22, 2020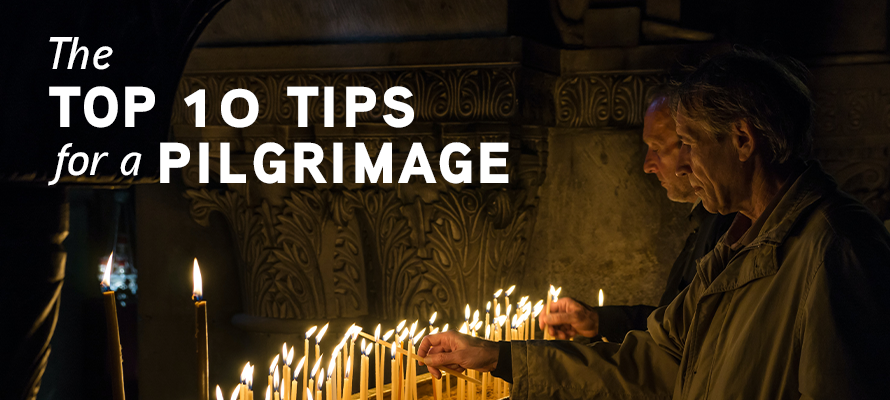 Take your rosary or prayer book for the long flight and as a prayer aid at the very special holy sites you will be visiting. As St. Padre Pio says, "Pray, hope, and don't worry." The best slogan for pilgrimage travel anywhere!


Dress for sacred spaces. It's important to remember that churches in Europe and the Holy Land have strict dress codes – no shorts and no sleeveless shirts. You're encountering God in these sacred spaces, so dress accordingly! Pack a light sweater to go over a sleeveless shirt. There are also pants that unzip into shorts. You can zip the pant legs on and off as needed.


Pack a sense of adventure and plan to try new food! Of course, be smart about it if you have allergies and take along a few digestion tablets in your luggage just in case. But true regional food – wherever you pilgrimage – is a real treat! You may discover a new favorite cuisine.


Save room in your luggage for the holy objects you will buy that have been blessed on your pilgrimage or touched to the tombs of the sacred places you visit. You will cherish these keepsakes and have unique gifts to bring back to friends and family.


Pack a few Ziploc bags and a small empty bottle or two. Whether its water from the Jordan River or St. Peter's Basilica, plan ahead to your holy water and other packed items safe and secure. You'll have to check it so double bagging your bottles is a good idea!


Bring cash. Enough for water, lunches, and souvenirs. Yes, most places take credit cards, but they often have purchase minimums or are slow to process, which can eat up your free time or hold up your group.


Bring a diary or small notebook to record special memories and reflections of your trip.


Bring sunglasses and a small travel umbrella. They take up little space and help you enjoy your pilgrimage and enter into prayer without worrying about the weather.


Pack your patience! Sometimes minor annoyances or inconveniences happen on pilgrimage and allow us to offer them in prayer.


Bring along people's written prayer petitions from home. You can seal them in an envelope and lay them at a special site as a blessing for others.
If you have already been on a pilgrimage, do you have any tips you would add to this list? Please contact us to let us know!
---