St. Bona of Pisa Has Been Taking Care of Pilgrims for a Long Time
Bri Campbell | Last Updated: July 13, 2020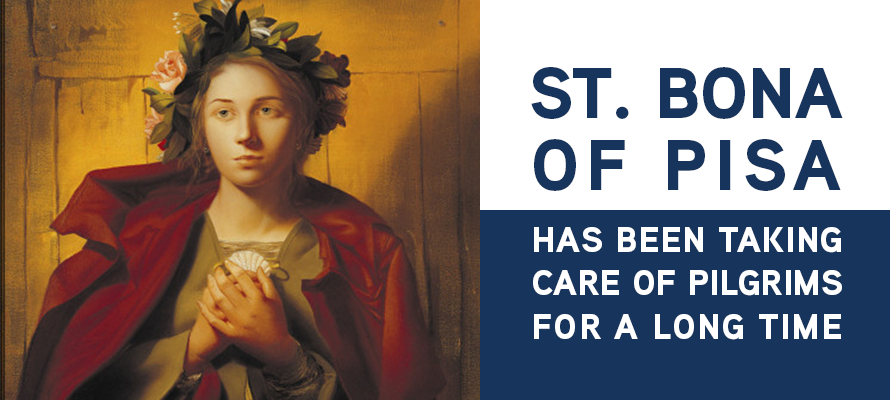 This saint is a true pilgrimage friend.
While St. Bona of Pisa might not be as well known for walking the El Camino trail in Spain like St. Francis of Assisi or the Spanish war-hero El Cid, she is one powerful saint to ask for intercessions on your journey.
St. Bona of Pisa's feast day is May 29. She walked the Camino de Santiago ten times and was so devoted to St. James the Apostle that she was made an official guide by the Knights of St. James, an order that was established to protect pilgrims on the route. The order still exists today and members still promise to defend the Immaculate Conception doctrine of the Catholic Church. In St. Bona's time the Knights followed the religious rule of St. Augustine and operated convents along the route. St. Bona was an Augustinian tertiary from the age of 10.
She was born in Pisa in 1156 and made the 1,000-mile pilgrimage from Italy ten times, each time taking large numbers of pilgrims with her on the El Camino walk, or Santiago de Compostela—Way of St. James. Most of it she did on foot.  In Medieval times, pilgrims started from wherever their front door was in Europe. Today, most people start in France to begin their pilgrimage to the holy site that hold St. James the Apostle's tomb. Walking on the El Camino today is open to everyone with varying degrees of difficulty and distances as short as 75 miles.
 St. Bona's devotion to St. James began as a child when she was gifted with mystical visions. At age seven, she saw Jesus reach down from the crucifix to hold her hand. Her next vision was of Jesus, the Blessed Mother and St. James the Greater— the brother of St. John and one of the three apostles who witnessed Christ's Transfiguration. Bona was frightened by the light around the figures that appeared to her and ran away.
But St. James followed her and led her back to the image of Jesus. This leading her back to Christ inspired St. Bona to devote her life to leading pilgrims along the El Camino as a way to lead them to Jesus. Her extraordinary young life is inspirational. When she was 14, she traveled to find her father who was fighting in the Crusades. She was captured during the trip by Islamic pirates and later rescued by her countrymen. This did not deter her from traveling or sharing in the spiritual goals and trials of fellow pilgrims on the El Camino. She continued to lead pilgrims on their spiritual journey to pray at St. James tomb. Becoming ill on her tenth pilgrimage in 1207 on the El Camino she returned home to Pisa and died near the church of San Martino in Pisa where she is buried.
Pope John XXIII canonized her in 1962, making her the patron saint of pilgrims, travelers and flight attendants. While St. Bona lived before airplanes were invented, she is still surely looking out for all travelers going to her beloved St. James who was martyred by sword in Jerusalem for his faith in Christ.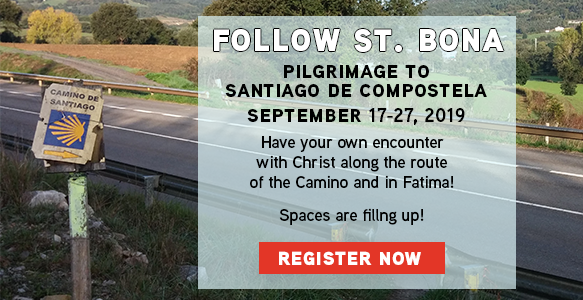 ---