Retracing the Nativity During Advent
Andrea J | Last Updated: March 24, 2022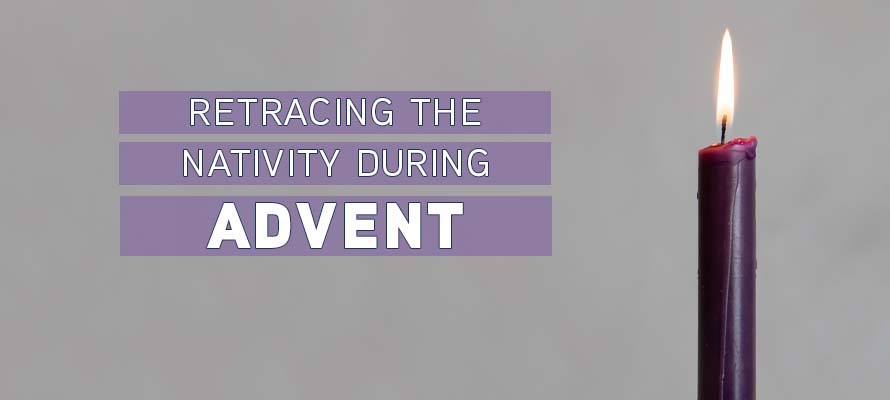 The first season of the liturgical year is Advent, which is followed quickly by Christmas.  The readings during this time focus on the inevitable Second Coming of Christ as well as His first coming over 2,000 years ago.  It is a time to slow down and reflect upon how we are living our lives today and how well we are preparing for the next life to come.
As Pope Pius XII wrote in his encyclical, Mediator Dei (On the Sacred Liturgy):
In the period of Advent, the Church arouses in us the consciousness of the sins we have had the misfortune to commit, and urges us, by restraining our desires and practicing voluntary mortification of the body, to recollect ourselves in meditation, and experience a longing desire to return to God who alone can free us by His grace from the stain of sin and from its evil consequences.
With the coming of the birthday of the Redeemer, she would bring us to the cave of Bethlehem and there teach that we must be born again and undergo a complete reformation; that will only happen when we are intimately and vitally united to the Word of God made man and participate in His divine nature, to which we have been elevated.
A pilgrimage during Advent or the Christmas season can help encourage us on our journey to the Lord.  Shrines are often less crowded, and with shorter days and longer nights, it lends itself well to deeper prayer and reflection at all the holy sites.
This time of year lends itself well to visiting the places tied to our Lord's birth and early life.  On a pilgrimage to the Holy Land, one can visit the cave where the angel spoke to Mary, journey with the Blessed Mother to Ein Karem to see the sites of the Visitation, see where the Gloria was proclaimed to the shepherds in the fields, and pray at the site of the Nativity in Bethlehem.  The sites, smells, and ambiance of the Holy Land draw the faithful into deeper contemplation of the Incarnation of the Lord.
Even if you can't make a pilgrimage to the Holy Land at this time, you can always make a local pilgrimage to churches around your area and sit in the stillness in front of the tabernacle or the Nativity scene.  Many churches have communal penance services to help return us to the state of grace, as well as parish missions to help encourage us on our faith journeys.
Whether we pilgrimage near or far, as this is the first season of the liturgical year, it is an opportune time for new year's resolutions of faith – where we intentionally take time to reconnect with the Lord and seek His will for our lives.
To read the other blogs in this series, please click the appropriate link below.
---