What do St. Edith Stein, St. Therese of Lisieux, and St. John of the Cross all have in common?
Apart from residing in Eternal Paradise together, these three saints lived their lives in the Carmelite order, leaving the world behind to live in a community devoted to prayer, contemplation, and being in union with the Lord.
Today, July 16, is the feast of Our Lady of Mount Carmel – a day of celebration for religious and laity alike. Throughout the history of Christianity, the charisms of the Carmelite order have attracted people from all walks of life, inviting anyone with a desire to grow in faith to a life of joy and devotion. Today, this movement still pulsates through the Catholic community, particularly through one specific sacramental: the brown scapular.
This simple necklace-esque symbol could be found around the necks of Carmelite-professed and Carmelite-minded people since the 13th century. In 1251, Our Lady appeared to St. Simon Stock, the Prior General of the Carmelites at the time. In his vision, Mary held out a scapular saying, "This shall be a privilege for you and all Carmelites, that anyone dying in this habit shall not suffer eternal fire." The scapular was adopted as the habit of the order and remains as such to this day.
What is the Carmelite spirituality?
Carmelites live their vocations in a monastery, cloistered and separated from the world. Because of this separation, they are able to focus more deeply in prayer. Here are some tenets that describe the lifestyle of the Carmelite order:
Desire to attain union with God by detaching from everything that is not God
Allowing oneself to be transformed through Him by way of that union
Daily contemplative prayer with God and sacrifices made for Him alone
Practice living in the virtues with joy, humility, and solitude
Pray for priests, religious, and those guiding the faithful
One doesn't need to be a professed and cloistered Carmelite to join in these practices. In fact, the huge lay movement of adopting these practices into everyday life is what led to the scapular becoming what we know it today.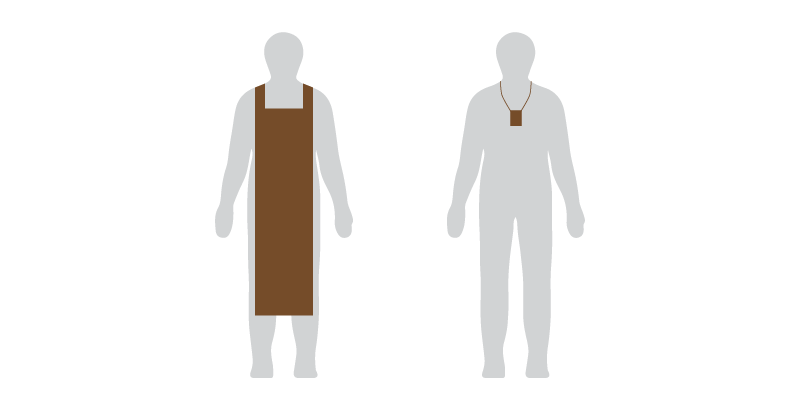 What is a scapular?
A scapular originated as the outer layer of the Carmelite habit. It consisted of two large, brown woolen cloths held together by two cords, with a hole in the center for the head. When worn, the two cords act as straps on the shoulders, with one woolen cloth each at the front and back sides of the wearer. Initially, the scapular was utilized as a work apron, as it covered up the robes underneath and kept them from becoming dirty. As more and more lay persons adapted the practice of wearing the scapular during the 16th century, it became smaller and more inconspicuous, being able to fit comfortably and easily beneath the clothing of the devoted.
The scapular is known as the "silent prayer," because one only has to touch it to be reminded to pray for strength, courage, and grace against temptation. Wearing it communicates a devotedness to Mary and her promises and is a reminder of being wrapped in her protective and peaceful mantle. It is a sacramental whose presence is a reminder to live in the virtues of Jesus and Our Lady and an outward sign of the great love Mary has for her children.
What it isn't is a free pass to heaven. Mary did say that whoever wore the scapular would not face eternal fire, but that doesn't make it a magic amulet that will beam you to heaven at the time of death. Instead, those that practice wearing the scapular and keep up with its devotions will naturally lead a life full of prayer graced with virtue through the special intercession and guidance of Our Lady. It takes an effort from the faithful, but Mary's promise can be trusted in that she will never lead us astray to a life and eternity that is void of her Son.