Our Latest Saint: Pope Paul VI, The "Original" Pilgrim Pope
Melvin Ullrich | Last Updated: July 13, 2020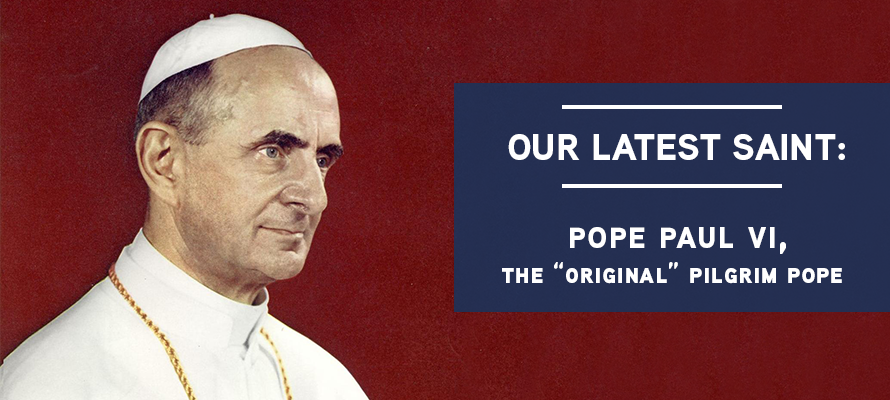 Most Catholics today lovingly refer to St. John Paul II as "The Pilgrim Pope." After all, during his 26 years as pontiff, he made pilgrimages to 129 different countries on six continents.
But this month, we celebrate the canonization of the "original" Pilgrim Pope, Pope Paul VI. Now known as St. Paul VI, he was elected in 1963 and in 1964 became the first modern pope to travel outside Italy.
Pope Paul VI made his first pilgrimage to the Holy Land, walking in the footsteps of Jesus in Israel and Jordan. His eight additional pilgrimages included visits to six continents, including Australia. In 1965, Paul VI became the first pope to visit the United States, where he celebrated Mass at Yankee Stadium and addressed the United Nations, delivering a scathing condemnation of war.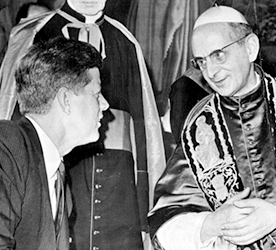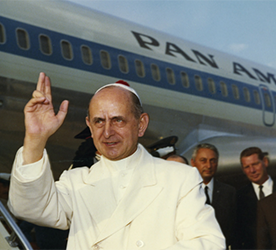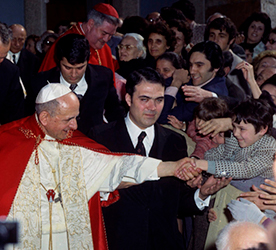 John Paul II and Paul VI have something else in common – they both survived assassination attempts during their travels. In 1970 while traveling in the Philippines, Paul VI survived a knife-attack by a Bolivian man posing as a priest. Pope John Paul II survived three assassination attempts, including an attack by a real priest from Spain who charged at the pope with a bayonet during a visit to Fatima in 1982. (The other attempts took place in Rome.)
For his final journey, Paul VI had three requests concerning his burial in 1978:
He wanted to be buried in a simple wooden casket, not a stately sarcophagus.


He did not wish to wear a papal crown or hold an ornate miter. He simply asked that an open book of the Gospels rest over his remains.


He asked to be buried in the bare earth.
We have no doubt there are many future saints among our past and future Tekton pilgrims. Know that we pray for you every day and join you in the journey to grow ever closer to Our Lord.
---