How to save time and money while traveling
Andrea J | Last Updated: October 6, 2023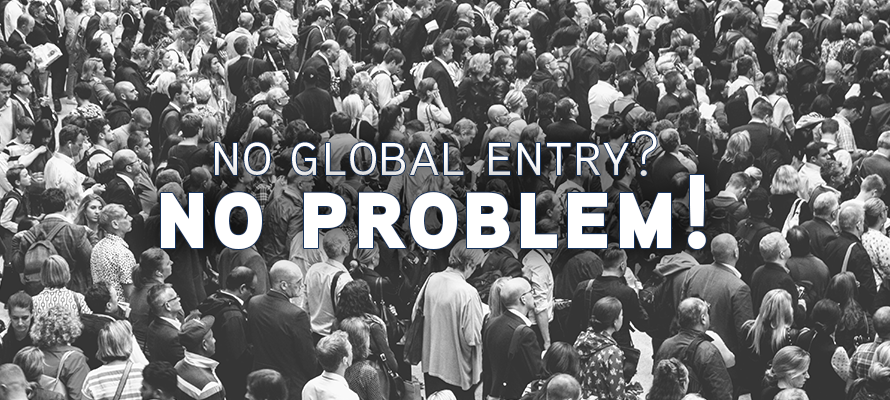 Do you like waiting in lines with hundreds of other people?  Especially after an 8-hour flight with very little sleep? Do you like paying to be in a shorter line?
If you're like most people, the answers to the above questions are all no.
If you don't mind waiting for over an hour after your transatlantic flight, then you can ignore the rest of this article.  Likewise, if you already paid for a service like Global Entry, the following will also not be helpful.
But, if you are like most people, this blog will help speed up the time it takes to get through passport control and customs upon returning to the US after an international trip.  And best of all, it's completely free!
Mobile Passport Control (MPC) is a program available for all US (and Canadian) citizens and lawful permanent residents. In sum, if you own a smartphone, all you have to do is download a free app, fill out a short online form, and submit it upon arrival at one of many US international airports. You are then given a QR code to scan/show the passport agent when prompted.  Best of all, the line for MPC holders is much, much shorter than those without.
How to Use Mobile Passport Control (MPC)
Step 1: Download the MPC app in the Apple Store or on Google Play.
This can be done at any time you have internet/data connection.  We recommend doing so prior to your trip, so it is already on your phone before travel.
Step 2: Add your traveler information.
This can also be done ahead of time.  You will need all your passport information and will have to take a selfie.  You can either enter your passport information manually, or scan it with your phone's camera when prompted by the app.
Step 2B: Add another traveler's information.
If you are traveling with a spouse or other family members, you can all be on the same form – up to 12 people.  As you have to submit a new form each trip, it is ok if you are not always traveling with your spouse.  In Step 5 you will choose which travelers are entering this specific time.
Step 3: Fill out the form
As you are heading back to the States, you can fill out the customs form on the app.  You will click the "New Submission" button and answer all the questions as prompted.  You will need to know your arrival airport, select the travelers filling out the form, and answer six yes/no questions about items in your possession and places you have been (see image below for the questions).
Step 4: Save the form
You can save it while in transit, but you cannot complete the next step until after you land. Your saved form looks something like this: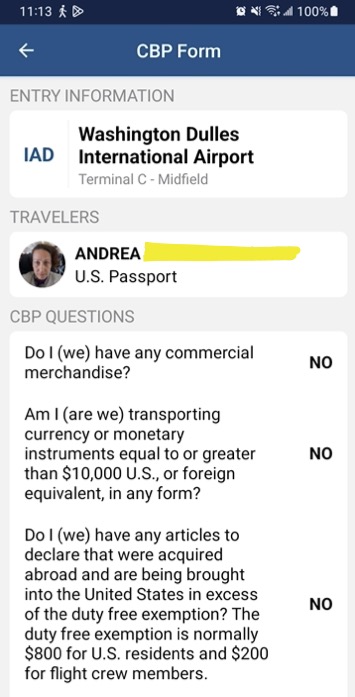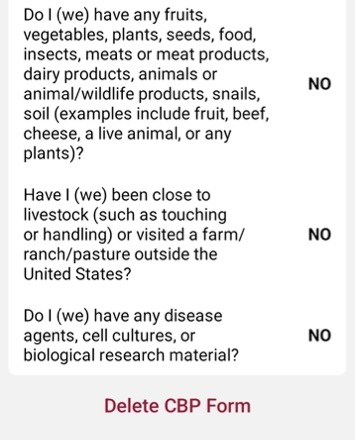 Step 5: Submit Form
This step can only be done after you have landed. One good thing about this, is you can turn your phone off airplane mode once you land to help complete this process. Often, the location services on your phone will know when and where you've landed and will prompt you to submit your form at the proper airport.
Step 6: Save the QR code
After submitting the form, you will be given a receipt with a QR code.  This code is accessible for 4 hours after submission.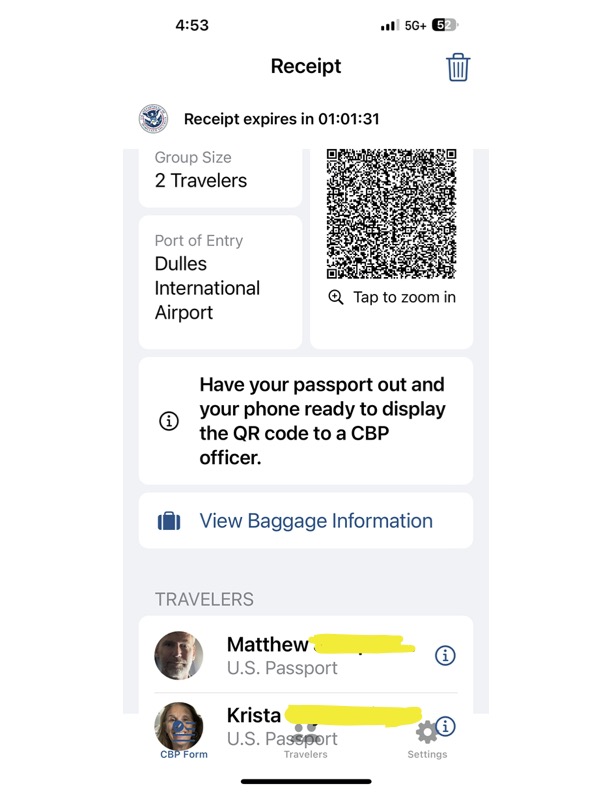 Step 7: Follow the signs and directions given by TSA and passport agents
Follow all signs for MPC holders or Mobile Passport Control and listen to any instructions given by airport employees.  If there are any doubts about where to go, just ask which line you should go in.  chances are, it's one of the shorter ones!
Step 8: Continue through the airport
After answering any questions from the passport agent, you will pick up your checked bag. Depending on your answers to the agent's questions, you may have to declare items at customs. Otherwise, if you have reached your final destination, you are free to go.  If you have a connecting flight, you will drop your checked bag off again and find your next gate.
From recent personal experience, members of our office staff used MPC to greatly shorten their time in the passport control line.  One was done just before the checked baggage was even on the carousel and the other noted she was just 10 minutes after those passengers with Global Entry.
Mobile Passport Control (MPC) is a quick, easy, and free way to streamline the process of returning home.  We highly recommend it to all our international pilgrims!
---