Medjugorje Pilgrim Experiences Remarkable Graces & Answered Prayers
Stephanie Engelman | Last Updated: July 13, 2020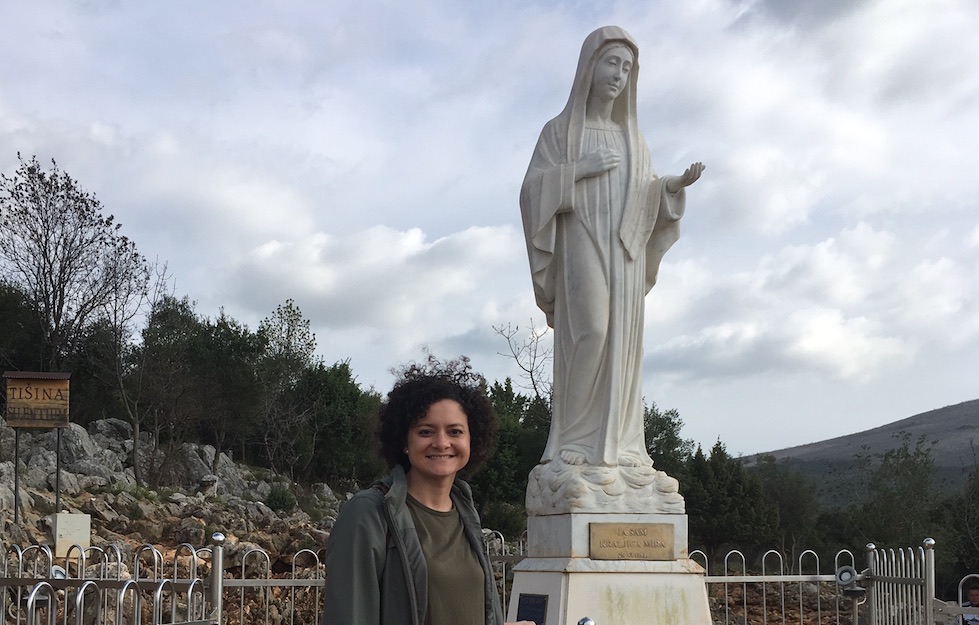 "We think of  Lent as a time of stripping away. This year, my Lent was incredibly challenging in multiple ways," Thirty-two-year-old Maria of Indianapolis, Indiana shares. "I was going through a period of desolation. I just kept thinking, hold on to Easter, hold on to Easter, things will get better."
Easter Sunday came and, despite the joyous celebrations, the desolation did not abate.
Three days after Easter Sunday, Maria left for a pilgrimage to Medjugorje with Ann Vucic, which began with a retreat on the Island of Krk given by Fr. Zlatko Sudac. "At one point, Fr. Sudac mentioned that we were going to be doing some intense prayer. He specifically said, 'take the time to pray for yourself right now.'" Maria had come with a long list of people for whom she wanted to pray during the pilgrimage, and her inclination was to put their intentions before her own. However, Fr. Sudac's urging provided Maria the permission she needed to pray for herself.
"Something he mentioned… at first I thought, that's not me. He would never know that," Maria shares. "And then he said it again, and I knew: that was for me. All of a sudden the fear started to go away, the angst started to go away, and I knew that I was going to be okay."
"The whole point of Medjugorje is so that Mary can lead us closer to her son. She had already led me closer," says this woman who prays the Rosary daily and holds a very strong faith, "but she needed me in Medjugorje, and she needed me on that retreat. She needed me to encounter her Son through a priest to heal some old wounds."
Maria had never before heard of the phenomenon of rosaries turning to gold. While she was deep in prayer one afternoon during the retreat, the person beside her excitedly pointed out that the links on her rosary were gold. "Was it like that before?" the woman asked eagerly, to which Maria responded, "Um, yeah, I guess so."
Stunned realization swept through her though. She didn't remember the rosary having gold links, and she could not imagine it would have been made with gold links and a silver crucifix. When she asked the friend who had made the rosary, her friend confirmed: the rosary had been entirely silver.
"For the past two years, I've prayed the Rosary daily, and it has brought me so much peace," Maria says. "But Lent had been so desolate, such a struggle… I realized, I'd been asking God for a sign that my prayers were being heard. This was my sign.
"I experienced my Easter – my Resurrection – in Medjugorje."
"I didn't want to leave. I cried on the way home. I cried because I didn't want to leave the peace. I didn't want to go back to all these unknowns in my life," says Maria, who was in the process of discerning her career path while also faced with the necessity of finding a new place to live.
When the plane touched down in Chicago and Maria stood to get her bag, she noticed an extreme weightlessness, which she describes as being similar to what you experience from the downward motion of a rollercoaster. "At first I thought I was extremely sleep deprived, but it continued to linger for days and then weeks. I realized that it intensified when I prayed the Rosary or other prayers.
"Then, at work, I realized that I was very focused on the task at hand – I couldn't focus on the next day – and I realized this was an answer to a prayer. I'd been praying over the past year and a half to be present in reality," Maria says, adding that she's a person who's constantly multitasking and struggles to sit still. "Experiencing this extreme weightlessness, this extreme peace from Medjugorje, helped me to stay present in the reality. I couldn't worry about tomorrow because I literally couldn't think about it. I had peace and just the one thing that was in front of me, and to be really present to where God was in that moment."
Several months later, Maria continues to experience that weightlessness. While it's not constant, like it was at first, it still serves as a frequent reminder of God's presence in her life. "It helps me to unwind, to really hear what God is calling me to, and to see the daily encounters with Him."
"Home is where your heart is," Maria quotes. "Medjugorje is where Mary's Immaculate Heart is, but it's not just her heart. She leads us to her Son's heart, the Sacred Heart. Of course I felt at home there. I was with these two beautiful hearts.
"I take my faith very seriously," she adds. "It was a deepening of faith and a going deeper. How often do we really take time to step away from our busy days, our busy weeks, to be alone with God? And not just for talking, but for him to love on us. I think that's important for people to realize – we all need to go, no matter how strong we think we are in our faith."
Maria has been pleasantly surprised to see how the graces she received through her pilgrimage to Medjugorje have flowed to those around her. From one man who experienced renewed faith when he saw the change in her rosary, to colleagues who have commented on her willingness to follow God's will as she discerns her career path.
"You come home a different person, and it impacts the people around you," Maria says. "You have no idea how your witness of saying yes to God will then cause others to grow in their faith."
---