La Virgencita, Patroness of the Americas
R R | Last Updated: July 27, 2023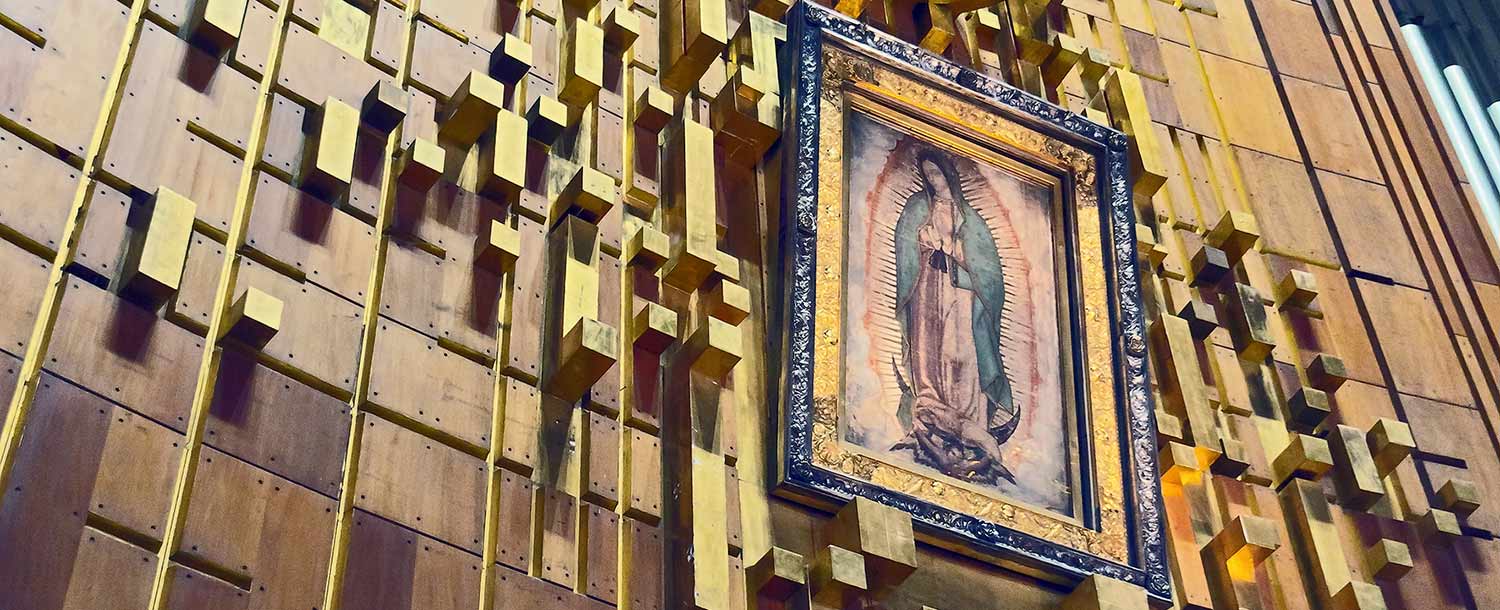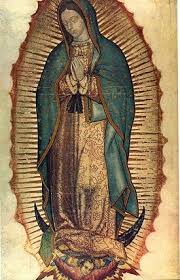 Mexico City can be an intimidating to fly into. It's not like San Diego when you are still flying but you're able to see people at work through their office windows… above you. Or like Washington D.C. when your ears pop and you transition from horizontal to vertical to horizontal within thirty seconds. What makes Mexico City so intimidating, in fact, has nothing to do with the flight; rather, it gives you a bird's eye view of one of the most crowded cities in the western hemisphere. With its traffic of cars, people, apartments, houses, schools, churches and pigeons all below you, part of you doesn't want to land.
All of that goes away, however, when La Virgencita catches your eye. And she does.
At first it seems comical. Then gimmicky. Then aggravating. But suddenly everything changes. You no longer mind being on one of five moving sidewalks that convey pilgrims in front of the raised tilma that bears Mary's image. No longer does the pushing and shoving of devoted faithful pilgrims seem to matter. The image comes into greater clarity. The colors seem to radiate off the maguey fibers on which they appear. You first think that she's too far away to even see her eyes. Then, however, she does it! She catches your eye and from that point forward, nothing is the same.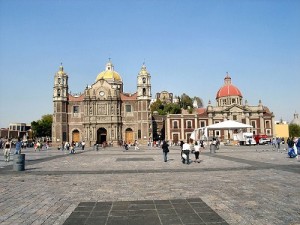 My first pilgrimage to Our Lady of Guadalupe was in 2003. Since then I've made three more. As pilgrims who have been to many holy sites say, "There's just something about that place. I can't explain it but I know that God is present there." And in Guadalupe's case, so is his mother.
The new basilica itself may not be the most beautiful home for the image. Let's be honest. It's pretty ugly. It looks more worthy of an episode of Star Trek in my opinion. Nor is the inside beautifully covered in mosaics or fine stained glass. But none of that matters once La Virgen de Guadalupe catches your eye. Many have said they just want to sit there for hours and look at her.
Hence, the moving sidewalks. No tents allowed.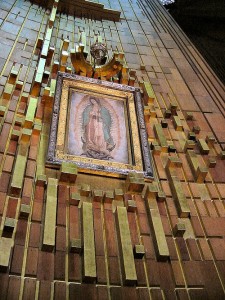 Yet in any one of the 14 chapels above the main body of the church one can sit and view the ongoing miracle. First appearing in 1531 to St. Juan Diego, the Blessed Mother continues to appear to millions of pilgrims each year, making Our Lady of Guadalupe one of the most visited Catholic sites in the world!
---