In late 2019, I had booked and planned a trip to Poland and Germany for May of 2020 with a fellow coworker here at Tekton Ministries. We were going to explore the homeland of St. John Paul II and then end our pilgrimage with a quick stop in Germany, where we were going to attend the Passion Play at Oberammergau. We had purchased all our flights, tickets, hotels, and entrance fees for the week, and we were anxiously counting down the days until we would get to go on this exciting adventure.
You can imagine our disappointment when the pandemic descended and we were forced to cancel our very detailed plans. We sympathized with all of our pilgrims whose pilgrimages were being rescheduled to the next year as we helped them navigate traveler's insurance and cancelled flights. We, too, wished we could still take our trip, but as the date approached and the borders showed no chance of re-opening, we accepted the fact that this European journey would just have to wait.
As the year continued on, I found myself with an unexpected amount of vacation days remaining from my cancelled trip in May. With the travel bug still itching me from my missed vacation, I decided to find a more domestic trip where I could explore uninhibited by closures and restrictions. On August 30th, I found myself flying to Salt Lake City, Utah, where I would visit all five National Parks within the state in six days.
Upon landing in Salt Lake City, my travel companion and I made a short trip to Great Salt Lake, where immediately I was struck by how similar my surroundings were to those of the Holy Land. The lake reminded me instantly of the Dead Sea, which I had just visited not even a year and a half previously during a pilgrimage to the Holy Land. The similarities would not end there.
As we made our way to southern Utah to visit our first park, I was in wonder at the scenery that flew by the windows. Born and raised in Indiana, this was the first time that I was engulfed in desert territory within the US. The colors and landscapes were remarkable, truly a thing of beauty, and would only get better with each park that we visited.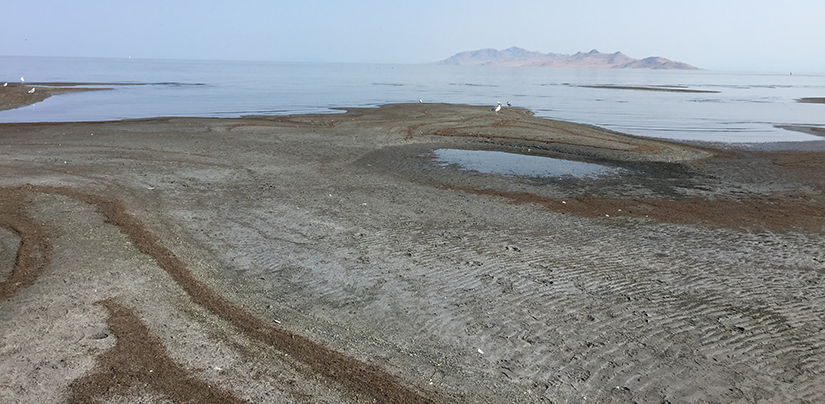 After hiking through our first park, Zion, we came across a couple who was also from Indiana while waiting in line for the shuttle. Newly retired, they told us of their plans to travel to national parks across the country for the next few months. They told us of the beauty that they encountered in each one already visited, and we in turn "oohed" and "awed" at the landmarks they told us of. Before reaching the visitor's center and making our separate ways, the husband told us about his hiking stick that he carried – how it was given to him by his "trail angel" several years ago, a generous woman had seen him struggling to climb a trail and offered him her walking stick, which decades later, he would still carry with him to each park he visited.
Talking to this couple, I couldn't help but think that we were wrapped up in a "God moment," where we, astonished by the creation, beauty, and goodness of the Lord gave glory to Him for His many gifts and blessings bestowed on this earth.
Then astonishment seized them all and they glorified God, and, struck with awe, they said,
"We have seen incredible things today." – Luke 5:26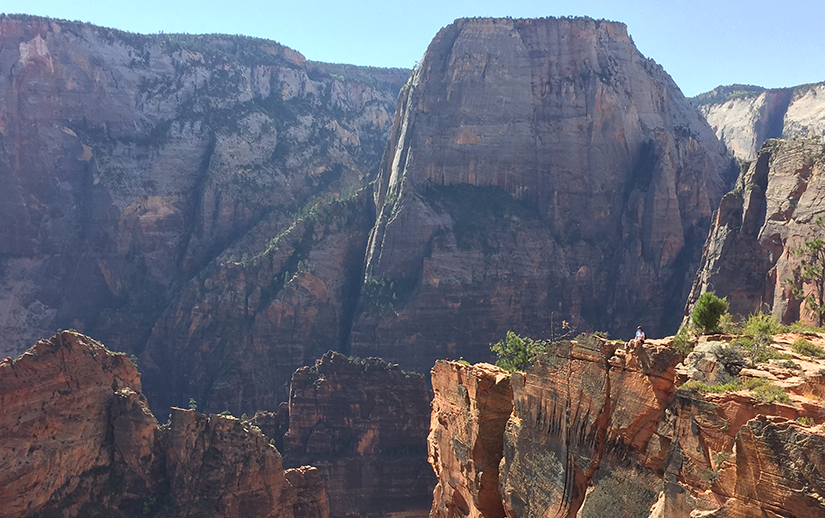 A few days and a few hikes later, we found ourselves in Capitol Reef. We decided to undertake a more strenuous hike along the trail called The Frying Pan, which would take us out about 5 miles one way and would end up being about a 10-mile round trip. Because of its difficult nature, we hardly saw any other hikers along the trail. Shade was rare, the desert was hot, and our water supply was drunk faster than we had anticipated. After a few hours, we had reached the end of the first leg of the trail, which came to a stop at a beautiful arch in the middle of a canyon. We decided to make our way back and finish our route strong.
As we traced our steps back along the trail, my friend wondered aloud how she hadn't noticed the scenery that we were passing the first time around. I looked out and realized the same thing. We hadn't noticed when navigating the terrain that we had missed our trailhead and had started along a completely different trail – one that took us another mile away from our route.
We started to backtrack, hoping that our water and energy would extend for another mile of unexpected hiking. It wasn't long before we happened upon a couple that we had previously passed when gazing at the arch about 30 minutes previously. Confused to see us approaching them from the opposite direction, they asked us if everything was all right. We told them that we were fine, but had wandered away from the correct trail and were now trying to find it. Concerned for our safety as they heard of the mileage we still had to complete in the intense heat and with little water, they offered us the water they had left, and then asked if we would like to finish the current trail with them so they could give us a ride back to our trailhead.
At first we denied their charity by saying we would be fine, but soon reality set in and we decided it would be safer for both of us if we accepted their offer. We continued the hike with the couple at our sides and traded stories about our hometowns, Salt Lake City and Indianapolis. As we made it to the end of the trail, they walked us to their car, where they offered us two ice cold waters from their cooler and blasted the air conditioning as they drove us back to our own car and trailhead. We were dropped off right where we parked and thanked them for their generosity. Blessed with another "God moment," we deemed them our very own "trail angels," reminiscing on the Scripture:
For I was hungry and you gave me food, I was thirsty and you gave me drink,
a stranger and you welcomed me…  – Matthew 25:35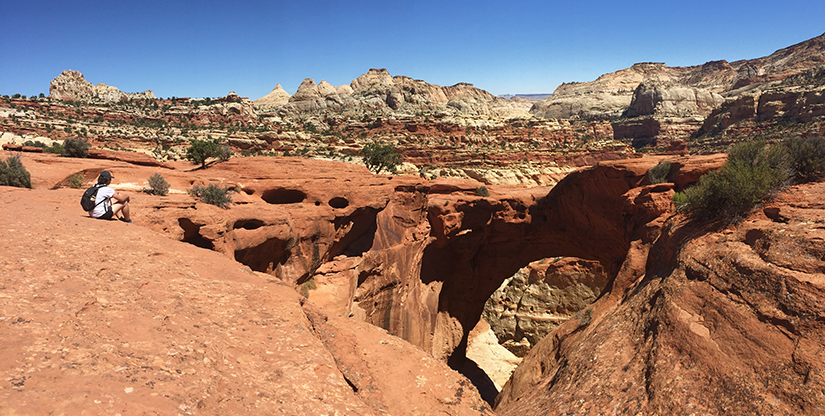 The next day we made our way to Arches, where we climbed up to the famous Delicate Arch as night fell for a couple hours of stargazing. Upon making it up to the end of the trail, we promptly found an open piece of rock where we could lay and watch as one-by-one planets, constellations, shooting stars, and satellites appeared in the vast sky. It wasn't long before we were joined by a solitary man.
We got to talking as we looked up in awe at the sparkly beauty above us. He told us how he was a soon-to-be retired electrician, how he had bought a van and converted it into a mobile home, and how he was going to spend the next 7 months exploring the US. His marriage was sadly ending after 32 years and he needed to do something that would bring him a sense of joy and peace. Distracted from his personal hardships, he truly enjoyed experiencing the beauty of God in nature and in the people that he met along the way.
We never got a chance to actually see this man, it was so dark that we could barely see our own hands, but we were touched at the simplicity of his life and his great walk into the unknown. After wishing him a good night and a happy adventure, we admired his steadfastness and outlook on life despite the obstacles that stood in his way. It immediately prompted me to think upon my own favorite Bible verse:
Therefore I tell you, do not worry about your life, what you will eat, or about your body,
what you will wear. Is not life more than food and the body more than clothing? – Matthew 6:25
This trip was definitely not one that I was expecting this year. If I had things my way, I would've spent a week exploring Poland and Germany with as much pierogi, bratwurst, and cathedrals as I could possibly manage. Instead I found myself in the wild west, far from most civilization and unexpectedly among people who pointed me toward God. If anything, this trip taught me to take heart, I have not been abandoned but graced by God through the beauty of His creation and the kindness and courage of His messengers – regardless of where my airplane lands.