Family Time with Fulton Sheen
Bri Campbell | Last Updated: May 7, 2020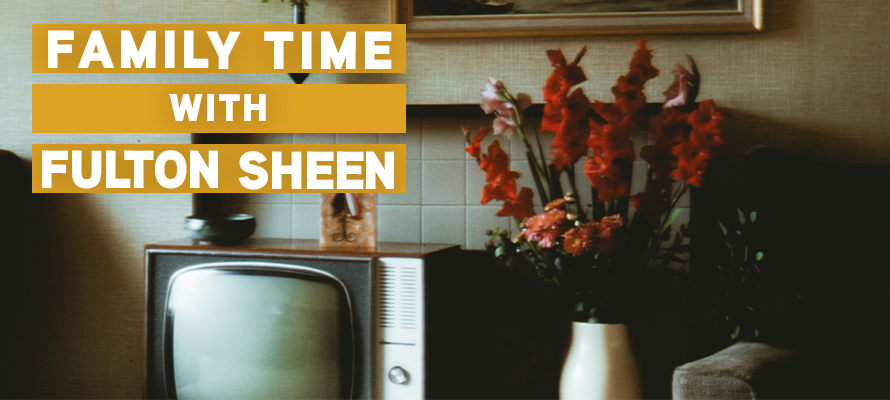 This article is an excerpt from our new eBook Homes, Hobbies, & Holiness: Living with the Saints in your Domestic Church.
"What is the difference between work and play? Work has a purpose, play has none, but there must be time in life for purposeless things, even foolishness."

Venerable Fulton Sheen
The first time I came to know Fulton Sheen, it was in a book.
I was reading a collection of quotes by the Catholic greats – saints, priests, religious, theologians – and there was one grouping of quotes in particular that made me chuckle. The words were chosen carefully, the whole statement was meaningful throughout, yet simple, and a sense of humor was present without detracting from the seriousness of the matter. Fulton Sheen had a way with words and a spirit about him that captured the hearts of America. I was hooked by the charisma and holiness that this man effortlessly and freely exuded. I wasn't the only one, either.
Throughout the 1950s and 60s, Archbishop Sheen was welcomed into the homes of millions across the country, bringing with him his passion for the faith and humorous anecdotes. His drawings with simple white chalk on an old school blackboard were familiar to Catholics and non-Catholics alike, as each week 10 million viewers turned their television dials to catch the latest episode of Sheen's Emmy Award winning show Life is Worth Living.
The act of gathering with the family for leisure isn't something that was left behind in mid-century America. Even today, family and friends gather together for the sole purpose of enjoying one another's presence. These instances are the times that we take to heart most: the harmless pranks, the exciting games, the laughter that comes from good friends enjoying good conversation. To some, the time spent away from the grind of the workplace seems wasteful and unproductive, but as the Venerable Fulton Sheen reminds us "there must be time in life for purposeless things, even foolishness."
Finding time to separate ourselves from the professional world, if only for a moment, is delightful to the soul. To spend time doing something that makes us giddy with joy or utilizes the charisms gifted to us by the Father is indeed a way to glorify Him and gives us an opportunity to actively practice loving others. It's often in moments so pure and jovial that others can see the presence of Christ alive within us - our smiles and laughter become a window to our bodily temples, allowing the light of Christ to shine forth from within.
Fulton Sheen was a master at this. Even when not discussing theology, his sweet stories about everyday life filled his eyes with happiness and spread a smile across his face. It was inviting and warm, like listening to an old friend, and gifted relief and laughter to his viewers. If this holy man could create this sensation in the midst of the common workweek, why shouldn't we?
Rest and leisure are good. God did it (Remember the seventh day?), Jesus did it (He took a catnap on a boat.), holy men and women from across the world did it (Ever see photos of St. John Paul II skiing?), and we're called to do it, too. This calling can most easily be answered in the home. Whether you're gathering around the television to watch a movie, playing an overly competitive game of cards, or even pulling pranks to make your loved ones laugh, the spirit of Christ can be welcomed among you. To welcome it so freely into the midst of leisure is to give Him a space in your own Domestic Church.
Like the article? Read more in our FREE eBook
 Homes, Hobbies, & Holiness: Living with the Saints in your Domestic Church, available for pre-order now!
---