Watch as Polish President brushes aside protocol and saves Eucharist from profanation
Richard Sontag | Last Updated: February 8, 2021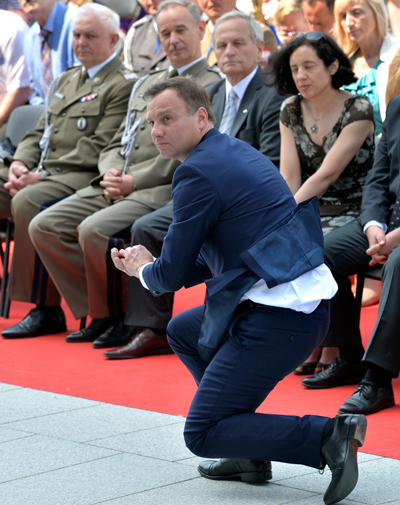 (ChurchMilitant.com) – Nearly three weeks ago on May 24, Andrzej Duda was elected President of Poland.
Two days later he would make a pilgramage to Jasna Góra Monastery in Czestochowa to pray and entrust his presidency to the icon of the Black Madonna — Our Lady of Czestochowa.
Two weeks later, on the Feast of Corpus Christi (Body of Christ) this past Sunday, incredible footage of the newly elected Duda saving the Body of Christ from blowing away in the wind would go viral across the Catholic world.
After winning the presidency with nearly 52 percent of the vote, the first three weeks of Duda's presidency have rocketed him to Catholic celebrity status — a true man of the people — among his native Poles.
Before the elections Duda was seen visiting the Warsaw subway to hand out free coffee and take pictures with his constituents. Clearly a political move, this kind gesture is nonetheless indicative of Duda's Catholic faith lived out in the public square.
Duda's campaign had a concise Christian message on how to recover what's been lost in the Polish republic: "[T]he specificity of Poland, its traditions and its Christian roots" are "essential … ."
The land of Pope St. John Paul II appears to be desperate for a proud Catholic leader to steer them from moral and financial disaster.
On the moral front, Duda is expected to continue and extend Poland's strict anti-abortion policies with the zeal that his Catholic faith demands of him.
On the economic front, Duda campaigned for Poland to stay free from the eurozone until European Union leaders can settle its massive debt problems.
The 43-year-old lawyer has energized the Polish people as they appear very excited about a new direction under Duda's leadership. Nostrovia!
---