A Feast, A Chair, and A Man
Bri Campbell | Last Updated: June 4, 2020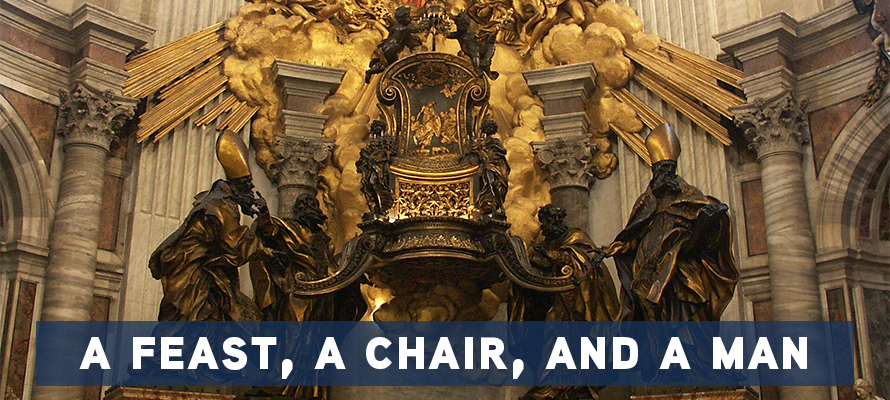 A hop, jump, and skip away, across the pond, through the massive doors of St. Peter's Basilica, past the behemoth main altar, and just below the famous stained-glass window of the Holy Spirit, resides an enormous work of bronze created by the great Baroque artist Bernini. Grand in scale and precise in details, the sculptor imitated his Creator by bringing to life four Doctors of the Church: Saints Ambrose, Augustine, Athanasius, and John Chrysostom. Together these historic men offer a hand to support a marvelous object; something worthy of great respect and important to the people of the Church from its beginning to the present. What is it that they are sustaining? It is simply this: a chair.
It's the chair of St. Peter to be exact, the Cathedra Petri. Encased within the gigantic sculpture is the actual ancient artifact, the chair that St. Peter himself may have sat upon, and which tradition holds that every newly elected pope who came after him also sat upon until the Middle Ages when it was hidden away in order to be properly preserved. It is this chair that we celebrate on February 22.
Why do we celebrate this piece of papal furniture? Why are we venerating this worm-eaten throne, giving this inanimate object a place of high honor? Well it's not the literal chair itself that we observe on this day, but rather what the chair represents. Matthew 16:18 says it best: "And so I say to you, you are Peter, and upon this rock I will build my church, and the gates of the netherworld shall not prevail against it." This is the chair that we celebrate – the office of the leader of the Church and the mission of the Pope and his successors to bring the people of God closer to Christ and to shield them from the evils of this world.
On this Feast of the Chair of St. Peter, let us lift up the leader of the Church, pray for his continued guidance, strength, and energy, and give thanks for his "yes" to guiding this vast flock on the way to Christ.
---