Andrea J | Last Updated: May 12, 2023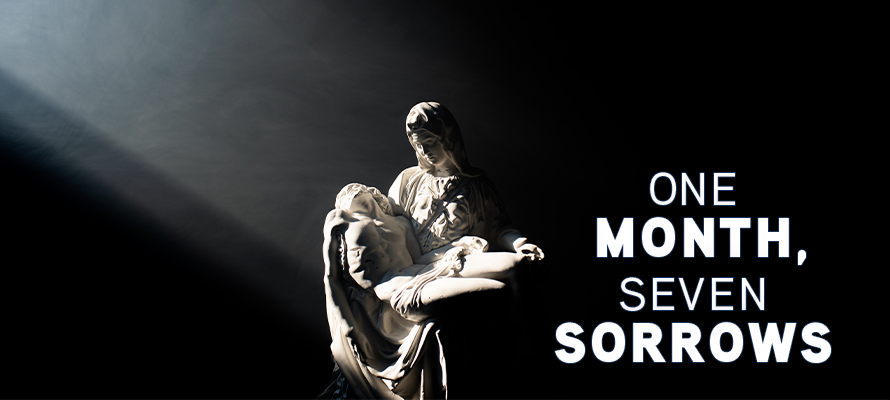 The month of September brings us numerous feasts and commemorations, including the feast of Our Lady of Sorrows on September 15. In addition, traditionally, the entirety of the month is dedicated to the Seven Sorrows of Mary.
These seven sorrows from various points in the life of the Blessed Mother are as follows:
Prophecy of Simeon (Luke 2:34-35)
Flight into Egypt (Matthew 2:13)
Loss of the Child Jesus for three days in Jerusalem (Luke 2:41-50)
Meeting Jesus on His way to Calvary (Luke 23:27-31)
Standing at the foot of the Cross during the crucifixion (John 19:25-30)
Jesus is taken down from the Cross (John 19:31-37)
The burial of Jesus (John 19:38-42)
Though the devotion to the Seven Sorrows dates back to the Middle Ages, it is experiencing a resurgence in popularity after Mary – appearing as Our Lady of Kibeho – recommended people pray the Chaplet of the Seven Sorrows for conversion and repentance. This Chaplet is prayed much like a Rosary, except the meditations while praying the Hail Mary are on the Sorrows and not on the Mysteries. It is also prayed on a special set of beads with seven groups of seven Hail Marys instead of the Rosary's five decades.
Like the Rosary, the Chaplet (and the feast itself) is designed to draw believers closer to Christ by meditating upon what He has done for us. It is uniquely through the eyes of His Mother and her sorrow that we can view key moments of His life. Throughout this month, may we all set aside a little time to explore this ancient tradition.
Learn more about the other monthly dedications here.
Check out our latest FREE eBook –
a perpetual calendar for the Church's immovable feast days!
Follow along all year round and find something to celebrate every week.
---