Saint John Eudes was born on November 14, 1601 in Ri, France and died on August 19, 1680 in nearby Caen. The distance between his birthplace and the location of his death is less than 40 miles – not a significant distance for an earthly pilgrimage – but his vocation and spiritual legacy reach far beyond the physical confines of his life.
The spiritual pilgrimage of Saint John drew him to the Jesuit seminary at the age of 14 and led to his priestly ordination with the Oratorians in 1625. His early priesthood involved caring for victims of the severe plagues spreading throughout France at that time. He administered the sacraments to the living and buried the dead, caring for the sick while living in solitude to help contain the illness.
Once the threats of plagues had passed, Saint John became a parish missionary with the Oratorians, eventually preaching over 100 parish missions as a highly sought after preacher and confessor. It was during this time he grew disturbed by the plight of women seeking to escape and turn away from a life of prostitution. In 1641 he founded a religious order of sisters known as the Sisters of Our Lady of Charity of the Refuge designed to provide a safe haven for these women and assist them in changing their lives.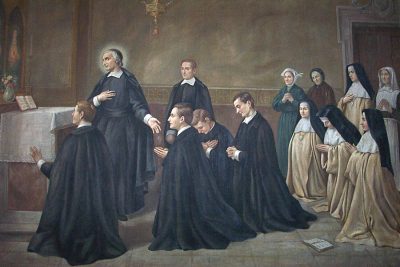 After much prayer and discernment, he ultimately left the Oratorians and founded a new order devoted to the formation of diocesan clergy. He called this order the Congregation of Jesus and Mary, which eventually became known as the Eudists, after their founder. The name of this congregation reflects Saint John Eudes' immense devotion to the Sacred Heart of Jesus and the Immaculate Heart of Mary. This devotion inspired him to write the propers for the Divine Office and the Mass for those feast days.
The Congregation of Jesus and Mary had third order members as well – lay members who devoted themselves to living out the charism and spirituality of the Eudists. One of these lay associates was a young lady named Jeanne Jugan, canonized in 2009, who founded the Little Sisters of the Poor. She was drawn to the spirituality of Saint John and especially his humility and exhortation to be many other Christs on earth to those who are in need. Saint Jeanne Jugan lived out this humility and service in her care for the elderly poor, and her charism has now spread throughout all six populated continents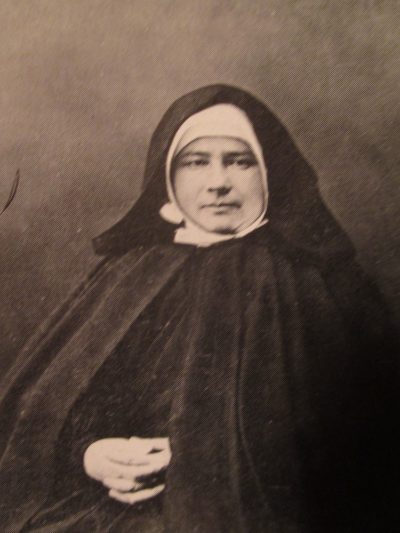 A physical pilgrimage to the sites of St. John's birth and death would only cover a few square miles. Even adding in trips to various mission sites would only increase travel by a relatively insignificant distance. However, to spiritually pilgrimage with him delves deeply into the hearts of Mary and Jesus – far beyond any physical constraints of creation.
Below is the prayer of Saint John Eudes, and links to other beautiful prayers he wrote. Join members of his orders and thousands of others on a spiritual pilgrimage to the heart of Jesus by praying these prayers in the comfort of your home.
The Prayer of St. John Eudes
O Lord, You have created me for Yourself, to love You and to enjoy You, infinite Good, ineffable Beauty; do not permit me to lose sight of this sublime end toward which I must tend; do not permit me to wander among the wretched satisfactions that vain, feeble creatures can offer me.
O my Lord, what poor use I have made of creatures! Pardon me, O Lord! Henceforth I do not want to use anything unless it is for Your glory and according to Your holy will, as Your Son Jesus did. O my God, if in the past I have turned aside from You who are my Beginning, my End, and my supreme good; if I have turned toward myself and creatures, preferring their will and mine to Yours, I here and now promise to renounce, entirely and forever the world and myself, and to give myself wholly and forever to You. O my God, I give myself to You as my Beginning; take complete possession of me. May I always abide in You! Be the beginning and end of all my actions. O my God, I give myself to You as my End, my Center, my supreme Good. Draw me to You! Make me tend continually toward You. Be my delight, my glory, my treasure, my all!