In 2013 I was blessed with the opportunity to join a local church group on pilgrimage to Spain and Portugal.  We began by walking the English Route of the Camino de Santiago into Santiago de Compostela, Spain, followed by a visit to the shrine at Fatima, Portugal. Though it was one pilgrimage, I had two very distinct and separate experiences.
Our days along the Camino were very social and fast-paced as we walked the well-marked trail in small groups and encouraged each other along the Way. We averaged over 12 miles walking per day, with our longest day covering over 23! In the evenings, we gathered together for meals and guided faith sharing groups. During our walking days, we chatted with other pilgrims we met, as well as locals.
In sharp contrast, our days in Fatima were slower-paced and more individualized. The sun and heat of the Camino gave way to overcast and cool days. The other pilgrim groups dissipated in the expanse of the Sanctuary. We were there on the last day of June and the first two of July – so between the major pilgrimage days of the 13th of each of those months.  There were very few other pilgrims besides our group of 50 and it felt as if we had the entire shrine almost to ourselves.
Many times, priests and pilgrims contact us about attending a pilgrimage on a particular day – either a holy day or an anniversary of an apparition or other holy event. For example, we had a number of groups in Fatima on October 13, 2012 – the 100th anniversary of the final apparition of Our Lady. Likewise, in Holy Years, when the feast of St. James the Greater (July 25th) falls on a Sunday and a plenary indulgence can be gained, the number of pilgrims along all routes of the Camino increase drastically. Celebrating Divine Mercy in Poland, St. Patrick's Day in Ireland, or Holy Week in the Holy Land are all unique experiences that are made more meaningful by the place in which they are celebrated.
These celebrations are certainly joy-filled and bursting with the spiritual energy of thousands (or even millions) of other pilgrims. However, there is something equally as meaningful, and sometimes more grace-filled, when a pilgrimage is held for no other reason than just wanting to experience the place for itself and not a special event.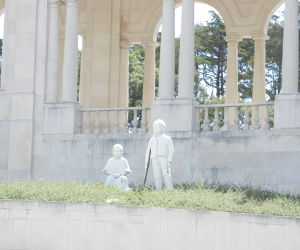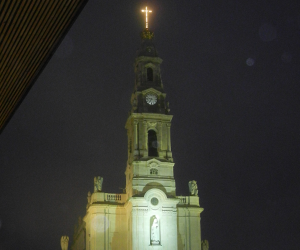 My experience in Fatima was a wonderful culmination of a pilgrimage dotted with numerous graces. I loved the (literal) ups and downs of the Camino and offering up each step for the intentions of my family and friends. But I appreciated even more the peacefulness of Fatima – a special gift of friendship and faith the Lord seemingly had prepared just for me. Our hotel was ideally located mere minutes by foot from the main sanctuary and our time there was mostly unstructured so we could decide for ourselves how and where to spend our days and evenings. We took advantage of a tour of the sanctuary as well as the nearby museum, and our group also chose to participate in the evening Rosary prayer and procession. The rest of the time was left unplanned and I spent a blissful afternoon with a few friends praying the Stations of the Cross at our own leisurely pace, followed by a Port wine tasting and a simple lunch of fresh bread, goat cheese, and local honey.
This past week we had two special days on which we celebrated both our earthly and heavenly mothers. Sunday was Mother's Day, and Wednesday was the anniversary of our Blessed Mother's first apparition at Fatima – May 13th. If you missed celebrating any of our mothers this week, there is no need to fret. Though we should honor our mothers on Mother's Day and give thanks to Mary for her heavenly motherhood on all of her feast days, we don't need to restrict our honor or thanks to just certain days on the calendar. As I discovered on my pilgrimage, while it is wonderful to celebrate the special days and big moments, God also speaks to us in the quiet of the everyday. And it is through His grace that each day becomes a gift and special moment to celebrate.