I am Peter, Flawed & Faithful
Bri Campbell | Last Updated: August 6, 2019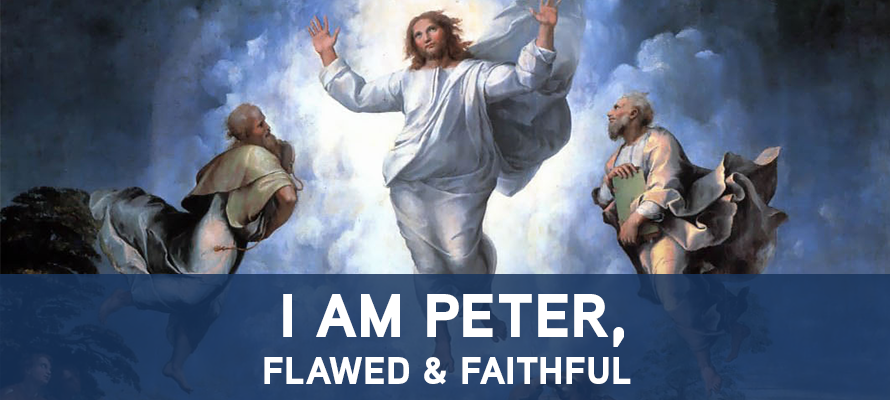 I've often heard, "We are all called to be holy." But until lately, I saw holiness as a synonym for moral goodness. I recently learned, though, that the Hebrew translation means to be "set apart" from the world for God's purpose.
Peter, John, and James were certainly "set apart" when they accompanied Jesus to the top of Mount Tabor in today's Gospel. They saw Jesus transfigured before their eyes, His face transformed and clothing dazzling white.
Of course, He was also in some pretty cool company, talking about some pretty heavy things. Can you imagine what Peter, John, and James were thinking when they awoke and walked up on that conversation? I mean, I have four accounts of the story written out for me, and I still struggle to grasp all that it means.
People often scoff at the impetuous Peter who offers to make up three tents. I'm sure I would have fared more worse. I would have probably blurted out, "So who played you better, Christian Bale or Charlton Heston?" Or, since you know him, "Was Morgan Freeman or George Burns more on point?" I mean, how could you not jump at the chance to talk with Jesus, Moses, and Elijah!?
In the end, I know that deepening my faith isn't about grand encounters or mountaintop experiences; it's about going back down the mountain, back into the grind of everyday life. That's where I need to pursue that close relationship with Jesus. That's where I need to be Christian, not clever, using works, not words to live my faith.
I guess that's what happens as we mature in our spiritual life and begin to find our vocational calling. We become less worldly, less impressed with status and fame, and more focused on growing in grace and virtue. Small steps to set us apart.
I like to think that our Tekton pilgrims are "set apart," when they ascend Mt. Tabor or enter the waters of the River Jordan. But I know that what they encounter back at home – being more attentive to the Gospel, more likely to share their faith experience – is what truly sets them apart and helps them fulfill God's purpose for their lives.
---