In Salamanca, Spain, the "New Cathedral" – built from 1513 to 1733 – has a carving of a modern day astronaut on its exterior.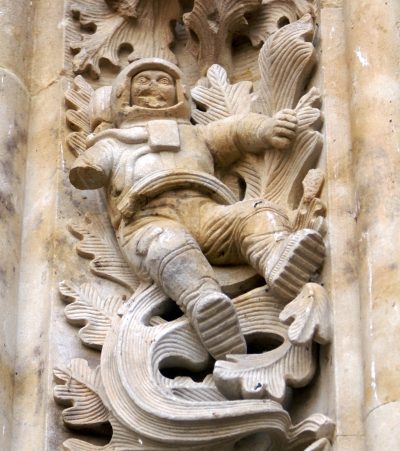 One might wonder if the original architect received a prophetic vision. No, it was the work of a renegade artist who decided to carve strange figures into the stone. Apparently, the same artist also carved a faun eating an ice-cream cone.
While we can't know the motivations or intent of this "renegade artist," we can take advantage of the opportunity to try to find religious symbolism within a modern figure represented on a centuries-old edifice. Perhaps it is an opportunity to reflect on the vastness of the universe, which God made, or on the knowledge that all science is rooted in God.
As for the ice-cream-eating faun? Well, we'll leave that reflection to you.
Would You Like to Visit the New Cathedral in Salamanca? Click here to learn about pilgrimage to the Marian Shrines!