The Great American Saints – Part 2
Krista Behringer | Last Updated: December 17, 2020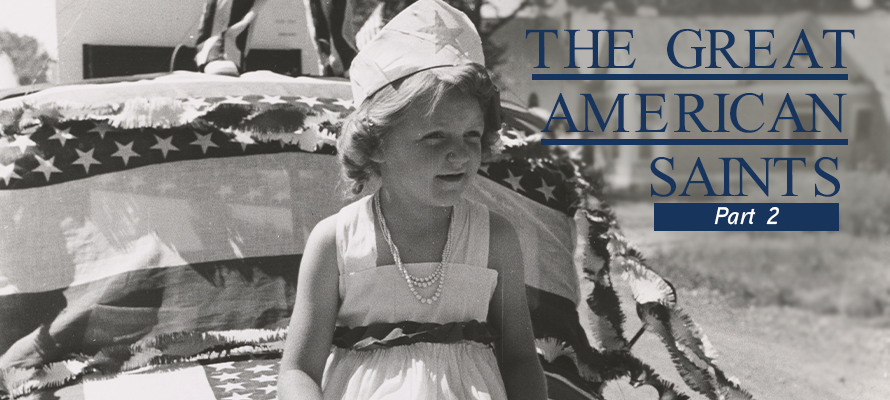 St. Frances Xavier Cabrini
Born: July 15, 1850 in Italy
Died: December 22, 1917 (age 67)
Beatified: November 13, 1938 by Pope Pius XI
Canonized: July 7, 1946 by Pope Pius XII
Feast day: November 13
Patron of: immigrants and hospital administrators
Although born in Italy, St. Frances was naturalized a U.S. citizen in 1909, and was the first U.S. citizen to be canonized a saint on July 7, 1946. Fascinated by stories of other missionaries, she was determined from her childhood to make religious work her life's vocation. This tiny, frail, but mighty Italian woman arrived in New York with 6 other women in 1880 - all from the order she had formed in Rome:  The Institute of the Missionary Sisters of the Sacred Heart of Jesus. Pope Leo XIII decided to send her to America to help educate and care for the Italian immigrant families, who were losing their Catholic faith through cultural discrimination.
A certified teacher, Mother Cabrini took in orphans and taught them needlework and sewing, selling their embroidered textiles for extra money. She also set up educational classes to teach adults English and math, in hopes of helping them become better providers for their families. The home also took in the elderly, the sick, the weak, and the marginalized, spreading the devotion to the Heart of Jesus through the Corporal Acts of Mercy. Her cleverness in obtaining property and persuasive ways of fundraising allowed her to build 7 homes, a tuition free school, and a nursery all within 5 years. She was often sighted on construction grounds instructing the builders and contractors. Her ability to secure donations of money, time, labor and support for God's purpose and will was miraculous, and over the next 28 years, she was able to establish over 60 missionary institutions, hospitals, and orphanages, long before the country began organizing their own social service administrations. These religious establishments spanned from New York to Illinois, Washington State to Colorado, and south to New Orleans.
This determined and unstoppable woman working against all odds, labored until her death due to viral complications at the age of 67. Mother Cabrini shows us how abandoning your own will and prayerfully inviting God to work through you allows us to produce beyond our earthly limitations. At her canonization in 1946, Pope Pius XII said in his homily of Mother Cabrini, "Although her constitution was very frail, her spirit was endowed with such singular strength that, knowing the will of God in her regard, she permitted nothing to impede her from accomplishing what seemed to be beyond the strength of a woman."
"I will go anywhere and do anything in order to communicate the love of Jesus to those who do not know Him or have forgotten Him."
Prayer to St. Frances Xavier Cabrini
Saint Frances Xavier Cabrini, woman of God, disciple of Christ, you offered the people you met the gifts of life and love by responding to their physical, emotional and spiritual needs in practical and creative ways. Inspired by your confidence in God and your compassion, love and sense of justice, we ask you to accompany us as we work to respond to the urgent needs of our sisters and brothers fleeing their home countries in search of refuge and peace.
Teach us. Pray for us. Amen.

Blessed Fr. Stanley Rother
Born: March 27, 1932 in Oklahoma City, OK
Died: July 28, 1981 in Guatemala
Beatified: September 23, 2017 by Cardinal Angelo Amato
In December of 2016, Pope Francis issued a decree stating that Fr. Rother had been killed in odium fidei (in hatred of the faith) allowing him to become beautified on September 23, 2017. Born and raised by Catholic parents, Stanley was the eldest of 5 children, who all attended Holy Trinity Catholic Church and school. There was nothing extraordinary about Stanley while growing up, except for his love of farming and working the land. He was strong with athletic endurance and learned how to fix and repair farm equipment. It was during his last year of high school that Stanley began discerning his vocation and first expressed wanting to become a Catholic priest.
He entered Assumption Seminary in San Antonio, Texas, but struggled in the classroom, particularly with Latin. After 6 years at the seminary, he was asked to withdraw. Bishop Victor Reed met with him shortly after and urged him to transfer to Mount Saint Mary's Seminary in Emmitsburg, Maryland. Fr. Rother graduated in 1963 from Mount St. Mary's and was ordained to the priesthood in his home diocese by his benefactor, Bishop Reed. He served as associate pastor in various parishes for the next 5 years, until volunteering for the diocesan mission to serve the Tz'utujil people (descendants of the Mayans) located in Santiago Atitlan, Guatemala. The bishop gave permission for Fr. Rother and 11 others to begin their mission work within the extremely impoverished and dangerous territory where civil war was a part of everyday life.
Fr. Rother learned the local language and in time was preaching to the people in their native tongue. He spent his days teaching people new farming methods and helped them design an irrigation system that would ultimately help advance their way of life. Along with catechizing his people, his other works included building and operating a radio station in order to simply educate the people, and the construction of a localized hospital. It didn't take long for the government to view Fr. Rother as a threat to their agenda of controlling economic growth and higher education. Parishioners began to mysteriously disappear, and other high-ranking officials were found tortured and murdered. Fr. Rother soon found himself on the death list. With these increasing dangers, Fr. Rother's bishop ordered him home, and he reluctantly obeyed.
It didn't take long for Fr. Rother to become bored with American parish life and insisted to his bishop to return him to his Guatemalan sisters and brothers. Within a few months of returning to his people, 3 masked men broke into the rectory, beating and ultimately executing Fr. Rother. At the request of his many friends and followers, his heart remains enshrined beneath an altar of his Guatemalan church. By teaching the same values he learned while growing up on his family's farm, Fr. Rother is an example of how one ordinary man became a missionary shepherd - by cultivating family values, hard work, kindness, generosity, and determination into practice.
"The shepherd cannot run at the first sign of danger"
Prayer to Bl. Stanley Rother
O God, fount of all holiness, make us each walk worthily in our vocation, through the intercession of your Saints, on whom you bestowed a great variety of graces on earth. Having graced your Church with the life of your priest and martyr, Blessed Stanley Rother, grant that by his intercession this humble flock may reach where the brave shepherd has gone. Grant that your Church may proclaim him a saint living in your presence and interceding for us. Though Christ our Lord. Amen.
These are only 4 examples of how ordinary people from our own country who chose different vocations to answer God's call, and there are so many more who are worth looking into. We are blessed how the Lord has provided us so many different saintly examples, making it so every walk of life in response to our own individual vocation and calling has a pathway to sanctity.
---