June is for the Sacred Heart
Bri Campbell | Last Updated: May 12, 2023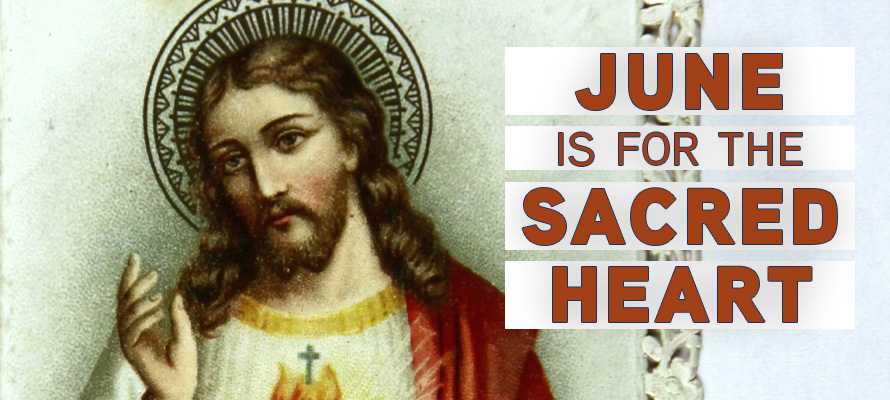 As we transition into the season of summer, we're greeted by the month-long celebration of the Sacred Heart of Jesus. With the added benefit of beautiful, warm weather, we are also called to draw closer to the merciful and all-encompassing love of our Savior.
First revealed to St. Margaret Mary Alacoque through apparitions in the 1600s, this devotion to the Sacred Heart of Jesus become more wide-spread in the mid-1700s. Today, the devotion is popular throughout the Catholic world through the "First Fridays" practice, where the faithful attend Mass on the first Friday of the month for nine months straight, along with receiving Communion and going to confession. If this devotion is followed faithfully, our Lord promised the following twelve things:
I will give them all of the graces necessary for their state of life.
I will establish peace in their homes.
I will comfort them in all their afflictions.
I will be their strength during life and above all during death.
I will bestow a large blessing upon all their undertakings.
Sinners shall find in My Heart the source and the infinite ocean of mercy.
Tepid souls shall grow fervent.
Fervent souls shall quickly mount to high perfection.
I will bless every place where a picture of my heart shall be set up and honored.
I will give to priests the gift of touching the most hardened hearts.
Those who shall promote this devotion shall have their names written in My Heart, never to be blotted out.
I promise you in the excessive mercy of My Heart that My all-powerful love will grant all to those who communicate on the First Friday in nine consecutive months the grace of final penitence; they shall not die in My disgrace nor without receiving their sacraments; My Divine Heart shall be their safe refuge in this last moment.
While this First Fridays devotion takes a few months to complete, you can pray the Prayer to the Sacred Heart daily to grow in love for Christ and to rest in His own love all month long:
O most holy Heart of Jesus, fountain of every blessing,
I adore you, I love you and with a lively sorrow for my sins.
I offer you this poor heart of mine.
Make me humble, patient, pure, and wholly obedient to your will.
Grant, good Jesus, that I may live in you and for you.
Protect me in the midst of danger; comfort me in my afflictions;
give me health of body, assistance in my temporal needs,
your blessings on all that I do, and the grace of a holy death.
Within your heart I place my every care.
In every need let me come to you with humble trust saying,
Heart of Jesus, help me.
Amen.
 As the summer takes off, remember to make room in your day for the greatest love that we can know, and to be grateful for this massive gift that is most freely given.
---