Free eBook:
"Our Lady & Medjugorje: The Stories, the Vatican, and Our Lady's Messages"
NEW DOORS OPEN TO MEDJUGORJE!
In 1981, six children in the small village of Medjugorje reported seeing visions of the Blessed Virgin Mary. After extensive investigation by the Vatican, the first seven days of apparitions are recommended for approval. Since then, Pope Francis has assigned Archbishop Henryk Hoser as the permanent Apostolic Visitor to Medjugorje who confirmed - "Today, dioceses and other institutions can organize official pilgrimages to Medjugorje."
Responding to the newly opened doors of Medjugorje, we have compiled a comprehensive eBook to offer you a deeper understanding, appreciation, and reverence for this holy site.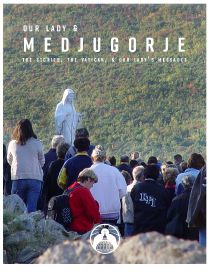 Inside you'll find:
| | |
| --- | --- |
| | The Vatican's response to the apparitions and conversions taking place in Medjugorje today. |
| | A timeline of the events of Medjugorje |
| | Stories of the Visionaries |
| | The 5 Messages of Medjugorje |
You're invited to download this eBook free. It's our gift to you, hoping its content will increase your understanding of the miraculous events taking place in Medjugorje and draw you nearer to Our Lady, and her Son.
Get your FREE
Medjugorje eBook!
Sign up below to get the eBook.
Your Information is 100% Secure and Will Never Be Shared With Anyone.