Download Our Latest eBook:
It's Three O'Clock Somewhere:
How to Live the Divine Mercy Devotion Any Time of Day
Discover how the Divine Mercy devotion can help you live your faith more fully, and join us on a journey of trust as you learn to embrace the Divine Mercy devotion and incorporate "Jesus, I Trust in You" into your daily prayer life.
This book shares how to live the Divine Mercy devotion with whatever time you have to offer God and examines:
| | |
| --- | --- |
| | Choosing trust in God over worry and fear |
| | How mercy is God's chief attribute |
| | Why deeds of mercy are so important in the spiritual life |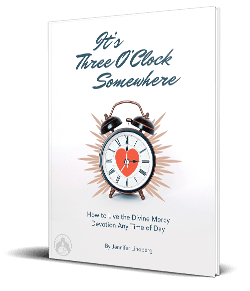 You're invited to download this free eBook. It's our gift to you, hoping its content will inspire you on your journey of faith as you seek to recognize God's mercy more fully and understand His will for you.
Download your FREE
Divine Mercy eBook!
Sign up below to get the eBook.
Your Information is 100% Secure and Will Never Be Shared With Anyone.