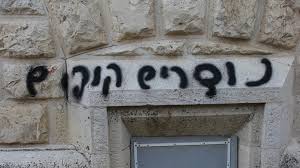 Frequently, major media in the U.S. carry stories about anti-semitic graffiti.  Rarely do anti-Christian stories make the news.  Often it takes a church-burning to get it on the back page, if there's room.
Well, the case held true again this past week.  On Friday morning, the sad news became public when vandals attacked Dormition Abbey, a popular Christian pilgrimage destination for those making pilgrimages to the Holy Land.  Not only was the Abbey spray painted but the tires on nearby cars were also slashed.  Our friends at terrasanctablog.org reported the vandalism.
Unidentified vandals daubed anti-Christian graffiti on the walls of the Basilica of the Dormition overnight on Thursday and damaged two cars parked nearby. The problem of offensive graffiti is becoming an emergency. In mid-May two ministers put forward a motion to change the legal standing of these so-called "price-tag" attacks as "acts of terrorism".
Sad news, truly, for those struggling so hard for a Christian existence in the Holy Land.
The website for The Basilica of the Dormition, or Dormition Abbey, a Benedictine community on Mount Zion since 1906 can be found here.