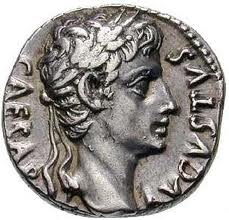 "Repay to Caesar what belongs to Caesar."
We're reminded of that by Jesus in the Gospel today. Ironically, he catches the Pharisees and Herodians in their intended trap for him and asks them whose image is stamped on the coin. But here's another twist. The stamp bore Caesar's image. Whose image do you bear? With whose image were you stamped?
The Old Testament tells us we are created in God's image. "Let us make man in our image, after our likeness." (Gen 1:26-27) The New Testament tells us "Do you not know that your body is a temple of the Holy Spirit within you, which you have from God?" (1 Cor 6:19)
Application: "Repay to God what belongs to God." Why? Because, "You are not your own; you were bought with a price." (1 Cor 6:19b-20)
How will you make a free gift of yourself to others today?