Pope's Pilgrimage to Fatima
Andrea J | Last Updated: February 17, 2023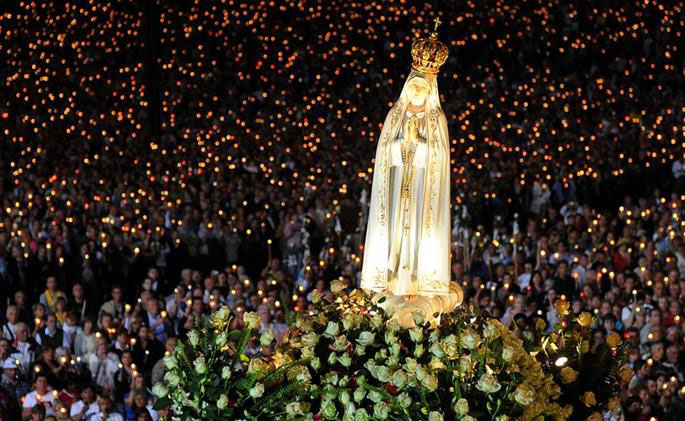 Every year, thousands of pilgrims visit the central Portuguese town of Fatima, where three young shepherd children were visited six time by the Blessed Mother in 1917. These numbers are expected to swell during this, the centennial year of these apparitions. One of these pilgrims will be Pope Francis, himself, who will arrive in Fatima on May 12, the evening before the anniversary of the first apparition.
The Pope's official schedule includes a few private visits and meetings as well as public prayer services. Late afternoon on the 12th of May, Pope Francis will arrive at the soccer stadium on the outskirts of Fatima and travel in an open vehicle to the shrine, where he will visit the Chapel of the Apparitions and lead a prayer service.
The Pope will then take part in a beloved tradition at the shrine: the international Rosary and candlelight procession. Pope Francis will greet all the pilgrims present and recite the Rosary with them. He will then bless all the candles to be used for the candlelight procession. For this, the faithful will follow the beloved statue of Our Lady of Fatima as it is carried high above the crowd on a decorated platform around the outdoor prayer space.
The next day, the 100th anniversary of the first apparition, Pope Francis will visit the Basilica of the Shrine and then will celebrate Mass outside in the main prayer space. During this Mass,
he will canonize Francisco and Jacinta Marto – two of the visionaries of the apparitions. These youngest of the visionaries passed away just a few short years after the last of the apparitions and were beatified May 13, 2000, by Pope John Paul II, at this same site. The third visionary, their cousin Lucia, was 93 years-old at the time and was able to attend the beatification.
Pope Francis's pilgrimage to Fatima is a continuation of his great devotion to our Blessed Mother. On the 98th anniversary of the first apparition, he encouraged Portuguese-speaking pilgrims with these words: "Entrust to her all that you are, all that you have, and in that way you will be able to become an instrument of the mercy and tenderness of God to your family, neighbors and friends."
By pilgrimaging to Fatima, the Pope is taking part in a long-standing tradition of venerating holy sites and drawing closer to Our Lord through prayer at these sites.
Join many faithful pilgrims in anticipation of the feast day with a novena that will begin on May 5th and end on May 13. See Novena Here
---