M
y first encounter with a French Cathedral was indeed an overwhelming one. No amount of photographic or architectural study could have sufficiently prepared me for the drop in temperature that sent sacred sense shivering across my skin as I entered through the gaping arch left by the enormous plank of wood I had just hauled open with a trembling heave. I shan't here attempt to recount the entirety of what it was to wander through the drifting prayers of history, but it was in a small side chapel, the last I visited before rushing out to the bus, that the dust settled into a definite pattern for the rest of my journey through France.
This little chapel, dedicated to the Immaculate Conception, had a book of intentions in which pilgrims were encouraged to write. Struck by the wonder of inscribing my prayers next to these solidified whispers that had been hovering around me, I hurried to inscribe my own anonymous intention.
The book was no leather bound manuscript, in fact it was a mere spiral bound notebook. Regardless of this lack of romance, seeing my ink next to the ink of others who had come to this elder place of prayer, was quite a treat. It was when I turned around to examine the statue of the Immaculate Conception, however, that the depth of this ink hit me.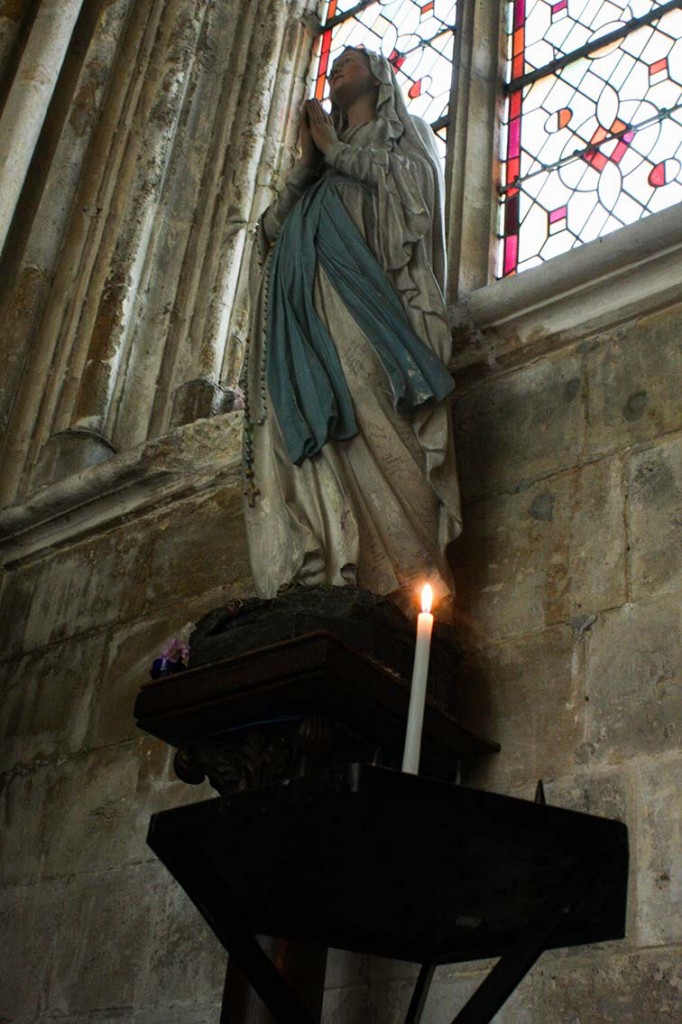 There were signatures covering this image of Our Lady. For several years pilgrims who had come to offer their intentions to the Immaculate Conception had left their mark upon her representation. Certainly, there was plenty of space left, so this could not have been too old of a tradition, yet it was not the age as much as the potency of the tradition that struck me. All of these names were written across the feet and the hem of Our Lady's garments, permanently engraved there for all who cared to look close enough to see their devotion.
Since this was a dimly lit side chapel, there was little chance of visibility from the side aisles, much less the nave. One would have to first come to this cathedral for a purpose and further intentionally enter this chapel and really look at this statue to see the history of Our Lady's children. Quiet as always, Mary continued in her gentle manner of uniting souls across time and space in love of Her Son.
Perhaps the slightly illicit sense of writing on a statue added to the fun of it, or perhaps it really was an attempt to touch the others whom Mary had drawn there to Her Son, but I took up my pen again with a slight flutter in my heart beat. I think that flutter is probably what keeps the prayers drifting down from that massive ceiling rather than allowing them to settle into nothing.
Now my name is inscribed right next to Mary's rosary until the statue crumbles to dust (or the janitor finally picks up on this tradition!).
Reflecting on this experience later, I realized that I brought a lot of postcards back with me from France, but had not got one of that first Cathedral. Unlike these souvenirs that I bring back with me, however, there is something to be said for leaving a "souvenir of self" behind. Not only do I carry what I learned in France with me, France carries a little part of me unto all who come across that insignificant side chapel of the Cathedral of Bayeux.
(by Liv Bratton)