Pilgrimage to Medjugorje – April 9, 2024
With your guide, Ann Vucic
Medjugorje is not just a pilgrimage, it's an immersion experience into a rhythm of prayer in a setting steeped in the Lord's peace. Many have said it is the closest to heaven on earth they have experienced. Pilgrims on this grace-filled pilgrimage will enjoy the guidance and leadership of Ann Vucic, early witness to the Medjugorje apparitions.

A portion of the proceeds of this pilgrimage will go toward the support of Radio Maria. Each pilgrim will receive a tax deduction letter from Radio Maria in acknowledgement of this support.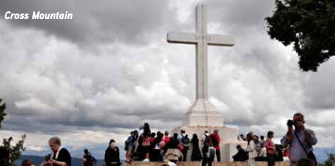 Experience the Peace of Christ

Day 1 | April 9 | Depart New York JFK
Depart from New York's JFK airport on our overnight flights to Europe. Meals served on flight.
Day 2 | April 10 | Split / Medjugorje
Upon arrival in Split, we will travel to Medjugorje. Dinner will be waiting for us upon our arrival at our pansion.
Day 3 | April 11 | Medjugorje
On our first full day in Medjugorje, Ann will provide you with a comprehensive orientation about Medjugorje and the apparitions, and you will be a given a brief tour of the area, so that you are familiar with everything.
We will have two meals each day at our pansion (breakfast every morning, and either lunch or dinner, depending on the events scheduled that day). There are many restaurants in Medjugorje for people who may wish to have a third meal each day.
Many of the activities will be subject to availability and weather. You will always have the option of participating in group activities or spending time by yourself. These activities include:
Attending the Holy Mass in English every day at St. James church (usually at 10:00 am), with English speaking pilgrims from throughout the world.
Participating in the international program of prayer each evening, which includes the Rosary, Sacrament of Reconciliation, international Mass for all pilgrims, prayers for healing, and Adoration of the Blessed Sacrament.
Climbing Apparition Hill, site where Our Lady first appeared to the visionaries.
Climbing Cross Mountain; praying the Stations of the Cross as we ascend to the summit.
Visiting the Cenacolo Community, where young people with various addictions will share their testimonies about how they found freedom and a new life through prayer, work, and the Sacraments.
Hearing talks by visionaries, priests and other locals, when possible.
Free time for shopping, so that you can bring back a piece of Medjugorje to your loved ones at home, and private reflection.
Day 4 | April 12 | Medjugorje
Day 5 | April 13 | Medjugorje
Day 6 | April 14 | Medjugorje
Day 7 | April 15 | Medjugorje
Day 8 | April 16 | Medjugorje
Day 9 | April 17 | Medjugorje
Day 10 | April 18 | Sarajevo / New York
Depart Medjugorje early in the morning after a wonderful pilgrimage with Our Lady! Transfer to the airport in Sarajevo for our return flights home.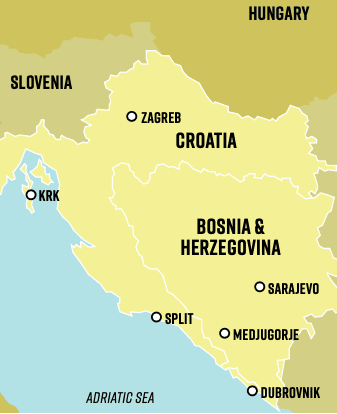 The total pricing is based off the following components:
Air taxes/fuel surcharges: