Pilgrimage to Italy – January 1, 2024
Rome | Assisi | Orvieto
Private Group
Tour a land steeped in the history of martyrs and well-known saints. See how the Catholic faith grew as a signpost to the world.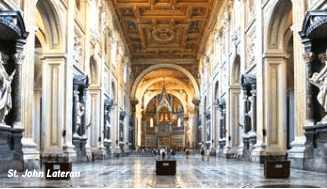 A Truly Catholic Pilgrimage

Day 1 | January 1 | Depart USA
Our pilgrimage begins as we depart on our overnight flight to Rome. Meals and refreshments will be served aloft.
Day 2 | January 2 | Arrive Rome
Upon arrival in the "Eternal City", we will be met at the airport by our local tour manager who will be with us for the duration of our pilgrimage in Italy. For our first activity, we pray up the Scala Santa, or Holy Stairs, traditionally by climbing them on our knees because they are so sacred. Christ walked on these 28 marble stairs at the home of Pontius Pilate to be condemned to death. For those who cannot climb the stairs on their knees there are other stairs available for walking up that also lead to the chapel at the top. Our prayerful experience continues with a visit to St. John Lateran, followed by St. Mary Major, another of the four major basilicas of Rome. After venerating the relics of Our Lord's birth, we check-in at our hotel with the remainder of the day free for personal exploration or relaxation. (D) Overnight Rome
Day 3 | January 3 | Rome
Join thousands of pilgrims from around the world to be with the Holy Father at his Papal Audience at St. Peter's Basilica. Always subject to the Holy Father's schedule, this unique event lets us listen to the Holy Father's words and receive his blessing in person. In the afternoon travel to St. Paul's Outside the Walls, originally built by Constantine in the fourth century over the site of St. Paul's tomb. We then descend into the lives of the martyrs as we visit the Catacombs. Here Christians celebrated the Mass in secret and buried the martyrs, including several popes. The remainder of the day will be free for personal activities. (B, D, Mass) Overnight Rome
Day 4 | January 4 | Rome
Our day today is filled with wonder and awe as we steep ourselves in the beauty of St. Peter's Basilica that takes us to Michelangelo's Pieta statue made of marble that almost seems fluid. A quick stop to rub the foot of St. Peter's statue like thousands of pilgrims before us, takes us to pray at the Perpetual Adoration Chapel renovated by St. John Paul II. Afterwards, we walk through the Vatican Museums which house artifacts from the around the world and Eucharistic art to prepare ourselves for the greatest masterpiece yet: The Sistine Chapel. Painted by Michelangelo, it is the most famous ceiling in the world under which popes are chosen to lead the faithful. Later this afternoon, we visit the Spanish Steps, a favorite people watching site in Rome and throw a coin into the Trevi Fountain with hopes to return to this glorious city. (B, D, Mass) Overnight Rome
Day 5 | January 5 | Rome / Orvieto / Assisi
Depart Rome this morning, stopping in the walled town of Orvieto. In the 13th century, in nearby Bolsena, a priest doubted the Eucharistic Presence during Mass and the host turned to real flesh and the wine to real blood during the consecration. The priest brought the blood-stained Corporal to Pope Urban in Orvieto, and it is now kept in a special reliquary for the faithful to view. It was also in Orvieto where Pope Urban IV called for a world-wide Feast of Corpus Christi. The Cathedral of Orvieto has striking similarities to the beautiful Duomo in Florence with its unique exterior. Inside is the Signorelli Chapel that holds some of the greatest artistic masterpieces in the world. There will be ample time for both prayer and adoration in these majestic surroundings. Afterwards, continue on to Assisi, a town that welcomes us in the spirit of St. Francis and St. Clare into its peaceful interior. (B, D, Mass) Overnight Assisi
Day 6 | January 6 | Assisi
Our day begins with a visit to St. Mary of the Angels Basilica, site of the Porziuncola, the tiny church in the woods where St. Francis began his ministry and where St. Clare was consecrated. Continue to the Convent of San Damiano where the miracle of the Eucharist of 1211 took place and visit the chapel where Jesus spoke to St. Francis from the crucifix. Afterwards is the Basilica of St. Francis and the Basilica of St. Clare, where we can view her incorrupt body. Then for those with the stamina, take a walk up Monte Subasio to L'Eremo delle Carceri (the Carceri Hermitage), the Saint's favorite retreat. There are many caves here that St. Francis and his followers retreated to for seclusion and prayer. Return to our hotel for dinner and overnight. (B, D, Mass) Overnight Assisi
Day 7 | January 7 | Assisi / Lanciano / San Giovanni Rotondo
Depart Assisi this morning, heading towards the Adriatic coast. We'll visit the sanctuary of the 8th century Eucharistic miracle of Lanciano. There will be time for adoration as well as a tour of the museum detailing the history of the miracle. We then continue along the coast to San Giovanni Rotondo, the home of St Padre Pio. We will spend the rest of the afternoon becoming acquainted with this grace-filled village. (B, D, Mass) Overnight San Giovanni Rotondo
Day 8 | January 8 | San Giovanni Rotondo
Spend a full day in San Giovanni Rotondo, praying where St. Padre Pio prayed and learning about his saintly life. Visit his tomb and tour the sanctuary of the Church of Santa Maria delle Grazie, where this famous Saint said Mass. After visiting this mystical Saint's cell and the parlor where he greeted the faithful, we may have time for personal prayer before dinner. (B, D, Mass) Overnight San Giovanni Rotondo
Day 9 | January 9 | San Giovanni Rotondo / Manoppello / Rome
After breakfast, we drive a short distance to the Grotto of St. Michael the Archangel, and visit the church built above the cave consecrated to the Lord by St. Michael himself. After time for prayer in this sacred site, begin our journey to Rome. We will stop for lunch in Manoppello and visit the church housing the Holy Veil of Manoppello, traditionally believed to be the sudarium of Christ, or the Veil of Veronica. Venerate this sacred icon and continue to Rome, checking into our hotel for dinner and our final night in Italy. (B, D, Mass) Overnight Rome
Day 10 | January 10 | Return to USA
Today we say "Ciao" to Italia and transfer to the airport for our return home, cherishing all the wonderful memories and graces of this pilgrimage. (B)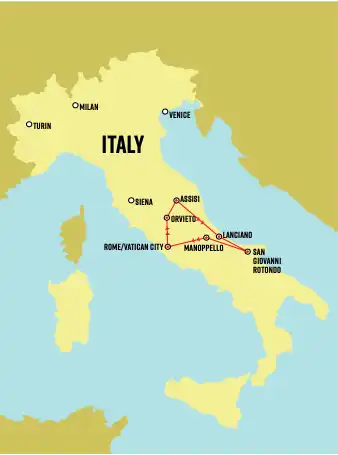 The total pricing is based off the following components:
Air taxes/fuel surcharges: