Pilgrimage to Poland and Czech Republic - August 7, 2023
Warsaw | Czestochowa | Auschwitz-Birkenau | Krakow

Activity Level 2 - Moderate
A pilgrimage to Poland is a step into rich Catholic history and tradition. Travel to the heart of Europe and witness the miracle of Our Lady of Czestochowa, the beauty of the Wieliczka Salt Mines, the tragedy of Auschwitz, and the richness of the Lord's Mercy.
Poland / Central Europe Pilgrimage Itinerary
Day 1 | August 7 | Depart Chicago
Our pilgrimage begins as we depart on our overnight flight to Warsaw. Meals and refreshments will be served aloft.
Day 2 | August 8 | Arrive Warsaw
Upon arrival in Warsaw, we will be met by tour manager, who will remain with us for the duration of our pilgrimage. We will transfer to our hotel for check-in before having dinner. (D)
Day 3 | August 9 | Warsaw
This morning we will begin our day with Mass at St. Stanislaw Kostka Church, where the martyred Solidarity priest Father Popieluszko worked and is buried. Then enjoy a tour of Warsaw including visits to the Cathedral of St. John, the Royal Castle, the Old Town Square, the Barbican and City Walls, and Zygmunt's Column. Follow the Royal Route to Lazienki Park where we will see the Palace on the Water. We will end our day with a visit to the Shrine of Our Mary Immaculate and St. Maximilian Kolbe in Niepokalanow. (B, D)
Day 4 | August 10 | Warsaw / Czestochowa / Krakow
Depart Warsaw this morning and drive to Czestochowa which is the most popular pilgrimage site in Poland. Here we will visit the Jasna Gora Monastery where we will see the Treasury, Knight's Hall, Refectory and the Basilica of the Holy Cross and Nativity of the Virgin Mary. The highlight of our visit will be viewing the famous icon of the Black Madonna to which numerous miracles are attributed. After Mass proceed to Krakow, our home for the next four nights. (B, D)
Day 5 | August 11 | Krakow
Following breakfast, proceed to Wawel Hill and celebrate Mass at the Cathedral of St. Stanislaw, Poland's second most important pilgrimage shrine. Proceed to the Basilica of the Holy Trinity, the Gothic Dominican church originally built in the 13th century, and the adjoining monastery of the Black Friars. Continue to Krakow's Old Town to see the main Market Square, the Church of St. Mary, City Hall Tower, Kanonicza Street where Pope John Paul II resided while living in Krakow and the courtyard of the Collegium Maius where he was a student. Afterwards, we will travel to Auschwitz-Birkenau to pay respects at the remains of this Nazi concentration camp where over a million people were killed during World War II. Both St. Edith Stein and St. Maximilian Kolbe were sent here, along with millions of other innocent Jews, Christians, and Poles. St. Maximilian was starved and then faced lethal injection after he volunteered his life for that of a fellow prisoner. Visit his cell and the Martyrdom Museum before returning to Krakow. (B, D)
Day 6 | August 12 | Krakow
This morning, we will travel to Wieliczka to visit one of Europe's oldest salt mines, designated as a UNESCO World Heritage Site. These mines are a unique place where many generations of Polish miners have created a world of underground chambers and decorated chapels carved out of salt including the famous Chapel of St. Kinga. After lunch, we will experience the highlight of our pilgrimage – visiting the Divine Mercy Shrine in Lagiewniki, where Saint Faustina, the Apostle of Divine Mercy, lived and died. Enjoy a guided tour of the shrine, which includes the convent chapel and St. Faustina's tomb, and venerate the image of Divine Mercy and the relics of St. Faustina. Listen to a talk from one of the sisters of her Order. Afterwards, we have to opportunity to pray by a relic of St. John Paul II in the new center "Have no Fear." Return to Krakow with the remainder of the day free. (B, D)
Day 7 | August 13 | Krakow
Today we walk in St. John Paul II's footsteps as we retrace much of his early life, beginning with Wadowice where we will have Mass at the Gothic Basilica of the Presentation of the Virgin Mary, where he received baptism, first communion, and confirmation. See the Baroque nave and the miraculous picture of Our Lady of Perpetual help, in front of which the future saint prayed daily. Get to know the former Karol Wojtyla in a new way as we explore his hometown and the museum located in his family home, containing relics of his youth and personal belongings from when he was a local priest. Our next stop is a place that was one of John Paul's favorite pilgrimage sites from his youth and young adult years – Kalawaria Zebrzydowska. This unique location began in the 17th century, when the Palatine of Krakow founded a Bernardine Monastery and built a replica of the Chapel of the Holy Cross in Jerusalem. The complex grew over the years to encompass replicas of the Tomb of Christ, The Mount of Olives, the Home of Caiaphas, and other sites in the Holy Land, to provide a place of more local pilgrimage for those who could not journey to Jerusalem. Now, on the slopes of the hills and in the valley are 43 chapels and shrines scattered on only 4km distance honoring the Way of the Cross, the Mysteries of the Rosary, and 7 Sorrows of Mary. (B, D)
Day 8 | August 14 | Krakow / Brno / Prague
Depart this morning for the Czech capital of Prague, one of Europe's most attractive capitals. En route, stop in Brno to visit the Old Town and the Cathedral of Sts. Peter and Paul, where we will celebrate Mass. Upon arrival in Prague we will check-in at our local hotel. (B, D)
Day 9 | August 15 | Prague
Today we will enjoy a full day tour of Prague, starting with a visit to Loreto Shrine, one of the most important pilgrimage shrines in the Czech Republic. Then visit Prague Castle where we will visit St. Vitus Cathedral, St. George's Basilica, the picturesque Golden Lane, the Royal Palace and St. George's Convent. Then proceed to Mala Strana, "the Little Quarter", with its beautiful architectural buildings. Here we will visit the Church of St. Nicholas and then the Church of Our Lady Victorious where we will see the famous statue of the Infant Jesus of Prague and celebrate Mass. (B, D)
Day 10 | August 16 | Prague
This morning we will cross the Charles Bridge to visit the Old Town, which is considered to be one of the best historical city centers in Europe. Visit the Old Town Square, the Town Hall with its famous Astronomical Clock which comes alive when the hour strikes and the twelve disciples appear to bless the crowd, the Church of Our Lady before Tyn, and the Church of St. Nicholas. In the afternoon we will take an excursion to Kutna Hora to see the Sedlec Ossuary, popularly referred to as the "Bone Church" which contains the exhumed remains of up to 40,000 people. This evening we enjoy a farewell dinner at a local restaurant. (B, D)
Day 11 | August 17 | Prague / Chicago
Following breakfast transfer to the airport for our return flight home, taking with us all the blessings and graces of this pilgrimage. (B)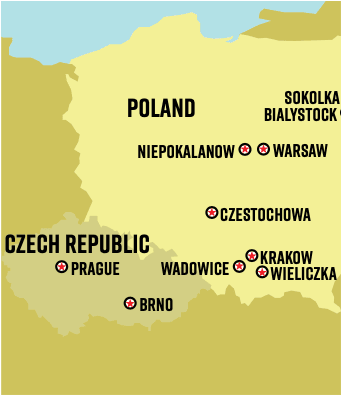 Daily Mass at holy sites
Roundtrip economy airfare from Chicago on Lufthansa
9 nights' accommodations, including taxes and service charges
Porterage of one piece of luggage at airports and hotels
Knowledgeable, friendly, Catholic/Christian guides; whisper headsets; deluxe motor coach transportation to holy sites; all entrance fees listed on itinerary
Breakfast and dinner (excluding drinks)
Farewell dinner on day 10