Pilgrimage to Marian Shrines - May 24, 2023
Fatima | Lourdes | Medjugorje

Activity Level 2 - Moderate
Come with us on our Marian Shrines pilgrimage, where Tekton Ministries has been leading pilgrimages for more than 20 years. Your faith becomes more tangible in your daily life as you travel to the places where the Virgin Mary has appeared to guide her children, increase their faith, and bring them closer to her Son, Jesus. These special places of apparitions have grown the faith of thousands over the centuries.
Marian Shrines Pilgrimage Itinerary
Day 1 | May 24 | Depart USA
Our pilgrimage begins today as we depart on our overnight flight to Europe. Meals and drinks served aloft.
Day 2 | May 25 | Arrive Lisbon / Santarem / Fatima
Upon arrival, we will be met by our guide and journey north to the Church of St. Stephen in Santarem to see one of the greatest Eucharistic Miracles, "The Bleeding Host." In the 13th century, a woman stole the host to take to a fortune-teller, but as she was taking it out of church the host began to bleed profusely. Afraid, she put it in a trunk at her home only to be awakened in the middle of the night to a bright light coming from the trunk. Taking the host back to the priest, he put it in a wax pyx. Another miracle happened the next morning when they found that the wax had turned into its own crystal pyx, where it can be venerated to this day. After time for prayer here, continue to Fatima, our home for the next three nights. (B, D, Mass)
Day 3 | May 26 | Fatima
A full day is ours in Fatima, where in 1917 three young shepherd children were graced with apparitions of the Virgin Mary. The message of Fatima has inspired generations of Catholics to pray the rosary daily for peace and reparation. Visit the Chapel of Apparitions before praying at the graves of Sts. Francisco and Jacinta, and Servant of God Lucia. Explore the tiny village where the three children lived and continue to Valinhos where Our Lady appeared to the children after they were unjustly imprisoned. It is here she encouraged them and told them they must still come every 13th of the month to see her. (B, D, Mass)
Day 4 | May 27 | Fatima
Today is free to continue our personal exploration and retreat time in Fatima. Spend time in the Adoration chapel in the new church, pray the stations of the Cross along the Via Sacra, or simply rest in the peace of Our Lady. This evening, participate for one final time in the Rosary procession around the sanctuary with hundreds of other pilgrims from around the world. (B, D, Mass)
Day 5 | May 28 | Fatima / Lisbon / Lourdes
Transfer to the airport in Lisbon where we depart for Toulouse, France. Upon arrival, transfer to Lourdes where we will check into our hotel and begin our stay in this peaceful town. Join hundreds of other pilgrims this evening in the Blessed Sacrament and Candlelight Procession, which has been a devotional staple here since 1863. (B, D, Mass)
Day 6 | May 29 | Lourdes
Bask in the grace of Lourdes all day as we have Mass at the Grotto of Massabielle, where Our Lady first appeared to St. Bernadette and had her dig for the spring that is now known across the world for its many miracles of healing. We visit the Basilica of St. Pius X, a massive underground concrete church. We also visit the humble home where St. Bernadette lived during the apparitions. Tonight, we join the candlelight procession in prayer and song once again. (B, D, Mass)
Day 7 | May 30 | Lourdes
Enjoy a full day on your own in the peaceful setting of Lourdes. Visit a place we saw yesterday, explore somewhere new, or just sit in awe and wonder and contemplate the events that happened here and the miracles that still occur. Participate one last time in the evening pilgrim activities. (B, D, Mass)
Day 8 | May 31 | Lourdes / Medjugorje
Transfer to the airport in Toulouse for our flight to Split. Upon arrival in Split, we will travel to Medjugorje. Dinner will be waiting for us upon our arrival at our pansion.
Day 9 | June 1 | Medjugorje
On our first full day in Medjugorje, you will be provided with a comprehensive orientation about Medjugorje and the apparitions and will be a given a brief tour of the area, so you are familiar with everything.
We will have two meals each day at our pansion (breakfast every morning, and either lunch or dinner, depending on the events scheduled that day). There are many restaurants in Medjugorje for people who may wish to have a third meal each day.
Many of the activities will be subject to availability and weather. You will always have the option of participating in group activities or spending time by yourself. These activities include:

Attending the Holy Mass in English every day at St. James church (usually at 10:00 am), with English speaking pilgrims from throughout the world.
Participating in the international program of prayer each evening, which includes the Rosary, Sacrament of Reconciliation, international Mass for all pilgrims, prayers for healing, and Adoration of the Blessed Sacrament.
Climbing Apparition Hill, site where Our Lady first appeared to the visionaries.
Climbing Cross Mountain; praying the Stations of the Cross as we ascend to the summit.
Visiting the Cenacolo Community, where young people with various addictions will share their testimonies about how they found freedom and a new life through prayer, work, and the Sacraments.
Hearing talks by visionaries, priests and other locals, when possible.
Day 10 | June 2 | Medjugorje
Day 11 | June 3 | Medjugorje
Day 12 | June 4 | Medjugorje
Day 13 | June 5 | Medjugorje
Day 14 | June 6 | Medjugorje / Split / USA
Today marks the end of a marvelous experience as we transfer to the Split airport for the return trip home, filled with memories and graces of this pilgrimage that will last a lifetime.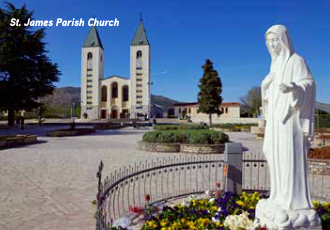 Daily Mass at holy sites
Roundtrip international economy airfare from Omaha on United/ Croatia Air
One-way airfare from Lisbon to Toulouse and Toulouse to Split
12 nights' accommodation, including taxes and service charges
Porterage of one piece of luggage at airports and hotels
Knowledgeable, friendly, Catholic/Christian guides; deluxe motor coach transportation to holy sites; all entrance fees listed on itinerary