Pilgrimage to Italy - September 23, 2023
Rome | Assisi |
Private Group

Activity Level 2 - Moderate
This pilgrimage combines a celebration of the diaconate ordination with visits to numerous sites integral to our Catholic history. Tour a land steeped in the history of martyrs and well-known saints and see how the Catholic faith grew as a signpost to the world.
Italy Pilgrimage Itinerary
Day 1 | September 23 | Depart USA
Our pilgrimage begins as we depart on our overnight flight to Rome. Meals and refreshments will be served aloft.
Day 2 | September 24 | Arrive Rome
Upon arrival in Rome, we will be met at the airport by our tour manager, who will be with us for the duration of our pilgrimage. Proceed to the heart of "The Eternal City" for the noon Angelus with Pope Francis (pending his schedule) before checking into our hotel. Afterwards, we head to the NAC to celebrate the Diaconate Family Mass. A light reception in the courtyard will follow. The evening is free for personal exploration of the city, including dinner out on your own. (Mass)
Day 3 | September 25 | Rome
We begin our day at the Vatican Museums, which house art and artifacts from around the world. We will be sure to see St. Pope John Paul II's car – Corozzo and the Rooms of Raphael. The final highlight of this visit will be the Sistine Chapel, the most famous ceiling in the world under which popes are still chosen to this day. After lunch on our own, we will return to the Vatican for a tour of St. Peter's Basilica, where we contemplate centuries of history of the Catholic Church. Here we see the life-like Pieta statue by Michelangelo, stunning paintings, and the importance of Eucharistic Adoration at the chapel renovated under the direction of St. John Paul II. Our visit culminates with a tour of the Scavi – the necropolis underneath the basilica. Dinner this evening will be at Da Meo Pattaca, enjoying the outdoor seating and live music that only adds to this beautiful experience. (B, D) Mass
Day 4 | September 26 | Rome
This morning we climb the Scala Santa (Holy Stairs), which our Lord climbed on His way to His condemnation, followed by a visit to the Basilica of St. John Lateran. Then we travel to Santa Croce in Gerusalemme where we get another little piece of Jerusalem thanks to Constantine's mother, St. Helena, who brought relics of the True Cross and the inscription that hung over the cross which stated Jesus was King of the Jews. At one time, soil from Jerusalem covered the Basilica's floor, so it truly was part of the Holy Land. After lunch, we will walk to the Gregorian University and the Trevi Fountain, where a coin thrown over your shoulder is reported to guarantee another visit to Rome. Then, enjoy a wine tasting experience before dinner this evening. (B, D) Mass
Day 5 | September 27 | Rome
This morning we will attend the weekly Papal Audience held by His Holiness, Pope Francis (pending the Holy Father's schedule). After lunch on our own, journey to the basilica of St. Paul Outside the Walls, the great church built by Constantine over the tomb of St. Paul. This evening we travel to Sant'Andrea della Valle for the evening prayer vigil with and for the candidates for ordination. Dinner this evening will be on your own. (B) Mass
Day 6 | September 28 | Rome
Today is free for events surrounding the Diaconate Ordination at the Vatican. After the Ordination we will proceed to the North American College for a light lunch reception. The afternoon will be free for personal exploration of sites around Rome before a dinner reception at Ristorante Scarpone. (B, D) Mass
Day 7 | September 29 | Rome / Assisi / Rome
We begin by participating in a Mass of Thanksgiving at the basilica of St. Cecilia, where Matthew will preach his first homily. We then drive north to Assisi, a town which welcomes us in the spirit of St. Francis and St. Clare. Upon arrival we will visit St. Mary of the Angels Basilica, site of the Porziuncola, the tiny church in the woods where St. Francis began his ministry and where St. Clare began her religious life. Proceed to the Basilica of St. Clare, which holds the famous San Damiano Crucifix that spoke to St. Francis, and where the golden locks of St. Clare's hair and St. Francis' poor patched tunic are kept. In the heart of Assisi, we will witness where the power of the Eucharist turned away an army. The invading Saracens were about to attack the Convent of San Damiano where St. Clare lived with her nuns in 1241. Even though bed-ridden, St. Clare got up and held the Blessed Sacrament in the air and saw the advancing army flee in terror establishing "The Miracle of the Eucharist of Assisi." Journey to the Basilica of St. Francis to venerate his burial place and marvel at the mother church of the Franciscan order. Return to Rome late this evening. (B, D) Mass
Day 8 | September 30 | Rome
Today is free for you to explore Rome on your own. We will come back together this evening for a Sunday Vigil Mass at the NAC, followed by a farewell dinner at La Soffitta. (B, D) Mass
Day 9 | October 1 | Rome / USA
Today we say "Ciao" to Italia and transfer to the airport for our return flight home, cherishing all the wonderful memories and graces of this pilgrimage. (B)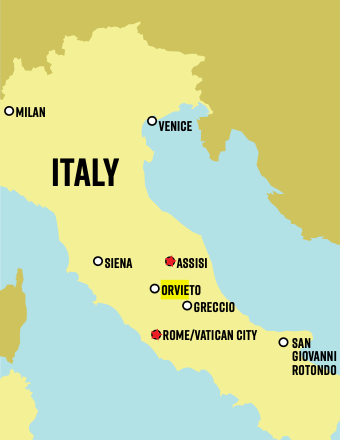 Daily Mass at holy sites
Roundtrip economy airfare from Omaha on American Airlines
7 nights' accommodations, including taxes and service charges
Porterage of one piece of luggage at airports and hotels
Knowledgeable, friendly, Catholic/Christian guides; whisper headsets; deluxe motor coach transportation to holy sites; all entrance fees listed on itinerary
Breakfast and dinner as per itinerary (excluding drinks)