Pilgrimage to Italy - March 11, 2022
Rome | Assisi

Activity Level 2 - Moderate
A spiritual journey awaits visiting tremendous sites in Rome and Assisi. See layers of history where spiritual renewals took place, miracles happened, and saints inspired. Touch the real places where saints fasted and prayed, walk on streets that have changed little from medieval times, and see how the Catholic faith was witnessed in all its splendor.
Italy Pilgrimage Itinerary
Day 1 | March 11 | Depart USA
Our pilgrimage begins as we depart on our overnight flight to Rome. Meals and refreshments will be served aloft.
Day 2 | March 12 | Arrival, Rome / Assisi
After our afternoon arrival in Rome, Italy we will transfer by private motor coach to the Umbrian village of Assisi, known worldwide as the home of Saints Francis and Clare. We'll check into our hotel, our home for the next two nights, and have some time to explore this peaceful setting.
Day 3 | March 13 | Assisi
We take an invigorating morning hike up Mount Subasio to Eremo delle Carceri, the hillside retreat where St. Francis would go to pray where we will have an hour for personal prayer and exploring. We will bus back down the mount to the San Damiano Sanctuary and Friary where for centuries Franciscans have been preserving the location where God spoke to St. Francis and gave him the stigmata. We'll walk to the Plaza del Comune (city square) for lunch on our own and then explore the converted pagan temple Santa Maria Sopra Minerva. From there we will go to the Basilica of St. Francis to see the upper and lower churches, the tomb of St. Francis, and have Mass. The rest of the afternoon is free to explore other areas of this quaint village.
Day 4 | March 14 | Assisi / Orvieto / Rome
This morning we will spend time at the Basilica of St. Clare to venerate her tomb and see the Gothic Crucifix that spoke to St. Francis, "Rebuild my Church". Afterwards, depart for Orvieto, site of an 800-year-old Eucharistic Miracle. At that time, a priest saying Mass was doubting the True Presence. Upon saying the words of consecration, he observed blood dripping from the host onto his hands and the corporal. The miracle was verified by the Pope and the corporal is still on display for veneration. We will visit the Signorelli Chapel in the Cathedral and venerate this sacred Eucharistic miracle. See the steps of the Papal summer residence where Pope Urban IV held up the blood-stained corporal and announced his intention to institute the Feast of Corpus Christi. After Mass, continue to Rome to check into our hotel, our home for the next five nights. The rest of the afternoon/evening will be free for personal exploration of the "Eternal City."
Day 5 | March 15 | Rome – St. Paul Outside the Walls, St. John Lateran, St. Mary Major
This morning we begin at St. Paul Outside the Walls, one of the four major basilicas of Rome, followed by a visit to the Catacombs. We'll proceed to the recently re-opened Holy Stairs to venerate this sacred space before lunch on our own. In the afternoon, we'll reconvene to begin a short walking pilgrimage starting at St. John Lateran – the Pope's Cathedral and another of the major basilicas, then to Our Lady of Perpetual Help for Mass and veneration of the original icon of Our Lady of Perpetual Help, and finally to St. Mary Major, our third major basilica of the day. We will then journey just outside the inner city of Rome to San Sabina on Aventine Hill and to the Priory of the Knights of Malta where we will see the famed keyhole view of the Vatican.
Day 6 | March 16 | Rome – St. Peter's Basilica, Papal Audience, Vatican Museums
This morning we will attend the weekly Papal audience given by His Holiness, Pope Francis (depending upon the Holy Father's schedule). We'll then visit the Vatican Museums, including the awe-inspiring frescoes of the Sistine Chapel, and conclude our day with a visit to St. Peter's Basilica including the Pieta and Adoration Chapel.
Day 7 | March 17 | Rome – Free Day
Today is free for personal activities. Go on your own! Have fun exploring for the day.
Sign up for a city tour – there are various options you can find online that do something unique like guided tours in museums, a food tour of Rome including a cooking class, etc.
Take a daytrip to Ostia Antica. A short train ride west to the coast and you'll be able to explore the most elaborate and well-preserved ruins from ancient Rome. A very unique experience.
Visit historical/cultural sites of Rome for those who wish to make a day of it doing this.
There are countless options…
Day 8 | March 18 | Rome – Trastevere, Piazza del Popolo, Villa Borghese
This morning we will go to the Trastevere neighborhood for Mass at Santa Maria in Trastevere and a chance to explore the narrow, cobbled streets of this section of the city. In the afternoon, we will go to Piazza del Popolo for lunch (on our own), and visit the Chigi Chapel, and Santa Maria della Concezione to see the Capuchin crypt created with the bones of thousands of deceased monks. The rest of the afternoon can be spent wandering the Villa Borghese, a large park that was once the estate of the Borghese family, or another section of Rome. Tonight, we'll have a group dinner out to celebrate the conclusion of our pilgrimage.
Day 9 | March 19 | Rome / Denver
Today we say "Ciao, Italia" and return home, cherishing all of the wonderful memories and graces of this pilgrimage.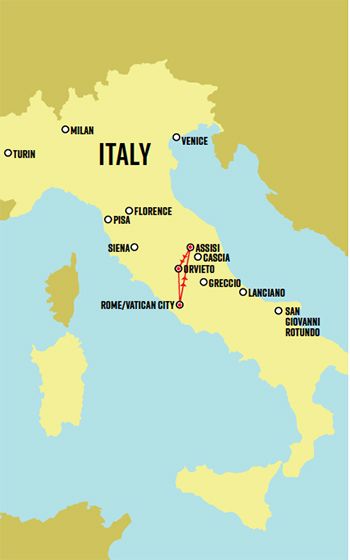 Daily Mass at holy sites
Roundtrip economy airfare from Denver on Lufthansa
7 nights' accommodations, including taxes and service charges
Porterage of one piece of luggage at airports and hotels
Knowledgeable, friendly, Catholic/Christian guides; whisper headsets; deluxe motor coach transportation to holy sites; all entrance fees listed on itinerary
Breakfast and dinner daily (excluding drinks)
Dinner at a local restaurant in Rome on day 8

Please note that all rates and services are subject to availability and confirmation. We cannot be responsible for any increase in these rates or changes in services or flight and land arrangements in the event that government regulations change due to the COVID-19 pandemic.