Pilgrimage to Ireland - September 25, 2023
Dublin | Killarney | Knock | Belfast

Activity Level 2 - Moderate
A pilgrimage to Ireland is an immersion in faith and culture. Take in the beauty of this small island country as you traverse the lunar landscape of The Burren, view the impressive Cliffs of Moher, and travel across the rolling green hills of "The Emerald Isle." Walk in the footsteps of numerous saints and be renewed by the centuries-old faith of the Irish people.
Ireland Pilgrimage Itinerary
Day 1 | September 25 | Depart USA
Our pilgrimage begins as we depart on our overnight flight to Ireland. Meals and refreshments will be served aloft.
Day 2 | September 26 | Arrive Dublin
Upon arrival in Dublin, we will be met by our local Irish tour manager, who will remain with us for the duration of our pilgrimage. We proceed into Dublin proper, the vibrant capital of Ireland, with a romantic aura of Old-World Europe, for a half-day tour. Beginning at the church of Our Lady of Lourdes, we venerate the tomb of Venerable Matt Talbot, 20th century commoner known for overcoming his alcoholism through the power of faith. We continue to St. Mary's Pro Cathedral – the Catholic Cathedral of Dublin. Our final stop before checking into our hotel will be at Trinity College to see the famous Book of Kells, the 9th century illuminated manuscript of the four Gospels. (D)
Day 3 | September 27 | Dublin / Glendalough / Our Lady's Island / Wexford
We depart Dublin this morning for Glendalough. Tucked away in the Wicklow Mountains, Glendalough was established by St. Kevin in the 6th century. Seeking a place where he could commune with God without the distractions of worldly life, the young Kevin lived first in a tree, then in a cave, eventually attracting a following of those who wanted to pursue a similar monastic vocation. Explore the ruins of this ancient monastery and marvel at the faithful asceticism of the medieval monks. Continue our drive south to the coast to visit Our Lady's Island, a tiny island at the juncture of the Atlantic Ocean and Irish Sea, surrounded by a salt lake and cut off from the sea by a sand bar. It has been a place of pilgrimage since pre-Christian times, and St. Abban founded the original Christian settlement here, evangelizing the area and dedicating the island to the Virgin Mary, thus establishing the first Marian shine in Ireland. Overnight in nearby Wexford. (B, D)
Day 4 | September 28 | Wexford / Blarney / Killarney
We begin our day with a visit to the Irish National Heritage Park, an open-air museum that brings to life over 9000 years of Irish history. We continue to Blarney Castle, which dates back to 1446 and is the third castle built on this site. We will climb onto the battlements to reach the Blarney Stone, said to impart the gift of eloquence to all that kiss it. Afterwards we depart for Killarney, situated in a spectacular location amidst mountains, glens and lakes. Sometimes known as the "Best Kept Town" in all of Ireland, Killarney is teeming with history, Irish heritage, and hospitality. Dinner and overnight in Killarney. (B, D)
Day 5 | September 29 | Killarney (Ring of Kerry)
Today we travel the road that winds around the beautiful Iveragh Peninsula, better known as "The Ring of Kerry." It is undoubtedly one of the most magical places in all Ireland. Here bogs, mountains, valleys, lakes and sea blend into a landscape that is often breathtaking beyond words. Even the names of the towns seem to whisper their beauty: Killorglin, Glenbeigh, Cahersiveen, and Sneem. Stops along this route may include the Daniel O'Connell Memorial Church in Cahersiveen and Holy Cross Church in Kenmare. In addition, we will enjoy views of abbey ruins, island monasteries, cliffs, and the sea from our motorcoach. We return once more to Killarney for the night. (B, D)
Day 6 | September 30 | Killarney / Galway
Depart Killarney for Galway. We then travel via the lunar landscape of the Burren to the magnificent Cliffs of Moher, a dramatic great sheer rock face rising 700 feet from the Atlantic Ocean. Continue to Galway, "the City of the Tribes," and check into our hotel for dinner and overnight. (B, D)
Day 7 | October 1 | Galway / Kylmore Abbey / Knock
Following breakfast, visit the Galway Cathedral dedicated to Our Lady and St. Nicholas, and the Collegiate Church of St. Nicholas with its famous Spanish Arch from where Columbus prayed before sailing for America. This afternoon, journey to Kylemore Abbey, the only remaining home of Benedictine nuns in Ireland. Depending upon availability, we will visit and have tea with the nuns here. Continue to Knock for dinner and overnight. (B, D)
Day 8 | October 2 | Knock / Armagh / Belfast
Early this morning, we celebrate Mass in the magnificent Basilica next to the original church where our Blessed Mother appeared alongside St. Joseph and St. John the Evangelist to 14 people in 1879. In 1979, on the 100th anniversary of the apparition, Pope John Paul II visited Knock and declared that the Church would be known as the Basilica of Our Lady, Queen of Ireland. After time for prayer, continue north across the international border to Armagh, chosen by St. Patrick to be the Christian center of his day. The stone church he built in the 5th century stood where the Anglican Cathedral now stands. Proceed to Belfast, the capital of Northern Ireland for dinner and overnight. (B, D)
Day 9 | October 3 | Belfast
Enjoy a morning tour of this unique capital city, taking in the leaning Albert Memorial Clock Tower, the Opera House, City Hall, Queens University, and more. Learn about the turmoil of ancient and recent history, including The Troubles of the 20th century. This afternoon, spend time at the Titanic Museum in Belfast, learning about the connection between this ill-fated ship and the extensive maritime history of the city. Return to your hotel for dinner and overnight. (B, D)
Day 10 | October 4 | Belfast / Downpatrick / Dublin
Depart this morning for the historical town of Downpatrick. Here, view the remains of the first church founded by St. Patrick and learn more about this great saint who evangelized Ireland at the Saint Patrick Centre. Venerate his resting place at Down Cathedral. Continue south and return Dublin for some free time before our farewell dinner and final overnight of our pilgrimage. (B, D)
Day 11 | October 5 | Dublin / USA
Today our Irish Pilgrimage comes to an end. Following breakfast, transfer to Dublin Airport for our return flight to the United States. (B)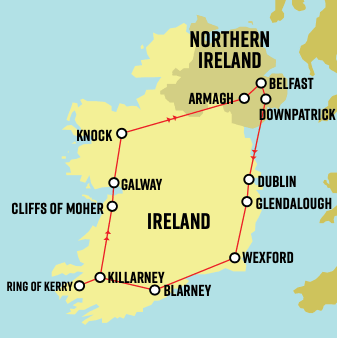 Daily Mass at holy sites
Roundtrip economy airfare from Chicago O'Hare on United Airlines
Bus transfers between Bloomington, IL and Chicago O'Hare
9 nights' accommodations, including taxes and service charges
Porterage of one piece of luggage at airports and hotels
Knowledgeable, friendly, Catholic/Christian guides; whisper headsets; deluxe motor coach transportation to holy sites; all entrance fees listed on itinerary
Breakfast and dinner per itinerary (excluding drinks)
Farewell dinner at a local restaurant on day 10