Pilgrimage to France - September 18, 2023
Marseille | Toulouse | Lourdes | Bordeaux

Activity Level 2 - Moderate
Discover the rich Catholic history and tradition of southern France, often called the Eldest Daughter of the Church. Visit the port city of Marseilles, see where Van Gogh painted some of his most famous works, venerate the burial place of St. Mary Magdalene, and taste unique varieties of French wine on this unique pilgrimage.
France Pilgrimage Itinerary
Day 1 | September 18 | Depart USA
Our pilgrimage begins as we depart on our overnight flight to France. Meals and refreshments will be served aloft.
Day 2 | September 19 | Arrive Marseille
Upon our early afternoon arrival in Marseille, we will be greeted by our professional tour manager who will accompany us for the duration of our pilgrimage through France. We'll visit the Basilique Notre-Dame de la Garde for Mass. After Mass, transfer to our hotel for dinner and overnight. (D)
Day 3 | September 20 | Marseille
Today we begin the day with a short boat ride to Chateau d'If. Then visit the Cathedrale la Major to marvel at the impressive mosaic floor. Proceed to Sainte-Maximin-la-Saint Baume to visit the Basilica of St. Mary Magdalene. Afterwards, continue to Aix-en-Provence to visit the Aix Cathedral. Return to our hotel for dinner and overnight. (B, D)
Day 4 | September 21 | Marseille
Today we embark on a day trip to Avignon, home to seven popes during the 14th-centuriy period known as the Avignon Papacy. We will visit the Palace of the Popes and Basilique St. Pierre, then drive by Pont du Gard. This afternoon we'll enjoy a winery tour at Chateauneuf du Pape before returning to Marseille. (B, D)
Day 5 | September 22 | Marseille / Montpellier
After breakfast, journey to Arles for a full day tour. Visit the amphitheater and main city square, followed by the church and cloister of St. Trophime. Afterwards, we'll see the Montmajour Abbey and the Cryptoporticus. Later today, visit some of the sites connected with Van Gogh. Drive to Montpellier for our overnight in this beautiful city. (B, D)
Day 6 | September 23 | Montpellier / Carcassone / Toulouse
This morning we will view the outside of the 14th century Gothic Cathedrale Saint-Pierre. Proceed to Carcassone for a walking tour inside the walls of this medieval citadel, featuring the Basilica of Saints Nazaire and Celse and the 13th- century Carcassone Cathedral. End our day in nearby Toulouse, where we check into our hotel for dinner and overnight. (B, D)
Day 7 | September 24 | Toulouse / Lourdes
We will begin our day at the Eglise des Jacobins, the burial site of St. Thomas Aquinas. After Mass at the Toulouse Cathedral, journey to the peaceful mountain village of Lourdes, known for its healing waters after the Virgin Mary appeared to St. Bernadette in 1858. It is also where the Blessed Mother announced she was the Immaculate Conception. Join hundreds of other pilgrims in the Blessed Sacrament Procession and Candlelight Procession that has endured since 1863. Lourdes will be our home for the next three nights. (B, D)
Day 8 | September 25 | Lourdes
Bask in the grace of Lourdes all day as we have Mass at the Grotto of Massabielle, where Our Lady first appeared to St. Bernadette and had her dig for the spring that is now known across the world for its many miracles of healing. We also visit the humble home where St. Bernadette lived during the apparitions. Tonight, we join again the candlelight procession with thousands of other pilgrims in prayer and song. (B, D)
Day 9 | September 26 | Lourdes
Enjoy a full day on your own in the peaceful setting of Lourdes. Visit a place we saw yesterday, explore somewhere new, or just sit in awe and wonder and contemplate the events that happened here and the miracles that still occur. Participate one last time in the evening pilgrim activities. (B, D)
Day 10 | September 27 | Lourdes / Bordeaux
Depart Lourdes this morning for Bordeaux. Half of Bordeaux is a UNESCO-listed Heritage Site, mainly due to its impressive concentration of historic churches and cathedrals. This afternoon we will take a walking tour of the historic center, visiting the Basilique Saint Seurin, Eglise Notre-Dame, Eglise Saint-Pierre, Cathedrale Saint-Andre, and the Basilique Saint-Michel. Afterwards, check into our hotel for dinner and overnight. (B, D)
Day 11 | September 28 | Bordeaux
Spend the day in and around Bordeaux including a visit to Saint-Emilion, one of the most beautiful villages of France. Here we will visit the Monolithic Church dug out of the surrounding rock. It is the largest underground church in all of Europe. Our activities in Saint-Emilion will also include a visit to a local winery. This evening we will celebrate a farewell dinner at a local restaurant to celebrate the culmination of our pilgrimage. (B, D)
Day 12 | September 29 | Bordeaux / Charlotte
Today marks the end of a marvelous experience as we transfer to the airport for the return trip home, filled with memories and graces of this pilgrimage that will last a lifetime. (B)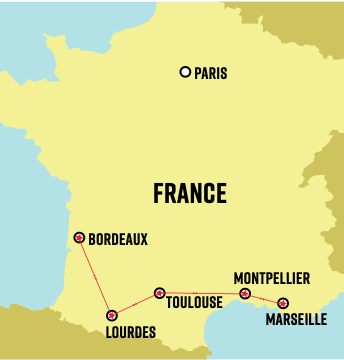 Daily Mass at holy sites
Roundtrip economy airfare from Charlotte on Delta Airlines/Air France
10 nights' accommodation, including taxes and service charges
Porterage of one piece of luggage at airports and hotels
Knowledgeable, friendly, Catholic/Christian guides; whisper headsets; deluxe motor coach transportation to holy sites; all entrance fees listed on itinerary
Breakfast and dinner (excluding drinks)
Farewell dinner at a local restaurant on day 11