Pilgrimage to France - June 2019
Lourdes | Lisieux | Mont Saint-Michel | Chartres | Le Mans | Paris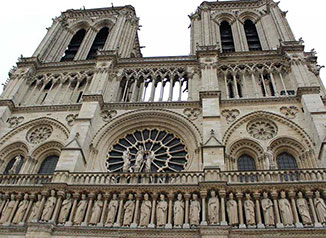 | | |
| --- | --- |
| Date: | 6/5/2019 |
| Duration: | Day 10 |
| Departure: | Indianapolis |
France Pilgrimage Itinerary
Day 1 | June 5 | Depart U.S.A.
Our pilgrimage begins today as we lift off for France.
Day 2 | June 6 | Paris / Lisieux
Upon arrival in Paris this morning we will be met at the airport
by our guide. This morning we drive to Lisieux, the home of St.
Therese the "Little Flower of Jesus" to visit the home where
she lived as a child, the Carmelite Convent where she was a
nun, the Basilica of St. Theresa for Mass, and Cathedral of St.
Peter. Overnight in Lisieux.
Day 3 | June 7 | Lisieux / Mont Saint-Michel
Early this morning we depart for iconic Mont Saint-Michel, the
iconic medieval town only accessible during low-tide. En-route
to the island we will stop to pay respects at the Normandy
American Cemetery and then continue onto Mont Saint-Michel.
After lunch, we will have Mass and a tour of the Benedictine
Monastery atop the hill. Dinner on your own tonight.
Day 4 | June 8 | Mont Saint-Michel/ Le Mans / Chartres / Paris
This morning we depart Mont Saint-Michel and head to Le Mans,
which has great significance for Indiana and the Archdiocese
of Indianapolis as the home of Holy Cross congregation (who
founded Notre Dame) and the Sisters of Providence and their
founding of St. Mary of the Woods, as well as the home for St.
Theodore Guerin before being sent to Indiana. We will pray at
the Cathedral of St. Julien and have Mass at the Motherhouse
of the Sisters of Providence beneath a stained-glass window
display that is only rivaled by our next stop, Chartres, home
to what most believe to be the greatest Gothic cathedral in
Europe. The stained-glass windows of this Cathedral are worldrenowned.
Over 150 windows illustrate biblical stories and daily
life in the 13th century. We will return to Paris our home for the
next four nights.
Day 5 | June 9 | Paris
We begin our morning by venerated the Shrine of Saint Vincent
de Paul where the saint's body is on display in a reliquary. We
will celebrate Mass here. From there we go to the Chapel of
the Miraculous Medal at Rue de Bac where Our Lady appeared
to St. Catherine Laboure in 1830 and where she is buried, the
imposing Saint-Sulpice, and Montmartre with its magnificent
Basilica of Sacre Coeur where we will attend a Holy Hour. The
remainder of the day free. Dinner on your own tonight.
Day 6 | June 10 | Paris / Lourdes
After breakfast, we will board the high-speed train to Lourdes,
one of the great pilgrimage shrines in the world. On the
train, we will have some time for some group discussion and
processing, enjoying the passing countryside, or catching up on
sleep. In Lourdes, Our Lady appeared to St. Bernadette in 1858
proclaiming herself the "Immaculate Conception". Celebrate
Mass in Lourdes. In the evening, we will participate in the
Eucharistic Procession by candlelight.
Day 7 | June 11 | Lourdes
Today we will have all day to experience the Lourdes on our
own, exploring the Basilica of the Immaculate Conception, the
Church of St. Bernadette, the Basilica of Our Lady of the Rosary,
PILGRIMAGE ITINERARY
France
lisieux
le mans
mont
saint-Michel
paris
chartres
Orleans
lourdes
Childhood home of St. Therese of Lisieux
Mont Saint-Michel
These rates include:
l Arrangements for daily Mass
l Roundtrip economy class airfare from Indianapolis to Paris on
Delta Airlines
l 8 nights accommodations
l All hotel taxes and service charges
l Breakfast daily
l 4 dinners as per itinerary
l Professional tour manager from arrival until departure
l Comprehensive sightseeing with professional local guides
l All entrance fees as per itinerary
l Land transportation by deluxe motor coach
l Arrival and departure transfers
l Porterage of one piece of luggage at airports and hotels
These rates do not include:
l Airline taxes/fuel surcharges (currently $446.07 per person, but
subject to change until the time of ticketing)*
l Gratuities to guide, driver, and hotel staff*
l Dinners on days 3, 5, 7, and 8; lunches, drinks with meals, extras
at hotels and any expenses of a personal nature
PILGRIMAGE PRICE: $3,695.00
and the healing waters of the spring. We will celebrate Mass at
the Grotto of Massabielle, the site where the Virgin appeared.
We will also visit the Basilica of Pius X (the world's largest
underground church). A dinner on your own this evening
precedes the candlelight procession.
Day 8 | June 12 | Lourdes / Paris
Depart Lourdes this morning by train and return to Paris. Mass
will be in Paris upon our arrival. The remainder of the day is
free to discover the city of lights on our own!
Day 9 | June 13 | Paris
Day 10 | June 14 | Paris / U.S.A.
We board the plane this morning and head back home again to
Indiana.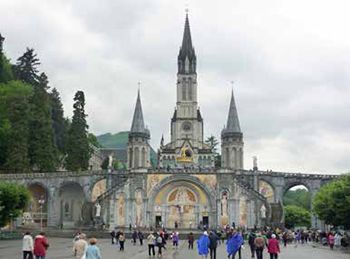 Arrangements for daily Mass
Roundtrip economy class airfare from Indianapolis to Paris on Delta Airlines
8 nights accommodations
All hotel taxes and service charges
Breakfast daily
4 dinners as per itinerary
Professional tour manager from arrival until departure
Comprehensive sightseeing with professional local guides
All entrance fees as per itinerary
Land transportation by deluxe motor coach
Arrival and departure transfers
Porterage of one piece of luggage at airports and hotels