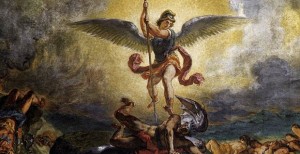 "
Jesus summoned his Twelve disciples and gave them authority over unclean spirits to drive them out and to cure every disease and every illness.
"
It was news sensation in May! Sadly, it showed us how ignorant the secular press can be when it comes to ecclesiastical realities.
USA Today
, on May 22nd, ran an AP story entitled, "
Is Pope Francis an exorcist?
". The answer is, "Of course he is!" In fact, every validly ordained Catholic bishop is an exorcist. How can we be sure? The verse from today's Gospel, which can be found in the other Gospels as well, tells us so.
If the bishops are the successors of the apostles, and the apostles were given the power to drive out demons, then of course the bishops are exorcists. And the Pope, who is the Vicar of Christ, himself the Bishop of Rome, would be foremost among exorcists. Therefore the Pope and the bishops have a ministerial responsibility to exercise their exorcistic competency. (I couldn't resist the wordplay, sorry.)